Is Huawei trying to fix Android with the Harmony OS?
Why is it named Harmony?
Huawei developed the Harmony OS in 2012. It is a cross-platform operating system developed using the Ark code and is compatible with Android apps. The new operating system was created on June 14, 2019, by Huawei executives. On August 9, 2019, they introduced the Harmony trademark global application at the Huawei Developers Conference. Yu Chengdong, Huawei's consumer business CEO, legitimately publicized the release of the Harmony.
Introduction to the harmony os
Harmony means the creation of the world in the Chinese language. Yu stated that the OS was named "Harmony" as it was hard to pronounce "Meng" in Pinyin. Initially, the Harmony OS was used as the fundamental of Huawei, but currently, it refers to a full-scene disseminated operating system.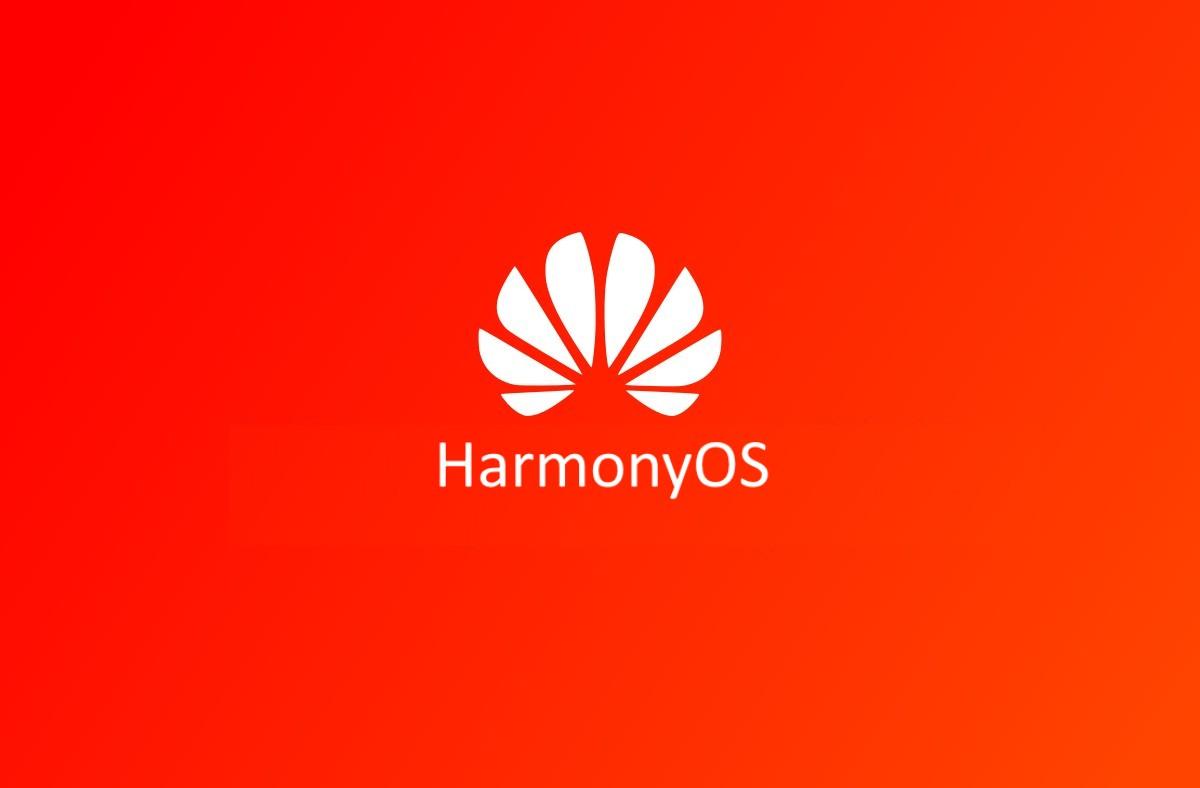 Introduction system
Harmony OS is an integrated operating system for smartphones, laptops, computers, tablets, Televisions, and smart wearable. In addition, the OS is compatible with all android and website applications.
Named as the Huawei Application Market, the Harmony operating system has all Google-play listed applications. However, the system is primarily applied in the Internet of Things, and it focuses on a time delay system that can apprehend the end-to-end encryption delay accuracy. Initially, the OS was neither designed for use in mobile phones nor created to replace Google.
Development history of the Harmony OS
The Huawei Harmony system was set to be officially released on June 24, 2019. Mate X was rumored to be Harmony's first show, but later, the news was confirmed not to be true. Registration of Harmony's trademark in most parts of the world started on June 8, 2019. Later in July 2019, Huawei's president in the department of public and government affairs, Chen Lifang, publicized that Harmony was meant for industrial systems but not for mobile operating systems.
Its full-scene operating system based on microkernel was officially released on August 9, 2019, by the Huawei Consumer C.E.O. Richard Yu at the Huawei Developer Conference. The OS was designed for smartwatches, smart TVs, smart vehicle devices, smart wearables, and other smart equipment.
The first product equipped with the Harmony system named "Glory Smart Screen" was released On August 10, 2019. It was anticipated that although the OS will take a long time to surpass Android and Apple's operating system, it will not take more than 300 years.
On September 10, 2020, Chengdong Yu released the Harmony OS 2.0 at the 2020 Huawei Developer Conference. He also broadcasted that OS will be legitimately open source. Therefore, all Huawei's smartphones must be fully upgraded before the end of 2021 to support the Harmony 2.0 version. Moreover, updates of the Harmony system will be done on all of Huawei's self-developed devices. Henceforth, the company will only release smartphones equipped with the Harmony OS. Harmony's OS Beta version 2.0, designed for mobile developers, was released by Huawei on December 16, 2020. Since then, the operating system for all Huawei's smartphones has been sequentially upgraded to the Harmony OS.
Dispute
An unknown netizen exposed the Honor smart screen fortified with the Harmony system as a photo on August 10, 2019. The image displayed all the Honour Smart Screen's advanced settings. For most individuals, this Harmony OS will be based on developments from the Android system as it revokes the endorsement of ADB debugging.
The Harmony version 1.0.0.71 was introduced into the market on November 9, 2019. This version has some added advantages over the previous ones. It has an Android application program installation function applicable in all Honor Smart Screen Pro and Honor Smart Screens.
In February 2021, the developer's test version rights of the Harmony OS 2.0 were bestowed to Ars Technica. He pointed out that the Harmony
OS version 2.0 had the same settings as Android 10. Even though the majority of the "Android" word on the market has been changed to "Harmony OS," it's still perceptible in "version 10". This does not a bid with the official 2.0 claim.
A Harmony OS GitHub user uploaded the unpackaged Harmony OS 2.0 file on May 8, 2021. It was identified that this Harmony operating system was similar to Android's "EMUI 11.1". However, the OS does not use the AOSP compatibility layer as you might expect. The Beijing court published an administrative judgment amid the State Intellectual Property Office and Huawei on May 12, 2021. The ruling stated that Huawei was denied the right to use the "Harmony" trademark. Later in June, the brand was transferred to Huawei by Huizhou Qibei Technology Co., Ltd as the State Intellectual Property announced.
Emergency drive: Huawei's self-help
Since 2018, several actions that cite security risks have been taken against Huawei by the ruling governments. For instance, all the Chinese tech giants are being locked out of the worldwide chip chain of procurement as American suppliers have been restricted from selling their products to Huawei. Also, as of August 2020, Google was prohibited from offering further technical support to new Huawei phones by the US sanctions. This posed a challenge to Huawei as their devices no longer had the authority to receive Android OS updates directly from Google. It is presently ranked sixth globally.
The events that the US sanctioned on Huawei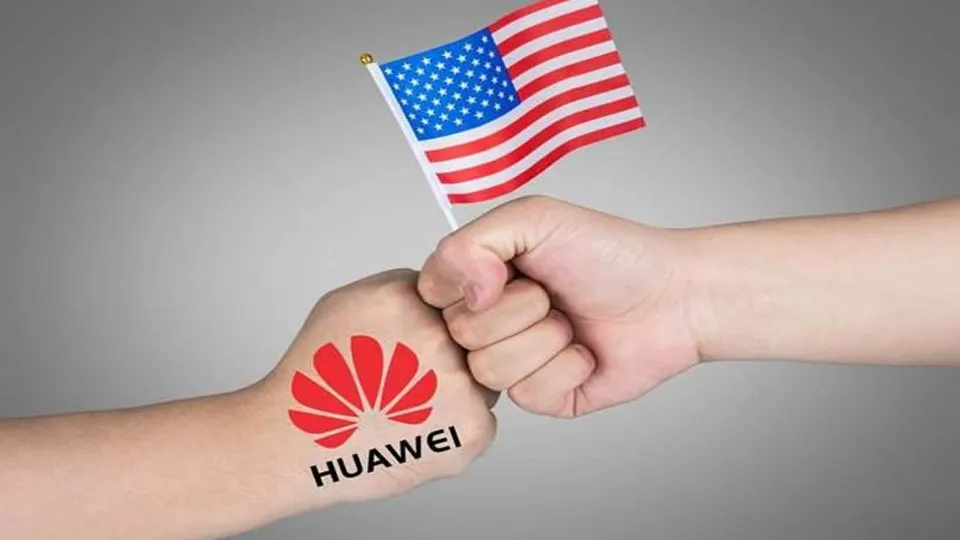 Huawei Booked to the "Entity List."
Huawei and other 70 related companies were added to the US Department of Commerce "Entity List" on May 15, 2019. This made Huawei unable to purchase components from American companies without US government approval.
Huawei charged in the United States
On May 21, 2019, a lawsuit to terminate the injunctions laid by the US government against the entity list of Huawei was issued. On the same day, the ban of Huawei's entity list was further delayed for 90 days by the US Department of Commerce. This gave Huawei and its corporate associates adequate time to address some contractual responsibilities and upgrade its software. In addition, a further 90 days temporary licensing of buying American products was extended by the US government from August 2019 to November 2019.
On May 21, 2019, President Trump requested Google to restrict Huawei from using its Android and other related apps. However, as Android is open-source, Huawei can still use the AOSP, but it uses old security patches. Simultaneously, all have no rights to use Google's in-built applications such as Google App Store, Google Maps, Gmail, and others.
Huawei' Mistake Transfer of Goods'
On May 28, 2019, Huawei stated that FedEx secretly forwarded two parcels from Japan to China to the US. However, the package was a mere business document, and it contained "no technology." On the same day, two more packages were sent by FedEx from Huawei to China to the United States. FedEx claimed that the delivery was mistakenly done, and no external party was asked to transship these packages.
Threat to national security
On June 25, 2019, Huawei was listed by the US Senate Foreign Relations Committee as a threat to the country's national security and its Allies.
It bans US government departments from buying Huawei equipment and services
On August 7, 2019, the US government departments were banned by the White House from purchasing any equipment or services from Huawei. The then-president of the United States, Donald Trump, publicized that he has ended all businesses that concerns Huawei. Later, Hua Chunying, the Chinese spokeswoman in the ministry of foreign affairs, rebuked the action stating that the US government was discriminatory and expressed unfair practices to certain Chinese companies.
Extension of the provisional permit
The US government extended Huawei's provisional license on March 11, 2019, for a further 3 months.
The US government must license foreign semiconductor companies
On May 15, 2020, Huawei's interim license was extended for 90 more days by the US Department of Commerce. Furthermore, foreign semiconductor companies that use the US technology and equipment as required by the department to attain permission from the US government before exporting to Huawei.
Other 38 Huawei affiliates Booked to the entity list
On August 17, 2020, sanctions against Huawei were extended by the US Department of Commerce by 90 days. This enabled Chinese companies to purchase products from US companies to meet the excess demand in the market. Moreover, other restrictions were laid on Huawei and all its affiliates listed on the entity list. The Commerce Bureau Department of Industry Security also added to its entity list other 38 Huawei-linked entities. Google also suspended its support to Huawei on all its services ranging from software, hardware to technical. Henceforth, the android system on Huawei phones can no longer be updated. In addition, new Huawei phones can't access Google software such as the Google Play Store, Gmail account, YouTube, the Chrome browser, other Google applications.
Challenge
Huawei is not the foremost mobile phone company to attempt to develop its operating system. Other companies, such as Microsoft and Samsung, have before hurled their own mobile operating systems. However, due to the dominancy of Apple and Android, the Microsoft and Samsung companies were unsuccessful in breaking through to the mobile operating systems.
In 2009, Samsung developed the BABA operating system. At first, the company became successful as it relied on its own robust mobile phone sales, although its promotion to other mobile phone brands was impossible. Up till now, the Android system is available on all Samsung mobile phones.
Also, Microsoft developed its mobile operating system "Windows Phone" and tried to promote it through its attainment of handset maker Nokia. However, this did not last long as it finally abandoned its campaigns and they started assembling mobile phones running on Android.
Is it hard to build ecosystems?
In the past, ordinary mobile phones had no applications. Therefore, mobile developers had an east time creating their own operating systems. The features of a device do not determine the value of a smartphone. It is determined by the applications already installed on the platform. Finding users who are enthusiastic about developing an operating system is complicated. The reason behind the failure of Samsung and Microsoft is because third-party developers create no enough programs to form their ecosystems.
The Harmony OS Github reported that by April 2019, more than 2.1 million apps were available for download in the Google app store. The Apple App Store had about 1.8 million apps, and the Microsoft app store ranked third with only 669,000 apps.
Huawei is planning to change some Android apps to run on Harmony, but this is not likely to fully solve the problem. This is because converting all Android apps will be hard for Huawei. In addition, most programs like Google Pay, the Google payment program rely on Android features; therefore, the plan may not work.
Replicating the Google ecosystem is impossible, although it can be copied to a restricted extent. If Huawei decides to eliminate all Android updates, it will lose some Google-developed programs, such as YouTube, Gmail, and Google Maps.
Is the Chinese market a lifesaver?
Huawei will have a challenging time building its ecosystem, as this is based mainly on "network effects." The number of users in a platform determines the motivation of developers in making programs for that platform. Getting individuals who are willing to develop applications for the forum is burdensome. Although things are not too bad for Huawei, it still needs to establish its ways. The only option Huawei has is to develop another platform.
History Version
Harmony OS 1.0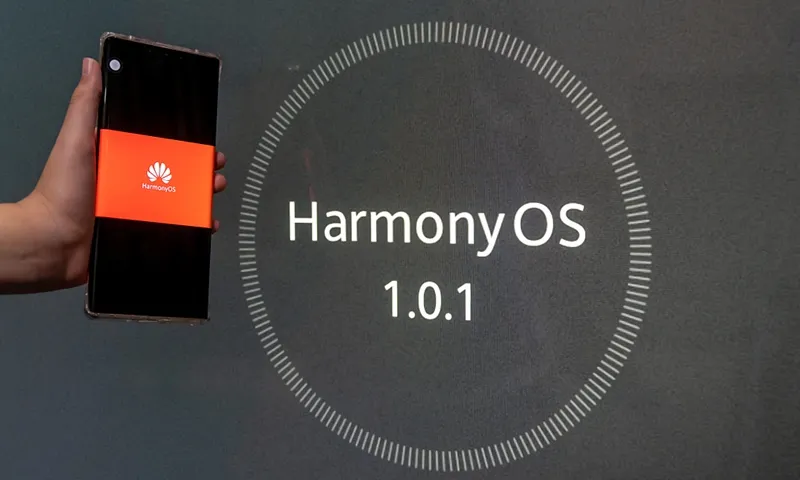 Huawei's Harmony OS was officially released on August 9, 2019, in Dongguan at the Huawei Developer Conference. The OS is full-scene distributed and can achieve multiple security systems as it is extendable on demand. Moreover, the OS is flexible for deployment in different devices as it applies modular coupling. Harmony OS has three architectural layers, namely the kernel, essential services, and the program framework.
Harmony OS 2.0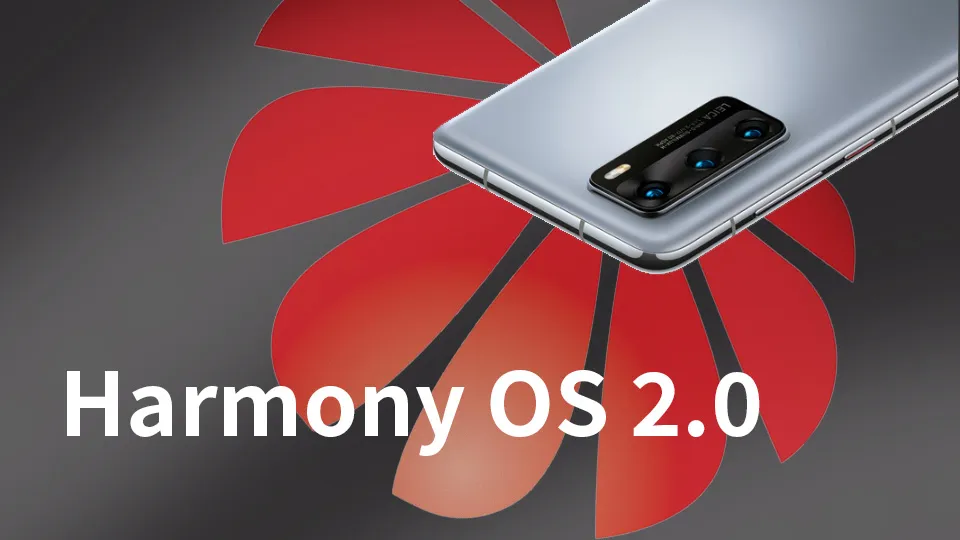 The Huawei Harmony OS 1.0 was upgraded to Huawei Harmony OS 2.0 on September 10, 2020. This led to a comprehensive upgrade of critical distributed data management, security, and other capabilities. In addition, it provided a complete application development surrounding and distributed devices to developers. The Harmony OS 2.0 Beta version was tentatively released in December 2018.
Technical features
Distributed Device Virtualization
The distributed device virtualization platform enables data processing, device management, and convergence of cross-device resources. This allows numerous devices to function jointly as super virtual devices.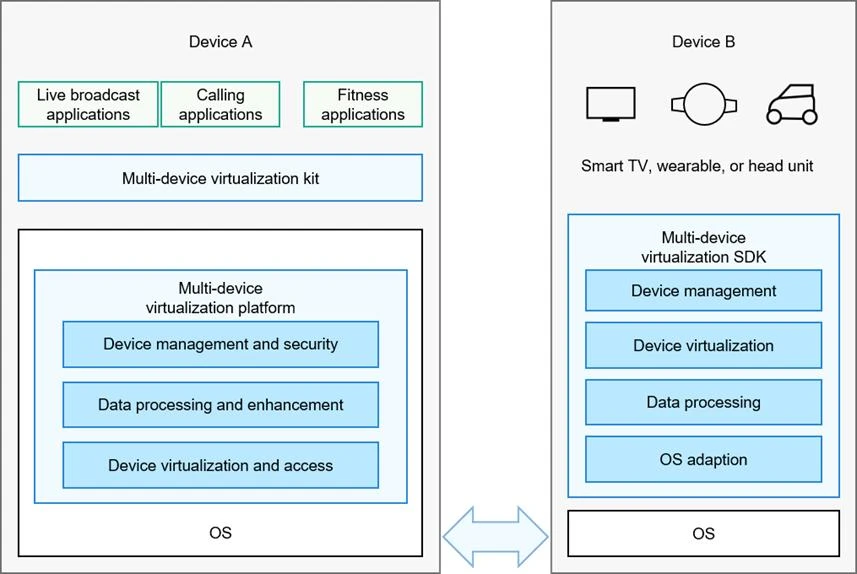 Distributed Data Management
The Distributed data management influences the DSoftBus to manage data applications on various devices. Under such control, the data storage prepares service logics as the user data is not bound to any single physical machine.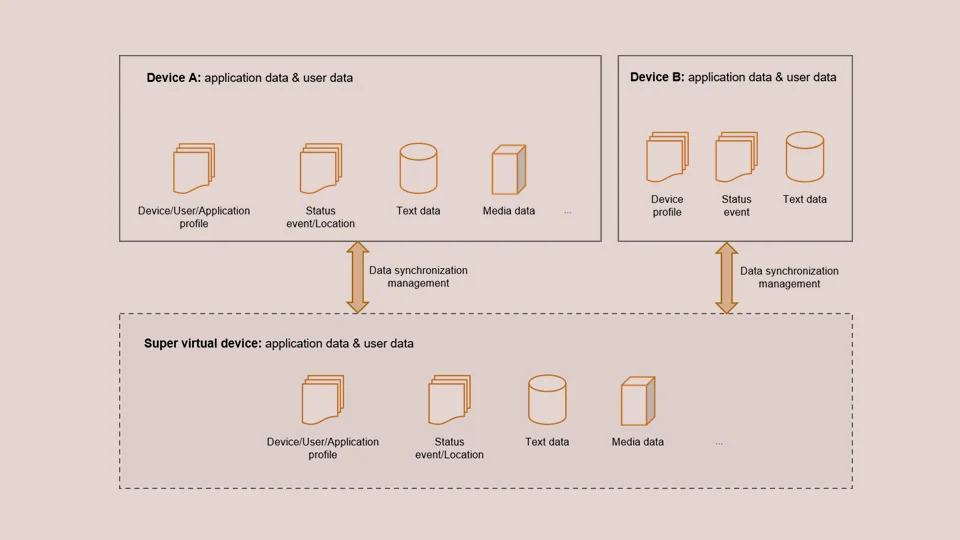 Technical features such as distributed data management, distributed profile, and DSoftBus base determine a Distributed Scheduler's designing mode. It builds an integrated mechanism of distributed service management that supports remote startup, supplication, and connection across devices.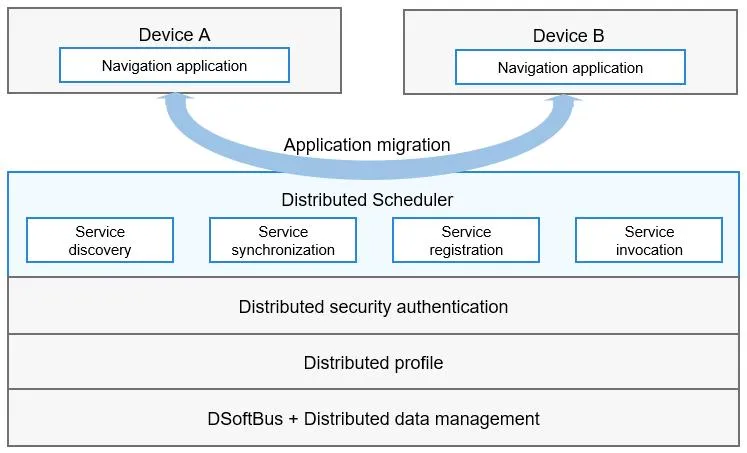 System Security
Devices powered with the Harmony OS enable the right person to use the accurate data. These devices ensure that;
The right person uses it when carrying out an identity authentication of a distributed collaborative.
The right device is used to build a trusted operating surrounding.
The right data is used to implement the management of confidential and classified data conveyed across devices.
Right Person
The right person refers to a genuine user who has permission to access services and data. The right person prevents access to illegal data and breach of the user's privacy. There are three ways in which the Harmony OS implements identity authentication of distributed collaborative, namely;
a) The zero-trust model
b) The multi-factor authentication
c) The collaborative authentication
Right Device
When the right person uses a suitable device, the security of user data on virtual devices is effectively safeguarded. This also prevents the privacy breach of users by;
a) Secure boot
b) Device certificate authentication
c) TEE
Right Data
To warrant that the right person uses the correct data, the Harmony OS guards user's privacy and data security all over the whole life span, from data usage, destruction, and transmission to storage and generation. This makes sure that confidential and personal data and privacy are all sternly protected against disclosure. It is achieved through;
a) Data generation
b) Data storage
c) Data usage
d) Data transmission
e) Data destruction
Openness
Although most people think that the Harmony micro kernel's technical architecture is similar to Apple's iOS, this is not valid. Apple's ecosystem is closed while that of Harmony is open. Huawei is working collaboratively with all possible partners to make Harmony surroundings a success. Harmony is open to all and can be supported by anyone willing to use it.
Future Development
Huawei plans to equip all its products such as smartphones, tablets, computers, and all other terminal products with the Harmony system. This will be endorsed instantaneously, both locally and internationally. The Harmony OS was made open source for 128MB-4 GB terminal devices in April 2021. It is set to be open-source for all devices above 4 GB by October 2021.
Supports
A complete toolchain and development platform including the SDK, development module, source code, and the Huawei deveco furnishes the Harmony OS. There are several ways in which device manufacturers can link the entire scene of intelligent surroundings. Using a distributed SDK, device manufacturers can easily access 7 capabilities such as HiCar, and Cheap Link. After September 10, 2020, over 30 IoT device categories below 128MB were easily accessible using an open-source code. Harmony OS has begun to request a targeting code by engaging partners for devices up to 128MB and up to 4GB.
Smart hardware
Competent hardware developers can acquire modules, solutions, and development boards from the Harmony operating system.  Altogether, a one-step development surrounding all Harmony OS devices will be provided by Huawei Deveco. It will support the customization of components, development of drivers, and distributed aptitude integration in health, appliances, sports, and security.
Open-source
Huawei donated a source code to the Open Atom Harmony OS Open-Source Foundation for incubation. It was given the name Open Harmony. Presently, the Internet of Things intelligent hardware source code for RAM between 128KB and 128MB has been open. By April 2021, the open-source code is planned to be available only in devices with 128MB to 4 GB of RAM. This will include all screen speakers and light vehicles. The source code of Harmony's OS is likely to be available in more full-scene devices by October 2021.
One development, multiple deployments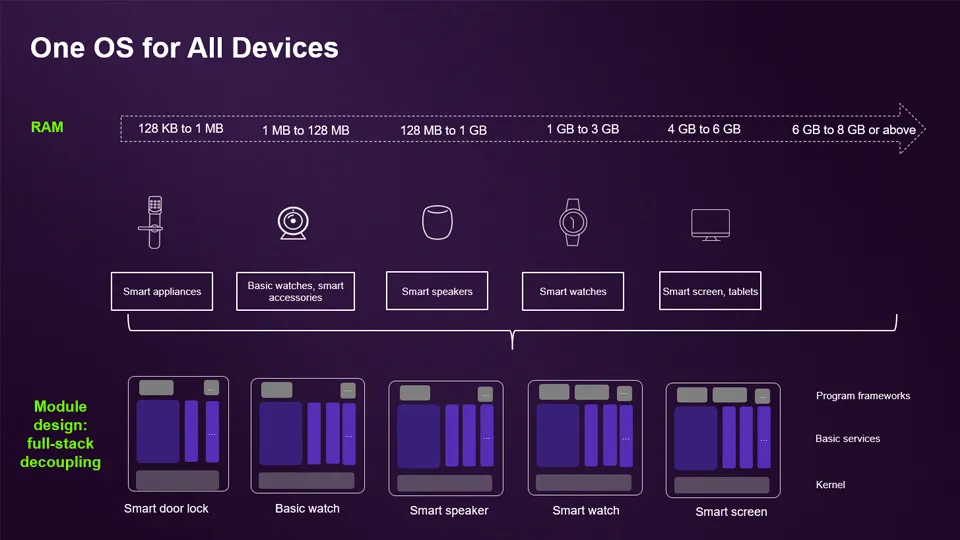 Harmony OS provides a whole set of platform ecosystems and toolchains for structuring full-scale applications. Moreover, cross-device collaboration is enabled by the distributed application frameworks that sum up simple interfaces' alliance with complex inter-devices. Therefore, developers are required to mainly emphasize only reducing complexity, code, and business logic.
The SDK/API developer Beta and the distributed application framework were both launched at the same time. They provided more than 13,000 step-by-step APIs and supported large screens, cars, watches, and computer applications. In addition, a full-scene cross-device joined expansion tool is built by the Harmony OS version 2.0 for Huawei Deveco 2.0. During programming, developers get a realized programming as they can broadcast the UI in real-time. Efficient coding is achieved when a complete API intelligence is provided.
Significance
Global impacts have been realized since the declaration of Huawei's Harmony OS. This Chinese telecommunication OS is technically advanced, and with time, it will establish its ecosystem due to its power to grow. The Harmony OS is set to change the universal scenes of operating systems forever. As a result, Huawei can move to the front row when it comes to technology, as demonstrated by its past advances. Currently, China's global technological setting and market sustenance are much robust than when Huawei was behind schedule and hurried to adopt the 5G position. Thanks to Huawei, they have advanced technology and a pool of talents.
Harmony was introduced when the entire china software industry urgently required making up for its shortcomings. Harmony offers a strategic incentive for the inclusive escalation of local software. Although China's software industry has no rots, it is progressively flourishing every day. Huawei plans to use the Harmony OS to structure the local software roots in China. The birth of Harmony was contributed mainly by the United States' intentions to destroy Huawei. Even though the US government undoubtedly forced out Huawei from the market, the pressure has forced Chinese high-tech companies to develop a strategic solution to the question. A product of The Times has been independently developed by the entire Chinese society using its core technologies.
In this post-smartphone era, decentralization will be achieved by dispersing the role previously played by mobile phones to other hardware products. For instance, smart televisions and speakers are likely to take over the phone's tasks of making calls and surfing the Internet. This is a matured formula of developing the smart home industry and scenes equivalent to Harmony OS. Harmony OS was developed in the epoch of smart sets, and it signifies Huawei's desire in the IoT field. It represents a tactical innovation that the China high-tech industry must carry out.
Also, it a China's driving point for solving its problems in the IoT arena. There are numerous high-tech areas china faces when establishing strategies for its shortcomings and re-entrepreneurship. This has enabled the whole society to form a firm consensus, and the national strategy of disposition has also taken an outline. Was it not for the Huawei and the United States game of the fake shot, the Harmony OS would not have taken this course?
The difference between Harmony and the previous EMUI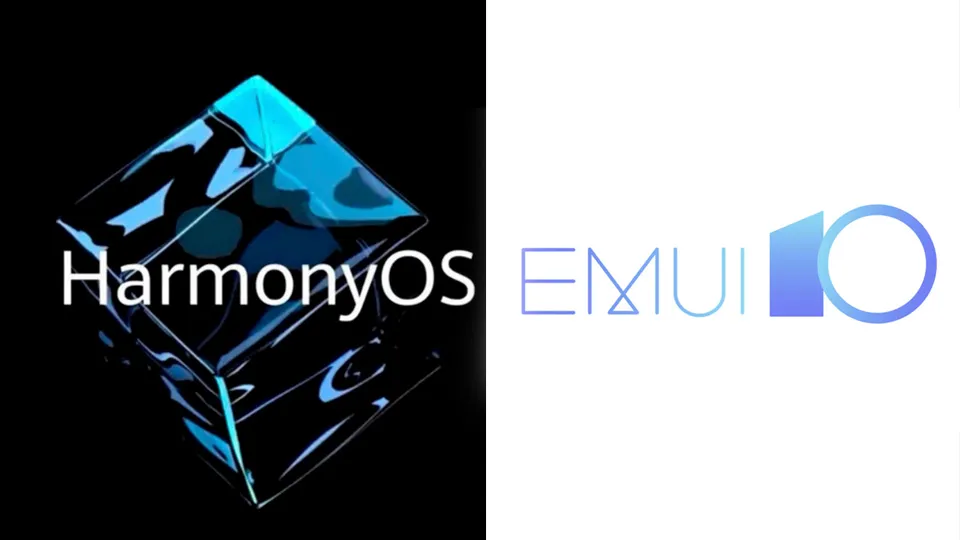 Presently, Harmony OS is the name given to Huawei's Weibo. However, most of those who took part in the core testing of Huawei's Harmony OS system noticed that the interaction mode, theme tune interface, and other Harmony OS features are similar to the previous EMUI system. This is because; the fundamental operating setting of the Harmony OS is a blend of the EMUI interface and the Harmony OS. The Huawei Harmony OS is a new distributed system of Huawei's previous EMUI system.
What can Harmony OS do without the original Android?
The Harmony hardware components sum up calls for realizing the invocation and interconnection of mobile phones, TVs, cars, and watches. It works even as an operation panel for equipment with no screens. Currently, Huawei has released the latest Harmony OS 2.0 that provides development documentation, tools development location simulator, and user-oriented applications to developers.
When it comes to operation and interface logic, the latest Harmony OS version 2.0 is similar to EMUI. Although problems arise when using this new Harmony OS Huawei, the problems are solvable by continuous optimization and upgrading.
Difference between developing Harmony-based apps and Android for developers
The codes for the Harmony system are much different from those of Android. Huawei uses its development personnel to research all of its codes. Just like Androids, the Harmony OS primary architecture and software uses Linux and Windows. The most significant difference between Harmony OS vs. Android is that the Android version uses macro-core, whereas Harmony uses microkernel.
Harmony is almost half the Android size as it has about 18,000 key API interfaces and 8 million key code lines. However, it is much lighter than Android as its package size has been reduced to about 60 or 70 percent. As a result, Harmony's hardware configurations require much lower requirements. The resource directory of Harmony is different from Android's, and the same applies to the writing style, which has been changed from XML to JSON. For developers, the development debugging of multi-terminals is more convenient in Harmony OS than in Androids.
How to replace Android with Harmony OS?
Even though Harmony is a new system, it is created with reference from the android system.  Before this year ends, Huawei plans to equip at least 300 million smart devices with its system. The number will be an excellent start for promoting this product. A chance to bit back will be available in case Harmony forcefully endorses the software settings. Now, Huawei has a great test of impressing developers of countless Internet establishments to embrace this new technology.
Should Huawei users convert the Android version in their phones to Harmony?
Most users worry that they won't use all Android system applications when they purchase Huawei mobile phones. This is irrelevant, and it should never concern you as the Harmony operating system is compatible with all android applications. Furthermore, while Huawei's EMUI is still Android 10, Android has an updated Android 12. That means that it has been a long time since updating the Android version of Huawei's EMUI was done. Hence, it is very likely that Harmony will not push for Android updates any time soon.
The worry about Huawei being unable to use Android applications as Google bans it is entirely unsupported. Most importantly, you should know that Huawei is only prohibited from using Google GSM service, not Android. As long as Huawei follows the Android open source agreement, it is bound to use Android. There, there is no need for Android users to switch to Harmony.
How do Harmony and other domestic mobile phone manufacturers work together?
Most mobile phones use Google's Android because Google's Android system is fully open source. Local mobile phone makers are now at ease to build a system that Google does not control. If you are using the Huawei Harmony OS, make sure it is fully open-source to support local manufacturers. Android applications are compatible with the Harmony operating system; therefore, the android APK software can work well with the Harmony system installed on your phone.
However, as Harmony sets it focuses on the Internet, it is predictable that it may in the future separate itself from IOS and Android. The Harmony OS will only become rich and powerful to mobile phone manufacturers only when multiple application developers develop games and applications for the Harmony operating system. This is the only way the Harmon OS can convince major mobile phone manufacturers to use it.
Recently, Huawei has announced that it has plans to upgrade the Harmony OS to numerous devices, including phones and tablets. Some of the phones that will soon be upgraded include the P40 Series, Mate 40 Series, Mate 30 Series, Mate X2, MatePad Pro, and the Nova 8 Series. Those who are willing to try the Huawei Harmony OS download early should use the My Huawei App to register for the Harmony OS Experience Officer Program. The program is available in 66 experience stores all over the country. In addition, for the time being, the Honor and Meizu mobile phone manufacturers have announced that they are willing to adopt the Harmony OS.
Can Harmony be regarded as an independent operating system?
Most individuals are concerned if Harmony is a local independent operating system or not. Indeed, whether a country is local or not shouldn't be a problem. Control and autonomy are all the country need. The Linux Kernel is available in most systems, irrespective of whether it is Android or Harmony.
If Harmony is independently developed and designed by Huawei from top to bottom, it is not standard. But, it becomes an independent innovation if its application level has some significant innovations. For instance, a Linux version with the same kernel is distributed in an Android, though it can be considered a different technological system. If Harmony creates a disseminated system for the anticipated IoT setting, then the innovation is independent. Huawei does not intend anytime to replace its Harmony system with the Google Android system. Harmony OS Linux is just a kernel. It can indeed become a supplement instead of an adequate substitute.
Benefits of Harmony over iOS and Android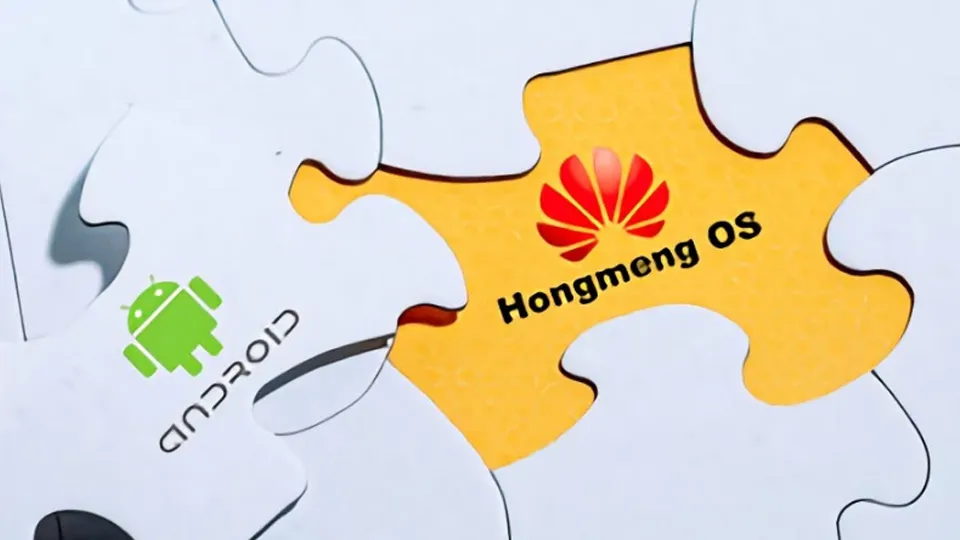 Before analyzing the advantages and disadvantages of the 3 operating systems, it is essential first to understand their differences. Like in mobile phones, the Harmony OS is compatible with numerous things such as smart home, car, wearable, watch, and many more. However, many applications haven't adapted to the operating system as it is still in the development stage. Both the Android and the iOS are based on mobile phones through the iOS smooth as it is not open-source while an android gets stuck when used as it is open source.
The Huawei Harmony micro-kernel system is wholly directed at the Internet. Some benefits of the micro-kernel include;
a) High security
b) High scalability
c) High reliability
d) High maintainability
e) It supports the distributed computing model
Currently, the Huawei Harmony system has the primary task of finding new developments. The rate of integration and development in new technologies such as IoT, blockchains, and artificial intelligence are expected to accelerate after the deployment of 5G. Soon, the latest technology applications are likely to be impeded.  In the future, the latest technology is expected to be applicable in industrial automation, autonomous driving, and other settings. For the Harmony system to achieve large-scale applications at this present stage, numerous APPS should be specially improved to play its advantages adequately.
Can phones with Harmony become slaggier with long-time usage?
In April 2021, a wave of fluency tests was conducted by the Harmony OS Reddit team on Huawei P40 Pro that runs on Android version 10 and the Huawei P40 Pro Harmony OS. After completing the entire trial, it was discovered that both devices were ultimately similar. This indicated that the difference between the Android version 10 and the Harmony Version 2.0 was insignificant.
At the moment, Harmony OS version 2.0 is running applications of Android that run across the Harmony OS packed Android 10 frame. Therefore, things are not expected to get smoother any time soon. The core reason for Android lagging is due to the overrun of the software system. So, the software setting determines if the Harmony OS will fail. The results are inevitable no matter the system used for a long time.
Furthermore, the leading causes of hardware and software problems are not always caused by the system. The memory of the android flagship machine is to a greater extent big, even further than a typical computer's memory. In case Harmony decides to improve their software, they still anticipate developing their applications with the basis of the microkernel applications. So, it is expected that the smoothness of the Harmony OS will be better than Android.
How to make money through Harmony Ecology?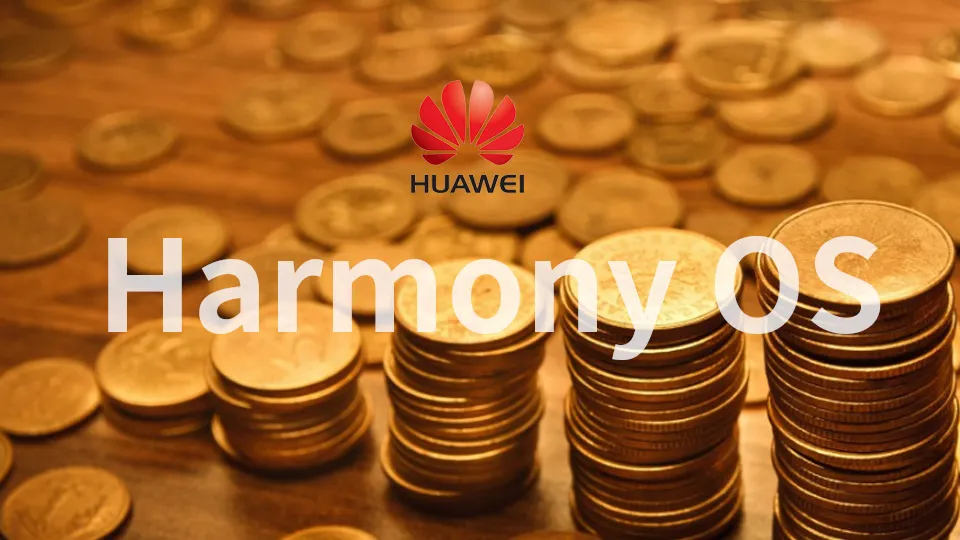 Although Huawei has the Harmony OS, an innovative terminal operating system for the IoT, it is still a big challenge to attract ecological partners. In an interview, Yang Haisong said: "Even if it is factual that Huawei is great at hardware, it is inefficient when it comes to ecology. So enabling others to make money will help us to do ecology. Hence we will get reasonable profit from it. This leads to a mature ecology with sustainable development."
As Yang Haisong stipulates, there are 3 ways Huawei makes money from Harmony Eco: products manufacturing, selling, and operating. Amongst these, there are 2 ways that Huawei provides when creating products. First, most manufacturers acquire commercial certification and free, open-source software from Harmony. Second, Huawei does not charge any fees for brand authorization, but there is a test fee in accreditation. The approved testing manufacturers and institutions directly ally the test fee.
On the other hand, all products sold by Huawei are certified by Harmony. Yang Haisong stated that Huawei would complete more than 60,000 service outlets, online Huawei Malls (VMall), offline retails, Huawei certified top stores, plus other retail position stores that are self-positioned.
Moreover, the activity of partner products can be fully promoted by Huawei through the smart supply of Harmony OS atomization services and linking scenario-oriented high-frequency inflexible equipment. This enables partners to operate as they offer a one-stop operation service on platforms with end-to-end ecological services.
System positioning
Harmony OS is open to everyone as it is a future-proof disseminated operating system.  The OS is part of the inventiveness that involves the all-scenario policy, flexible for use at mobile offices, social communications, fitness and health, media entertainment, and many others. A well-distributed architecture designed with multiple capabilities systems to build the O.S. Harmony OS runs efficiently well on various device forms like mobile phones, wearable, head units, tablets, and smart TVs.
Technical architecture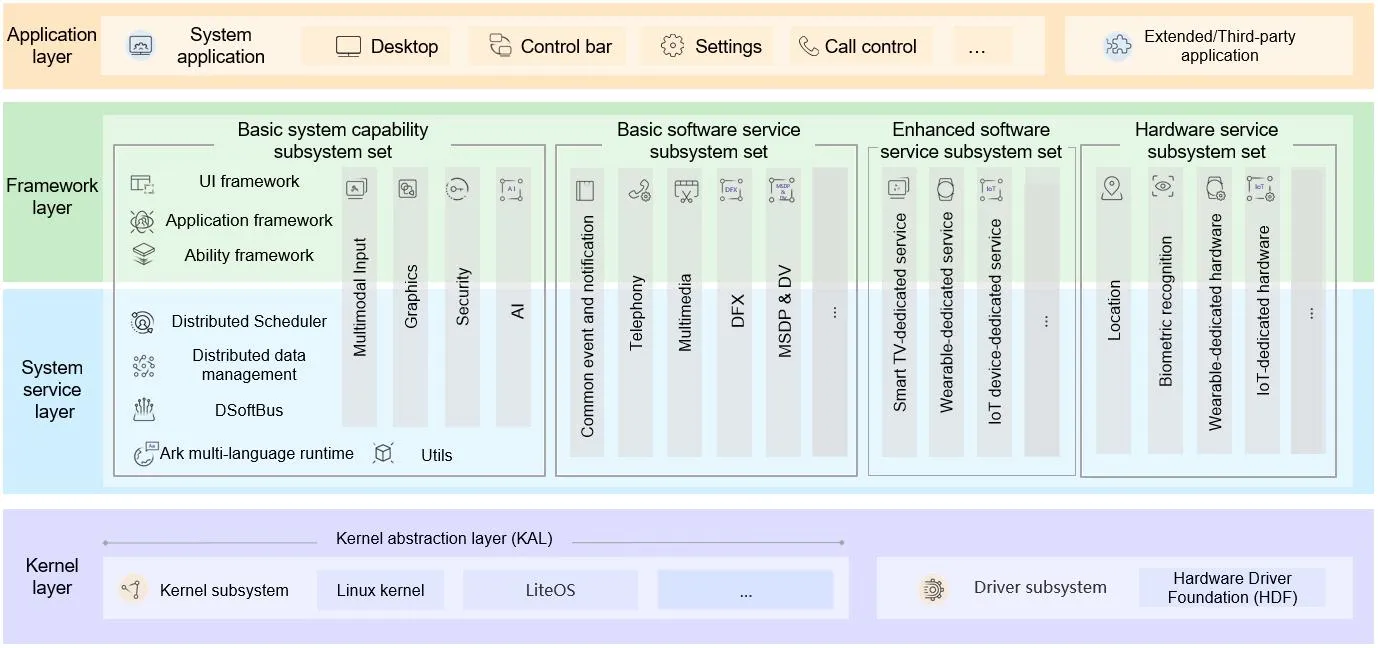 The Harmony OS is designed using a layered structure. From top to bottom, the structure has 4 layers they are;
The kernel layer
The system service layer
The framework layer
The application layer
In addition, levels from system to subsystems expand the system functions. The technical architecture of Harmony OS is discussed here below.
1. Kernel layer
Kernel subsystem: A multi-kernel design is used on Harmony OS to select suitable OS kernels for devices with various resource limitations.
Driver subsystem: The basis of open hardware surrounding a Harmony OS is laid by the Hardware Driver Foundation (HDF). It provides a footing for driver management and development, and it also permits a unified entree from peripheral devices.
2. System service layer
The system service layer delivers a comprehensive set of aptitudes crucial for Harmony OS. It provides application services via the framework layer. The system service layer is made up of the following parts;
Enhanced software service subsystem set
Basic software service subsystem set
Hardware service subsystem set
Basic system capability subsystem set
3. Framework layer
The framework layer offers all the essentials required to develop applications of the Harmony OS applications. These applications include the ability and application frameworks, Java and JS UI frameworks, definite multiple languages such as Java, C, C++, and JS, along with hardware and software service multi-language APIs.
4. Application layer
Third-party and system applications make up the application layer. Every application of the Harmony OS application is driven by Particle Abilities (PAs) or Feature Abilities (FAs).
How it works
A micro-kernel made of simple software structures is installed in the Harmony operating system. The mechanisms of microkernel work using small source code bases contrary to the layered monolithic kernel systems. For instance, more than 100 million code lines are used to run the Harmony OS, just like in Androids.
A distributed architecture kit and an Integrated Development Environment (IDE) make the multi-device. The idea behind this was that developers needed to build apps that run on numerous devices capably. The multi-device IDE enables developers to code and deploys their applications across different hardware.
Can Android apps run on the Harmony OS?
Yes. Like how the recent Huawei android devices perform, any application that does not rely on Google runs efficiently well on the Harmony OS. The OS uses the same App Gallery store that was initially developed on Huawei Android devices. As a result, all apps installed when tested run fine on the new system.
Also, the Harmony OS offers the same Petal Search tool, allowing every Huawei user to straightforwardly search and install apk files not available in the App Gallery. When some commonly used applications like Instagram, Netflix, and Disney+ were tested on the OS, they all ran perfectly.
The only applications that do not run on Huawei android devices are the ones that rely on Google apps and other third-party applications such as Zero and Todoist that depend on Google Mobile Services for data syncing and authentication. As a result, it takes some time for the user to figure out which apps run smoothly on the OS and those that don't.
Relationship with Android and Lite OS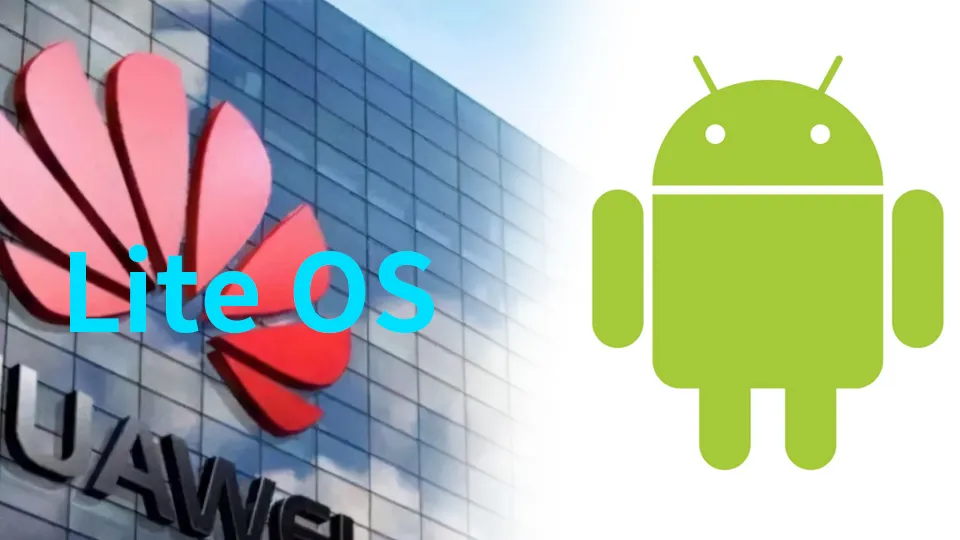 Initially, Huawei had stated that the Harmony OS was based on a micro-kernel. They argued that the OS was different from Android and iOS. Huawei's Lite OS microkernel is used in Open Harmony, although initially, it was designed for use in smartwatches.
After the Harmony OS, 2.0 beta was released, it was found that this OS version had been pronged from Android 10. Ars Technica speculated that the version bared a resemblance to the present EMUI software found on Huawei devices. Also, it was established that the Android Studio received most of its components from the DevEco Studio software. Due to this, some of the Android's development documentation connected more to the Harmony Lite OS-based version. In June 2021, when the new Huawei P40 Lite Harmony OS was being tested, it was found that the Harmony OS had similar behaviors with the Android 10. This was evident when a test to install apps on a Huawei P30 Pro Harmony from Android APK files was conducted.
Possibilities of promoting Harmony OS
After Huawei sold its budget phone unit last year, it has now shifted its focus to software. This will cut off its dependency on US technology. The determination has rapidly become more urgent after the company was blocked from purchasing chips from its core dealers. Before this year ends, Huawei's primary goal is to install more than 200 million devices with the Harmony OS, where over 100 million devices are meant to be assembled outside companies. This will primarily help the company to promote the Harmony OS.
Its significant challenges that would hinder its promotion include convincing external merchants to unrestraint a verified product, creating an ecosystem big enough for software developers, and establishing a vast user base that seduces developers. However, although it may take a long time to make the ecosystem, it will be beneficial sometimes.
To promote the Harmony OS, Huawei aims at encouraging China residents to adopt this new operating system. The dependency rate on Google apps is lower in China, and Huawei targets to cover the market by at least 80 percent in the next decade. The main challenge is in other countries like the US, India, and Europe, where Google Apps dominate.
Vendors in China are also encouraged to sacrifice their sales. Huawei is still pushing developers to create programs for the company's App Gallery. Currently, the store has about 2.7 million developers working hard to develop new apps and over 540 million monthly users. Huawei has already replaced those apps it lost its access to by launching other apps. I.e., Google maps have been replaced with Petal Maps, whereas the Google search bar has been replaced with Petal Search.
The common difference between Harmony and Android
Some of the common differences between Android and Harmony operating systems include;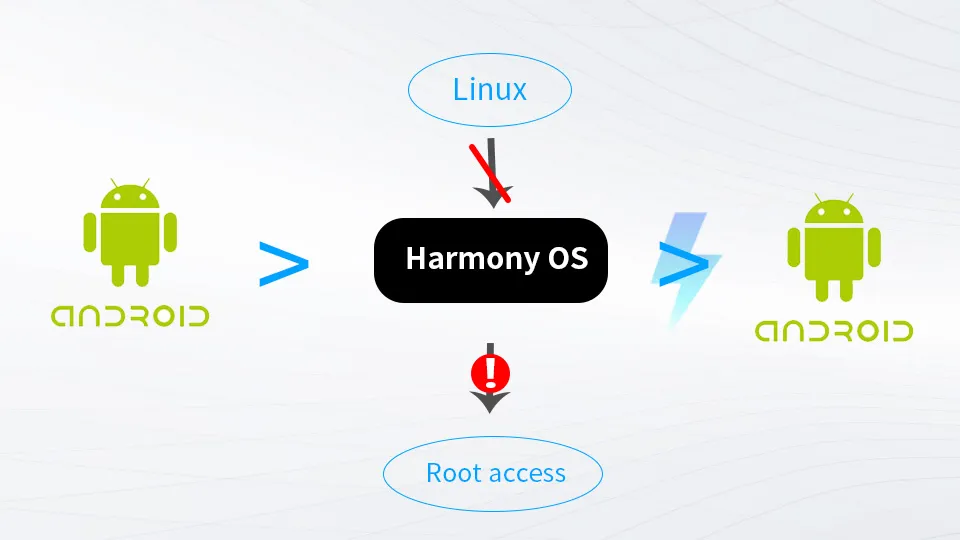 Harmony isn't Linux-kernel based
The Harmony OS isn't Linux-kernel based and that is why it vastly contrasts from Android. Its hi-tech operating system has an entirely new microkernel with small size than a monolithic kernel such as Linux. This is because a microkernel only incorporates the necessary minimum code amount needed to run the OS efficiently. Huawei's microkernel only involves IPC and thread scheduling as it has roughly 1/1000 of the amount of code existing in the Linux kernel. Other services like network drivers, device drivers, and file systems run in the userspace.
Tentatively faster than Android
Huawei has a distributed OS that improves the device's performance by distributing data management and distributing task schedules. However, with the fact that Android has some fragmentation issues, it uses numerous redundant codes, and its scheduling mechanism outdated it slower than the Harmony OS.
Harmony OS do not support rooting
In 2019 at the HDC, Huawei publicized that the Harmony OS will not support root access devices. This will help the device to improve its overall microkernel security.
The Harmony OS do not in any way compete with Android
Huawei has already announced that Harmony OS is not an absolute competitor with Android. The company still wants to keep using Android, but they won't hesitate to shift to Huawei Harmony OS phones if they get kicked out of the Android ecosystem.
At first, Huawei brought the Harmony OS with its intensions in smart speakers, smart screens, car head units, etc. However, by 2025, the company expects the IoT, AI, and 5G technologies to be abundant in the market.
The different usage experience of Harmony
We are confident that developers all over the globe will improve and make life easy with the power of the Harmony OS. Below are two different user experiences the Harmony OS will likely bring to our lives.
Remote Photo Shooting
When shooting photos, you must ask for help from others, make poses beforehand, and design the location for shooting. The New Harmony OS will now easily control the focal length and take photos remotely using a smartwatch.
Links your mobile phone to your watch
It is at times troublesome to use a phone when walking or riding. The Harmony OS will solve this problem as you can now link your smartphone with your smartwatch. You can now use a smartwatch to receive notifications, and it can be connected with a smartphone to show the navigation reminders at the top. This enables the user to perform interactive operations.
The focus on the harmony new conference on June, 2nd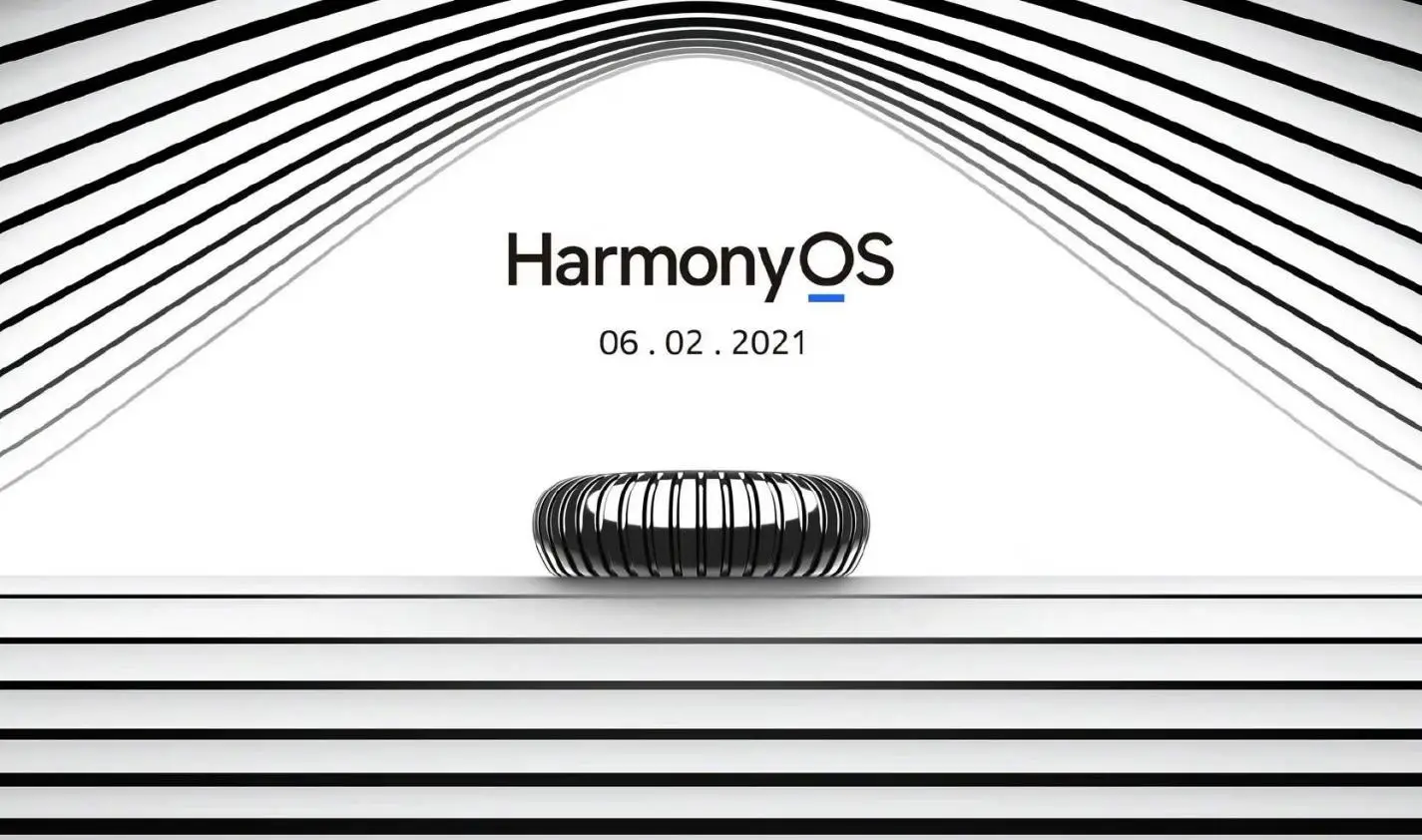 The Harmony news conference on June 2 importantly focused on helping people understand what the Harmony OS is trying to do. The main point is to know what is IoT. Most reports refer to the Internet of Things as the embedded operating system or the Harmony OS running on devices. This doesn't seem right as there is a substantial difference that exists between them. Like how a computer operating system helps users use the computer via software, the embedded operating system efficiently solves computing and networking hitches of the IoT devices.  The main idea behind the development of Harmony was to solve problems that arise as a result of the IoT. The main issues discussed between the latter two during the harmony new conference on June 2 are;
a) Embedded OS for IoT devices is not equal to Harmony OS
It is essential to understand that electronic devices appear in huge numbers during this era of the Internet of Things. Several phenomena have been raised, one of them being the connection growth rate between two devices is much greater than the connection rate of growth rate in a single device. For instance, it is possible to connect a smartwatch to Wi-Fi and multiple other devices simultaneously. Secondly, connection protocols and devices' hardware are becoming more diversified, such that they are fragmented.
b) The design ideas already improved by Harmony OS
The linking between devices is no longer a function of the application layer, but it isolates and captures users through a middleware. From the outlook, the Harmony OS through the distributed soft bus separates the connection of IoT devices. This enables the users to evade the connection management on the mobile phone system. Therefore, it is very appropriate to understand that the standard call between IoT devices and the Harmony OS is very convenient.
How other vendors serve up their operating system SDKs
Vendors aid their Android OS by Googling "Android SDK," then clacking on the first available link. They click the download button to end the process. A developer must have a Mac as it is a requirement by Apple for the iOS SDK. The developer is needed to download the Xcode from the App Store. Before you install the Harmony OS, you must pass a background Huawei check of 2 days. You will also be asked to submit a picture of your passport.
To become a developer with Huawei, you will be required to visit the Huawei.com website and make an account. Then, complete the "Identity Verification" test to sign up. To complete the sign-up process, you will be needed to send your name, email, phone number, address, credit card photo, and images of either your passport or driver's license to the Huawei Company.  After signing up, you will then wait one or two business days for the Huawei Harmony OS review team to check your request manually.
Even though you attempt skipping the horrifying Huawei sign-up process by downloading the Harmony SDK from another place, the emulator won't run till you use an account that has passed the verification process on signing in.
Developer user applications of the Harmony OS
The table below shows the general processes of developing the Harmony OS user applications on different devices.
Scenario
Description
Know more about the Harmony OS
·         Have a general understanding of Harmony's architecture, system positioning, and technical features.

·         Comprehend Harmony's OS application development elementary concepts.

Location development settings
·         Configure the development settings after installing the HUAWEI DevEco Studio.

·         Become familiar with the Harmony OS application development process by quickly structuring the first application.

Developing components of the UI
·         A UI is essential as it helps the FA to network with users. The Harmony OS offers JS UI and Java UI frameworks.

·         The Java UI makes the application development more flexible as it provides fine-grained UI APIs, while the JS UI simplifies application development by giving UI descriptions of high-level.

Developing abilities
·         The Harmony OS provides the Particle Ability (PA) and Feature Ability (FA).

·         The feature ability only supports the Page template, used to deliver the aptitude of networking with users.

·         The particle ability supports the Data template for PAs providing access to external data and the Service template for PAs providing background functions.

Developing service functions
·         In media functions: image, camera, video, and audio.

·         Insecurity functions: permission and biometric recognition.

·         In AI functions: code generation, image super-resolution, and voice recognition.

·         In thread functions: thread management and inter-thread communication.

·         In device management functions: sensors, misc devices, and location.

·         In thread functions: thread management and inter-thread communication.

·         In data management functions: fusion search, database, and distributed data/file service.

·         In IDL functions: affirmations of service interfaces offered by system services and aptitudes for external systems and generating codes.

Debugging an application
·         Apply for a debugging certificate whenever you debug an actual device's application. Before compilation, make sure you have configured the signature information. By doing this, a signed HAP is produced during building and collection.

·         The signature information is unnecessary when compiling and building the HAP whenever you want to debug your application on an emulator.

Releasing an application
This is achieved by applying for a releasing certificate, signing the application, and submitting a release request.
What will run Harmony OS?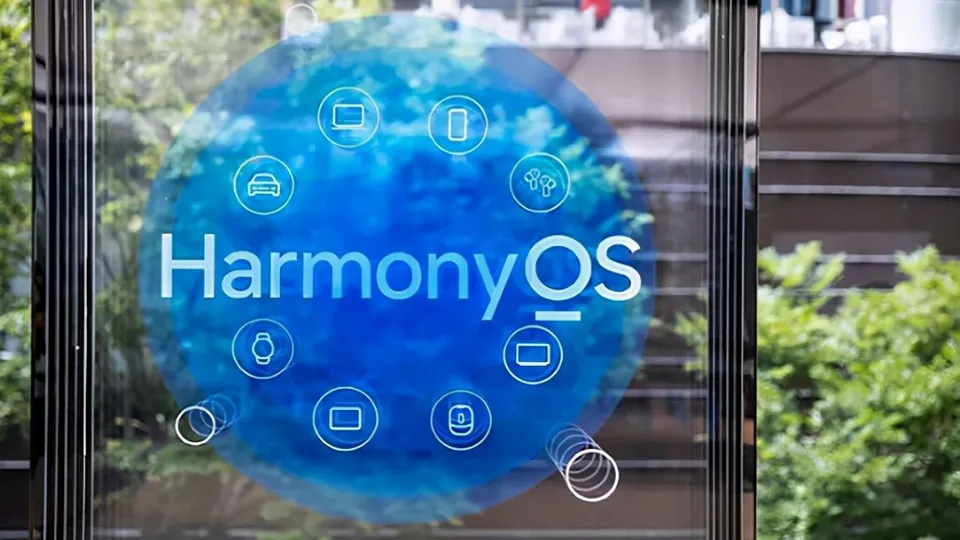 When the Harmony OS was legitimately released in August 2019, it was speculated it would have the power to run across all devices. This is because it had a distributed operating system that was based on a microkernel.
At first, Huawei had plans to run the Harmony OS in smartwatches, smart TVs, wearable, and in-car head units. That came to be during the keynote launch of the Harmony OS in June 2021 when Huawei publicized the newest cohort of the Huawei Watch 3 series and the MatePad Pro tablets, both of which use the Harmony OS to run.
Huawei seems to move into its dedicated ecosystem as it has already confirmed a beta version for smartphones. Therefore, the Huawei P40 Harmony OS and the P50 range expected to be soon released by Huawei will run on the Harmony OS. The current devices will also be installed with this software. The Harmony OS is scheduled to run on;
All platforms with cross-devices
IoT, Wearable, smart TVs, smart homes, smartphones
All watches and tablets launched in 2021
Without a doubt, Huawei has plans to shift from EMUI to Harmony OS. This will make Huawei's alternative smartphone platform a lot more accurate.
Harmony OS for IoT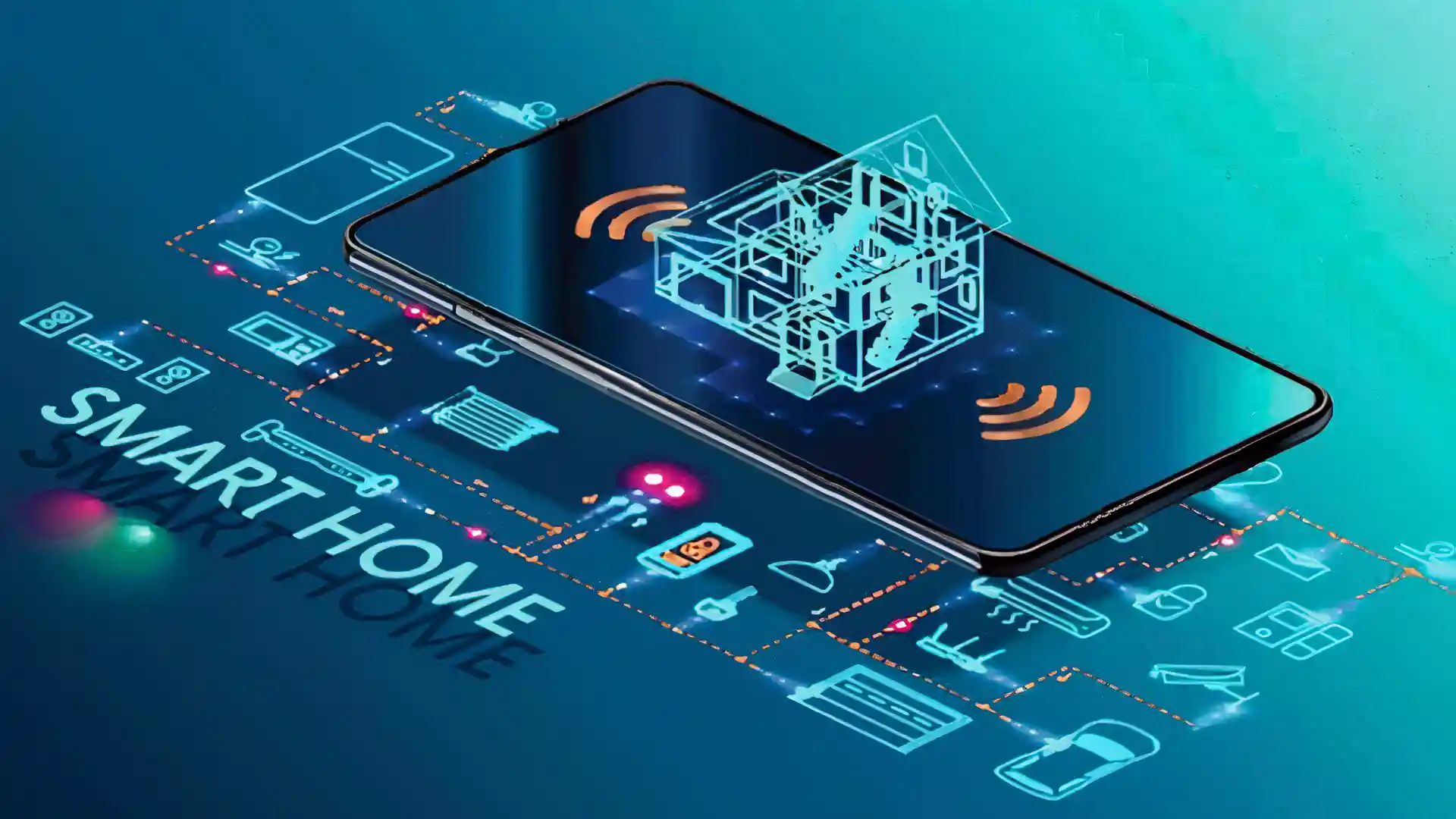 The Huawei Harmony OS release date was in 2019. However, the Huawei Company announced the Harmony OS version 2.0 in August 2020, and in December 2020, it publicized the Harmony OS version 2.0 betas for smartphones announced December 2020. Moreover, in June 2021, Huawei officially made the Harmony OS version 2.0 for tablets and wearable.
After Huawei unveiled the Harmony OS in August 2019, it was anticipated that the OS would replace Android in the mobile phone market, but that wasn't the case again. Although the Harmony OS was initially developed for IoT applications and televisions, this came later to change. Huawei later launched the Harmony OS 2.0 beta for smart TVs and smart homes during the Huawei Developer Conference in 2020. The beta version for smartphones was announced in December 2020.
In late spring 2021, the Huawei Company launched the Harmony OS in a dedicated event to show off its first portable devices that use the Harmony software to run. They were the Huawei Watch 3 and the MatePad Pro, enabling the company to showcase its versatility. Huawei established that Harmony OS in china would be known as HongMengOS.  HongMengOS was amongst the first names to appear after Huawei spat with the US government. The Harmony OS trademark was developed even before its announcement.
IoT solution and IoT devices available at MOKOSmart
With the advanced technology, there are so many smart devices that exist in our lives than before, although the knowledge provided by these devices often isn't smart. Unconnected systems tend to obfuscate operations and interconnectivity, steered to an uneven user experience in the long run—MOKOSmart majors in designing and manufacturing IoT Hardware. We have ODM & OEM solutions that offer a diverse range of IoT products for the universal smart device flea market. Currently, the IoT devices available at MOKOSmart's line of products include smart homes, smart switches, fitness trackers, smart sockets, wireless sensors, Bluetooth modules, Bluetooth beacons, LoRa-Based products, and many more.
IoT solutions available at MOKOSmart include;
a) Smart agriculture
b) Outdoor and indoor location
c) Smart retail
d) Asset tracking
e) IoT sensor products
f) Smart energy