IoT Smart Plug Socket For Your IoT Projects
ווילן צו בויען דיין אייגענע סמאַרט צאַפּן כאָלעל סאָרט?
קאַסטאַמייזד און ווייסע פירמע פּראָגראַם מאָקאָסמאַרט סמאַרט צאַפּן וועט פֿאַרבעסערן דיין פּרויעקט דיין געשעפט.
> Smart Plug Printe Your Brand Name and Logo
> Provide SDK for Your Projects
> Power/Energy Measuring Accuracy is ±0.5%
> די, ETL, FCC& דאָס, RoHS Certified
> ייַזנוואַרג & Firmware קאַסטאַמייזד
> Customized Label Sticker and Package
> אָריגינעל סמאַרט צאַפּן כאָלעל מאַנופאַקטורער
Have you ever thought of your appliances thinking about you or your home running on its own? Or if you can save more power without the need to run around your home now and then switch off the power points of your appliances? אין מאָקאָסמאַרט, there is a solution that makes these fantasies come true – the Smart Plug socket. You don't have to worry anymore.
יסענשאַלי, a smart plug is a wall socket that can be remotely controlled after connecting it to a network. By remotely connecting a smart electric plug to a network, it becomes easier to schedule activities, link smart devices, and use voice commands. Plugging a normal wireless device into a smart plug comes with multiple options. Once you install a wireless plug socket at your home, you will be wondering how you ever lived before without having them.
MOKOSmart offers a one-stop IoT solution for smart plugs, sockets, סוויטשיז, און אנדערע פּראָדוקטן. We customize all smart plugs based on Wi-Fi, בלועטאָאָטה, NB-IoT, זיגבעע, and LoRaWAN technologies. דערצו, we manufacture various types of smart plugs for use in different countries. אלע צוזאמען, we also support the wireless connectivity of multiple devices in a way that meets the user's application requirements and functionality. Smart plug products available at MOKOSmart include; the UK gateway plugs, the US standard Wi-Fi energy monitoring plugs, and the Australian standard Bluetooth and Wi-Fi outlet plugs.
What Can We Do for Your IoT Projects

?
How Smart Plug Outlet Works
Smart plugs enable the user to control the power delivered to the connected appliances easily. יסענשאַלי, they work by automatically switching appliances on and off via a switch connected to the outlet. Smart plugs have in-built circuitry that enables the user to easily control the plug through an application linked to a smartphone. A plug connected via Bluetooth or Wi-Fi links directly with a smartphone. The one connected via a Z-wave or Zigbee smart hub links indirectly.
Once you power the smart plug using the mobile app, it starts delivering energy to the connected appliances. When the smart plug is turned off through the app, it immediately stops delivering power. Other smart plugs are also capable of even recording the power consumed by the connected appliances.

IoT Smart Outlet Solutions
מאָקאָ קענען צושטעלן פאַרשידענע טייפּס פון צאַפּן צו דיין לענדער. אין די זעלבע צייט, מיר שטיצן קייפל וויירליס קאָמוניקאַציע וועגן און ייַזנוואַרג קאַמפּאָונאַנץ צו טרעפן דיין דאַרף לויט דיין אַפּלאַקיישאַן סינעריאָוז און פאַנגקשאַנאַל רעקווירעמענץ. פֿאַר בייַשפּיל, דער לעצט פּראָדוקט קען זיין אַ יו. עס. נאָרמאַל WiFi ענערגיע מאָניטאָרינג צאַפּן, אָדער עס קען זיין אַן אַוסטראַליאַן נאָרמאַל בלועטאָאָטה & וויפי ווייַט קאָנטראָל צאַפּן, אָדער עס קען זיין אַ וק גאַטעווייַ צאַפּן.
IoT Smart Plug Applications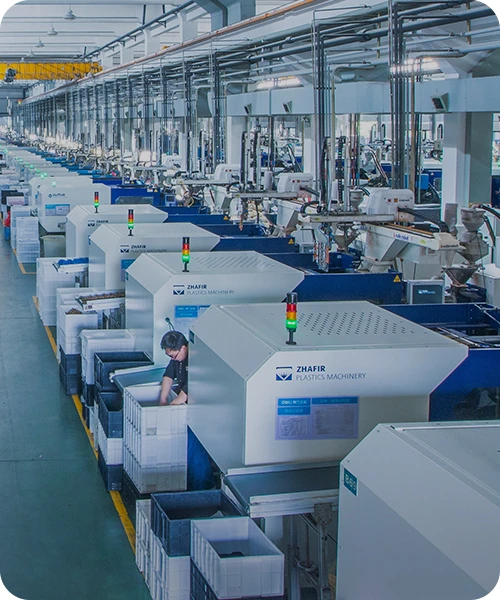 מאָניטאָרינג פון ינדוסטריאַל עקוויפּמענט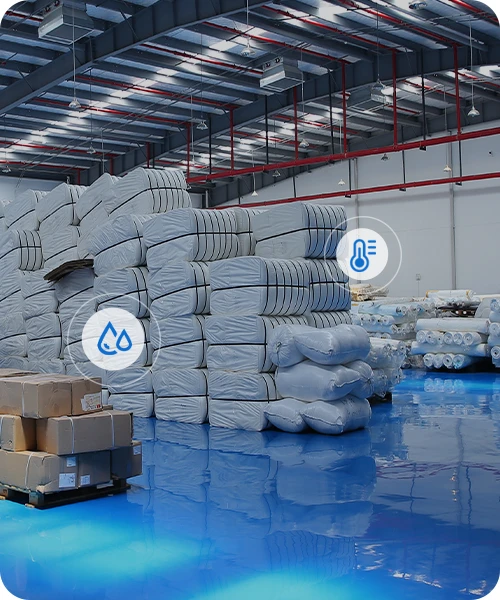 ענוויראָנמענטאַל מאָניטאָרינג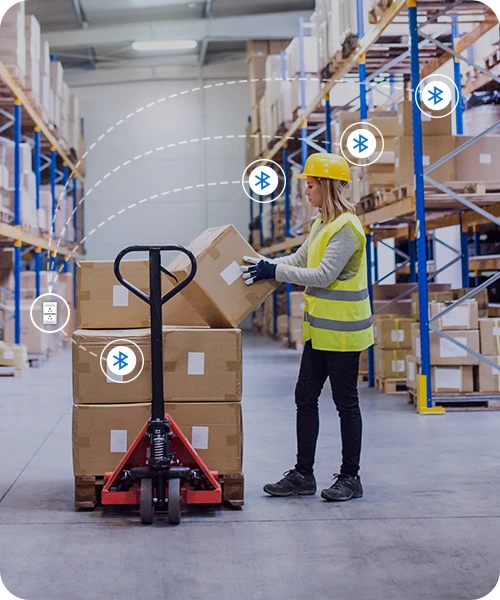 Why Choose Our Customization and




White-label Smart Plug Socket Solutions

?
ווילן צו פאַרברייטערן דיין פּראָדוקט שורה? דיין שוטעף קען זיין אונדז. דאָ זענען די דורכוועג צו וויפי סמאַרט כאָלעל מאַרק וואָס איר קען נוץ פון איצט.

Build Your Brand
איר טאָן ניט האָבן צו אַרבעטן אונטער די שאָטן פון אן אנדער פירמע, פּראָוכיבאַטינג איר צו וואַקסן דיין אייגענע סאָרט. אונדזער ווייַס פירמע לייזונג אַלאַוז איר צו פאַרקויפן אַלע אונדזער פּראָדוקטן אונטער דיין אייגענע סאָרט נאָמען.

Control Your Customers
איר האַלטן גאַנץ קאָנטראָל פון דיין קלייאַנץ, אַלאַוינג איר צו שטעלן דיין אייגענע פּרייסיז, פּעקל די פּראָדוקטן צו פּאַסן די פאדערונגען פון דיין קאַסטאַמערז און וואַקסן אַ נאָענט שייכות מיט יעדער קונה.

Launch Your Business Faster
יאָ, איר קענען טייקעף ונטערטוקנ זיך אין די סמאַרט היים מאַרק, אָן אַ פּלאַץ פון פינאַנציעל ינוועסמאַנט.

Earn More Money
עס רימוווז לאַנג פירן צייט און באטייטיק רידוסיז אָדער אפילו ילימאַנייץ קאָס פֿאַר פּראָדוקט אַנטוויקלונג. אַזוי איר שפּאָרן גרויס און מאַכן מער געלט.
Why is the Smart Plug Socket So Popular

?
Benefits of smart plug sockets
Smart plug wireless sockets come with numerous benefits when installed in a home
.
Some of these benefits are
;
Enhances network connectivity in a home – Appliance or devices existing in a home can be turned into smart objects using a smart plug

. דערמיט,

smart plugs facilitate easy communication between smart products

.

Remotely switches appliances on and off – Smart plugs easily turn applications on and off

. דערצו,

smart plugs can be used to check if there is any appliance running at home

.

Easy monitoring of energy used – Smart plugs enable a user to swiftly monitor the amount of energy used by appliances at home directly from a smartphone

. אויסער,

smart plugs also notify the user whenever a device starts consuming unusual amounts of energy

.

Easy scheduling – Smart plugs let you set schedules on when your appliances should shut down or startup

.

Draws off vampire power – Smart plugs enable you to save the amount of energy you use as it helps you easily recognize the appliance guilty of phantom load at your home

.

Voice control – Smart plugs are built-in away that the user can operate the appliances connected to them by just a voice command

.

Improves home security – Smart plugs automatically switch lights on and off even while you are away

.

This makes you appear as like you are at home always

,

even while you are away

.
Benefits of smart plug sockets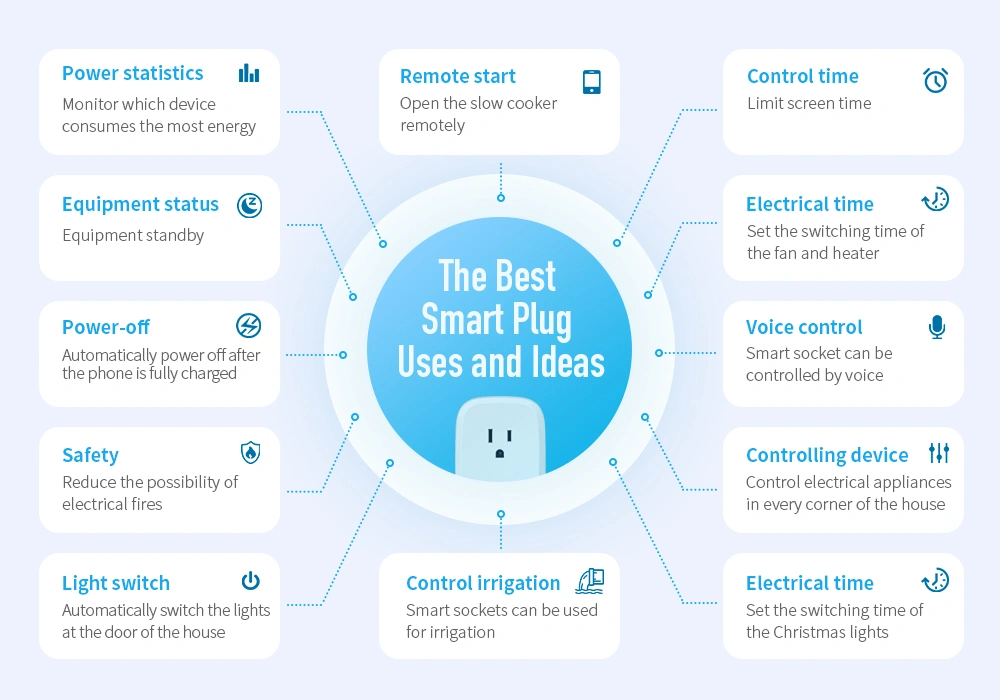 Identify appliances using a lot of energy helping you to save more
The amount an appliance consumes can be tracked once the application is connected through a smart plug. This helps the user to determine the appliances that consume more energy. When you never intend to buy many smart plugs, you can plug a single appliance at a time.
Arrangement for minimal vampire power
Vampire power is the energy used up by electric appliances during the standby mode. Smart plugs prevent the devices from consuming the vampire power. At times, the power consumed on standby mode can make up 10 percent of a household's total electricity bills.
Optimize your mobile and toothbrush charging stations
Mobile phones and toothbrush charging stations only require 2-3 hours of continuous charging before power is disconnected. Thanks to the smart plug, it helps you to do this. You can automatically schedule to switch off the power of an appliance at a set time using a smart plug.
Reduce your chance of electrical fires
Connecting appliances through a smart plug ensures that they are switched off whenever they are not in use. This minimizes the chances of the appliances having faults or even catching fire when not under supervision.
When away from home, you can set actions using a mini smart socket before heading off. Smart plugs can be set to switch lights on and off automatically. This gives an impression that you are still around even when you may be far away from home.
Prepare a meal ahead of time
A smart plug enables you to easily upgrade a slow cooker that cannot be connected through the internet by default. Smart plugs can be used to control the supply of power on slow cookers. With the help of a smart plug, you can now easily prepare a meal ahead of time by remotely turning on a slow cooker using a mobile application before getting home.
Smart plugs can be used to control power in a television, internet router, or even in the charging ports of a smartphone. By using a smart plug, you can now limit the time of screen watching.
Set the perfect temperature
Temperatures for fans and heater plug-ins can be set using smart plugs. דערצו, a smart plug prevents a fan from running at longer times by cutting down power when the user is not around.
Regulate your appliances with your voice
Some smart plugs are designed with an in-built voice command. By installing smart plugs at your home, you can successfully add voice control to your electrical sockets. This enables you to remotely turn your devices on and off without necessarily reaching over the plug.
If you are uncomfortable moving around, smart plugs let you easily access and automatically control plugged-in appliances while at any location. Smart home plugs from MOKO enable you to access your home remotely.
Christmas light automation
With the Christmas holidays approaching, consider purchasing smart plugs to control your Christmas decorations. Smart plugs automatically power off Christmas lights at set times, continuously as long as required.
An agricultural irrigation system connected to power by smart plugs is easy to manage. The smart plugs can sense and send collected data on temperature, דרוק, and humidity to the BIoT platform.
Advantages of Wi-Fi Smart plugs over Bluetooth/ Zigbee/ LoRaWAN/ Z-Wave Smart Plugs
Price – Wi-Fi smart plugs are less costly compared to the other home automation protocols

. דערצו,

it is much easier to acquire a DIY smart Wi-Fi socket

,

making it a cheaper option

.

Wi-Fi is more common – Most households are already connected with a Wi-Fi network

;

hence it is more convenient to use smart plugs with a Wi-Fi wall outlet

. אויסער,

the other home automation protocols like Zigbee and Z-Wave require a hub to operate and are too technical

.

Simple to use – When it comes to simplicity

,

Wi-Fi smart sockets take the lead

.

As Wi-Fi is more common

,

the basic setup of the Wi-Fi electric outlet is easier

,

and the user does not necessarily have to purchase extra hardware

.
Disadvantages of Wi-Fi Smart plugs over Bluetooth/ Zigbee/ LoRaWAN/ Z-Wave Smart Plugs
Wi-Fi does not support mesh networks

–

Only a Z-Wave and Zigbee smart plug can be remotely controlled through a mesh network

.

Wi-Fi smart outlet plugs cannot communicate via a mesh network

.

Weak network

–

The Z-Wave and ZigBee protocols offer a stronger network over longer distances than Wi-Fi plug-in wall smart plugs

.

High power usage – Wi-Fi-controlled outlet smart plugs consume more power than those using the other home automation protocols

.

Can only connect a limited number of devices

–

Most Wi-Fi smart plugs can only connect to less than

20 אַפּפּליאַנסעס. מער ווי 20

appliances slow down the strength of the Wi-Fi network

.

Zigbee can handle over a thousand connections

,

whereas Z-Wave can permit up to

231

connected devices per network

.
Comparison between Wi-Fi

, בלועטאָאָטה, זיגבעי, LoRaWAN,

and Z-Wave smart plugs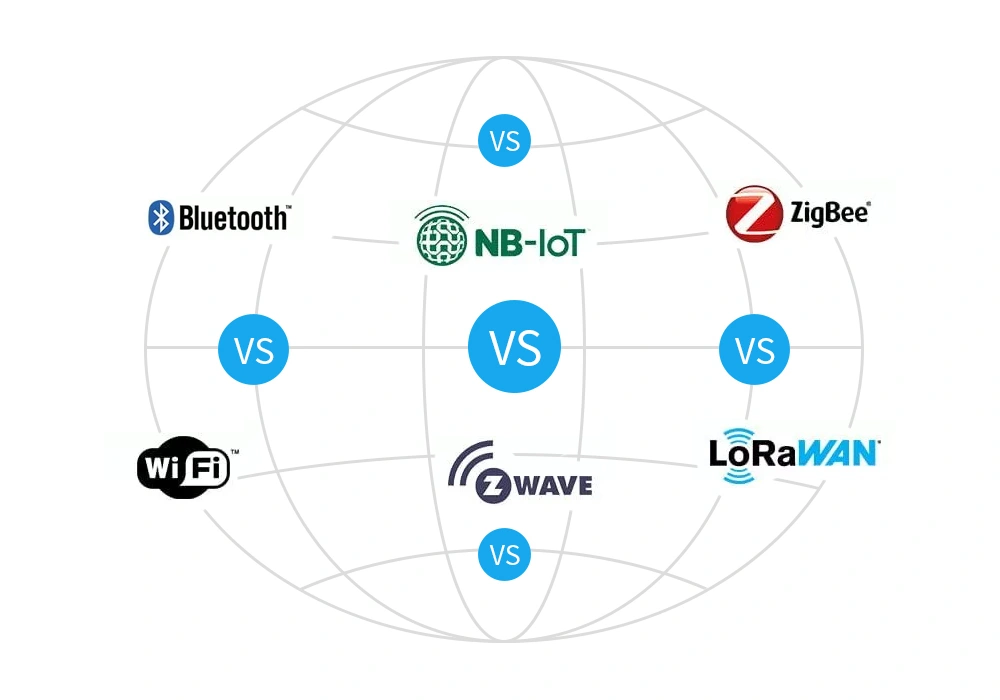 A smart Wi-Fi plug communicates to the central control hub using a Wi-Fi network. The data collected is then sent by the hub to the user's mobile app still via Wi-Fi. אויף די אנדערע האנט, for a Bluetooth smart plug to effectively work on the mobile app, smart home hub, or voice assistant, they must be connected to a Bluetooth outlet. A Zigbee plug uses a mesh network to send information to the control hub and only connects to Zigbee compatible hubs. The mesh networking also increases the range of the Zigbee devices connected to the network.
Smart plugs using the LoRaWAN protocol must be linked either to a public or private LoRaWAN network. The network enables the user to control the smart plug adapter operations on the connected appliances remotely. It also helps the user to monitor the energy consumed by appliances connected to the plug. For a Z-Wave smart outlet, you can only control it from your phone through the Z-Wave Hub. The Z-Wave hub enables you to manage wireless electric outlets. This home automation protocol enables you to remotely track the power consumed by the appliances connected to the plug.
אַלע אין אַלע, the Wi-Fi smart plug is the most recommendable for smart home uses. The Wi-Fi network is a bit fast, עקאָנאָמיש, easy to install, widely available, and has a wide operating range compared to the other plugs.
List several challenges of smart plugs
The commonest issue associated with smart plugs are
Some manufacturers of smart plugs fail at times to set their plug's timer

Unreliability in remote device controls while away from home due to installation faults

.

Routers dysfunction

Failure to connect the internet cable when it is raining

The mobile application at times gain bugs after upgrading

External sources can hack smart plugs

A network must be available for the smart plugs to work

The reliability reduces when the smart plug is connected to multiple devices

The technology behind smart plugs is more complex
How to use your Moko Smart Plug
Below are the guidelines for using your MOKO smart plug.
שריט 1:
Install and download the MokoLife App and connect your smartphone to a Wi-Fi network

Open the MOKO Life App and click on the menu to go to settings

.

Set the MQTT parameters for your plug and the MoKoLife App

.
שריט 2:
Plug your smart plug into a power socket

.

Press the button on the smart plug for about

10

seconds to reset your plug

.

Tap on

+

and add your device by clicking on MoKo plug go from the Select Device Type page

.

Click on the Confirm button when prompted to connect to a hotspot

.
שריט 3:
Find the SSID

:

MK1XX-XXXX

Tap the hotspot and connect your account by entering your password

.

Choose NO if your phone tries to change the network
שריט 4:
After linking the hotspot

,

enter the information of your Wi-Fi on the MokoLife APP

.

On the MoKoLife APP

,

click the confirm button for the Smart plug to link with the MQTT server and router

.

Once your phone disconnects from the hotspot

,

it will automatically connect to the Wi-Fi available

.
שריט 5:
After connecting your plug successfully to the Wi-Fi network

,

you can now give your smart plug a new name

Use the MoKoLife APP to control your smart plug

.

Use the center button to turn the status of your smart plug on and off

.

To go to the other page

,

tap on smart plug go

.
שריט 6:
Set the countdown timer by clicking on the Timer button

.

You can cancel the countdown timer by changing the status of your smart plug
You can access the information of the energy consumed by the appliances connected to your smart plug when you tap on the Statistics button.
Does connecting too many appliances to a smart plug slow down Wi-Fi

?
Can the connection of many smart receptacles into a network cause slowdown? To be precise, יאָ. Plugging many appliances in a smart plug can slow down your home's Wi-Fi network. בכלל, most appliances like smart switches, smart bulbs, and smart lights do not slow down the Wi-Fi speed not unless you are simultaneously running a bunch of them (20 אדער מער) אין די זעלבע צייט.
אָבער, strong Wi-Fi networks can connect as many as 200 appliances without affecting the Wi-Fi speed. Basic smart plugs do not use much Wi-Fi bandwidth when only connected to the network and not working. This do not influence your Wi-Fi's speed. The Wi-Fi speed slows when multiple smart plugs are connected simultaneously to the Wi-Fi and activated by turning on the power.
Always connect your smart outlet plug directly into a wall socket – Never plug smart plugs into power strips or extension cords

.

They are designed and work best when plugged into a wall outlet

.

Using the smart plug anywhere else is misusing it as this increases the risk of fire

.

Ensure that you always install your smart wall plug properly – It is recommended that the smart plug be fixed properly

,

fitting snugly into the outlet

,

and flushing with the wall outlet cover

.

Examine your socket properly – This is not a normal issue in newer homes

.

Check on your wall sockets if there are any cracks or discoloration and make replacements if need be

.

Check on the plug's wattage ratings – Ensure that the power requirements of the appliances fixed on your smart plug do not exceed the maximum wattage and amp ratings

.

The minimum watt rating of most smart wall outlets is

1800

watts

.

Ensure that you use your smart plug according to its design specifications

-

If your smart plug is designed for indoor uses

,

always keep it inside

.

This is because outdoor smart plugs are built differently to withstand severe weather

,

whereas indoor plugs are not

.

Always place your smart wall socket is away from furniture – Ensure that your smart plugs have some space

.

Keep anything considered flammable far away from the plugs to minimize the chances of fire spreading if it results out

.
Difference between Smart Plugs and Smart Power Strips
Smart plugs and smart power strips are quite different. Smart plugs use the same technology, and they only have a single power outlet. אויף די אנדערע האנט, smart power strips have several smart plugs that can individually power many devices through one single outlet.
A smart power strip is similar to an average power strip, only that it can be controlled through a voice assistant or a smart device. Most smart power strips have USB ports for charging mobile devices freeing up the power outlets for other appliances.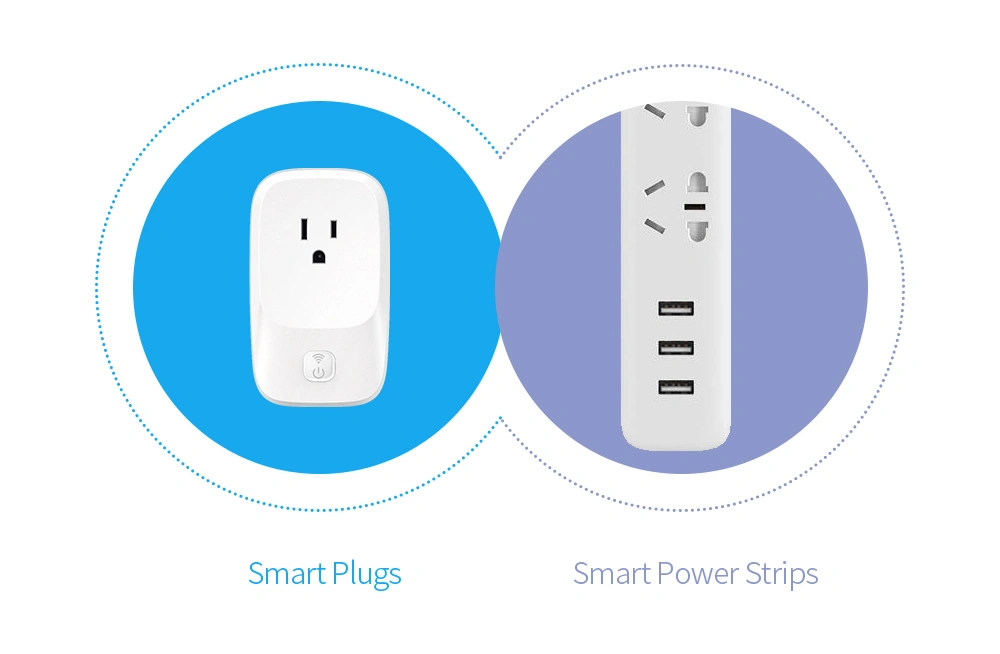 What to consider before purchasing a smart plug
Voice assistant compatibility

–

Ensure that the plug is compatible with the command system you are convenient with

.

Make sure that the plug is costumed to support voice commands preferences as not every plug is compatible with either Google Assistant or Alexa

.

Surge protection

–

A smart plug that can surge protection is a better choice to consider purchasing than one that cannot

.

At a desk or entertainment center

,

a smart power plug with surge protection may be a better choice for you

.

Additional outlets

–

Consider purchasing a smart plug with extra outlets as it can help you to expand the number of ports

.

Dimming

–

Purchase a smart plug that you can easily control dimming lights using voice commands or the mobile app

.

You will only need to pair the dimmable light to a smart plug that supports dimming

.
גרייס קאַנסידעריישאַנז –

Some smart plugs are a little large

;

hence they take up unnecessary valuable outlet space in a home than necessary

.

Purchase smart plugs with moderate sizes to minimize the space taken by accessible outlets in your home

.

Socket type

–

There are different types of sockets available in different countries

.

Consider purchasing a smart plug that protects the socket in your home

.

Communication technology

–

Consider buying a smart plug that is compatible with the communication technology existing in your home

.

This will allow you to remotely control your appliances

.

The best smart plug options should be based on the Wi-Fi home automation protocol

.

Wattage Rating

–

Before buying a smart plug

,

it is essential to consider its wattage rating

.

Always make sure that your smart plug's wattage rating is appropriate for your target appliance

.

This is because a smart plug can be overheated by a high-wattage appliance

,

causing fire or internal damages to the plug's circuitry

.

Hub Requirement

–

Purchase smart plugs integrated with a directly-operated functionality

,

such as Bluetooth and Wi-Fi-based smart plugs

.

This is because smart plugs that use ZigBee

, ז-כוואַליע,

or other branded protocols require a smart bridge for allowing remote access

.
ענערגיע מאָניטאָרינג –

When buying a smart plug

,

it is essential to consider the feature of energy monitoring

.

You can cut the cost of your electricity by using your appliances only during off-peak hours

. בכן,

purchasing an energy monitor plug can be very helpful to you

.

Scheduling

–

Most smart plugs allow the users to set schedules

.

Other than switching off the plugged appliance

,

you can set a schedule that automatically powers off the appliance at a specific time

.

Always consider purchasing a smart plug that supports scheduling

.
Frequently Asked Questions
Can smart plugs increase the risk of fire

?
All smart plugs are customized to have similar codes and standards to the outlets. Smart plugs have an automatic feature that remotely turns off whenever power upsurges or in case of any other electric incident that can cause damages to your devices. Compared to traditional plugs, smart plugs are in many ways safer to use at home.
What is the cost of smart plugs

?
The average cost of a Wi-Fi-compatible single unit smart plug is between $25 צו $60, depending on the manufacturer. אָבער, smart plugs specifically built for outdoor usages are more costly than ordinary plugs.
Which extension devices should not be used with a smart plug

?
It is recommendable to plug your devices directly into a smart plug unit to avoid adding extra extensions to the plug. Always consider using extension devices like power strips and extension cords as a safety precaution, even when a smart plug is involved or not.
Do smart plugs have wattage limits

?
The power consumption of most smart plugs is only a few hundred watts. For small appliances, this works very fine, but the wattage limit cannot support large appliances. The maximum rating of a smart plug is usually written by the manufacturer on the documentation of the smart plug.
Is there any difference between smart outdoor plugs and regular smart plugs

?
Regular smart plugs are less rugged than outdoor plugs, although they have similar functions. The difference between the two smart plugs is that the outdoor smart plugs are strongly built to withstand severe weather conditions.
אייער ווייַטער שוטעף קען זיין יו!
מיר האָבן אונדזער מאַנופאַקטורינג מעכירעס לאָוקייטאַד אין שענזשען טשיינאַ, מיר האָבן עקספּערט טעכניש מאַנשאַפֿט אין אָפיס וואָס קאַנסאַנטרייץ אויף פּראָדוקט ר&ד פון IoT דעוויסעס. דיין ווייַטער שוטעף קען זיין אונדז! מיר זענען גרייט צו ברענגען דיין פּרויעקט, דיין געשעפט צו דער ווייַטער הייך.