MK05 nRF52810 Module Compatible Bluetooth 5.0
Nordic® Semiconductor nRF52810 SoC solution
Bluetooth 5 (2 Mbps/CSA #2)
64 MHz ARM® Cortex-M4F CPU
192kB Flash and 24kB RAM
1.7 V to 3.6 V
UART/SPI/TWI/PDM/PWM/ADC
21 x 13.8 x 2.3mm (with shield)
30 GPIOs
Antenna(MK05A – PCB antenna / MK05B – u.FL connector)
Highly flexible multiprotocol SoC ideally suited for Bluetooth® Low Energy, ANT+ and 2.4GHz ultra low-power wireless applications.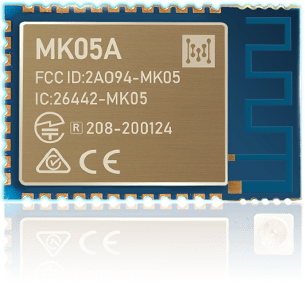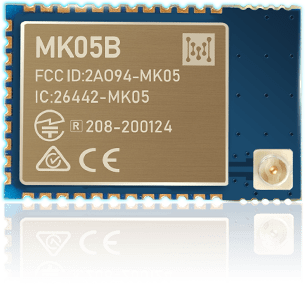 The MK05 series nRF52810 module is a Low-end Bluetooth Module launched by MOKO, using Nordic nRF52810 SoC solution.
The MK05 nRF52810 Bluetooth 5.0 module has multiprotocol capabilities with full protocol concurrency. It supports BLE® (Bluetooth Low Energy) and a 2 Mbps bitrate of Bluetooth 5, providing increased application throughput and up to 50% energy savings. It supports channel selection algorithm #2 (CSA #2), which enhances its ability to coexist with other Bluetooth LE devices.
The MK05 series Bluetooth nRF52810 module is a Low-end Bluetooth Module launched by MOKO. The MK05 series has the same size and package design as the MK02 series, for easy implementation in nRF52832 and nRF52810. This does not modify the fast switching of PCBA design. MK05 has a very high-cost performance. With the pre-burned MOKO AT command firmware, MK05 can quickly be used as the Role of Peripheral + Broadcaster to realize the IoT application of customers' Bluetooth transparent transmission.
MK05 series Bluetooth 5.0 module has two different models — MK05A and MK05B.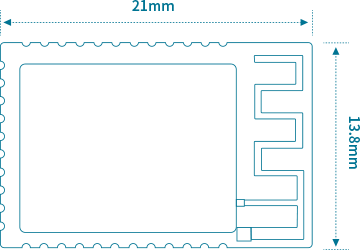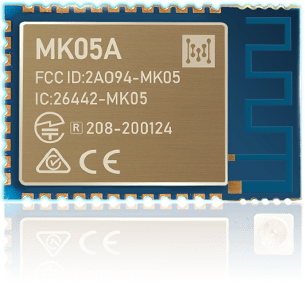 MK05A
MK05A integrates a high-performance PCB antenna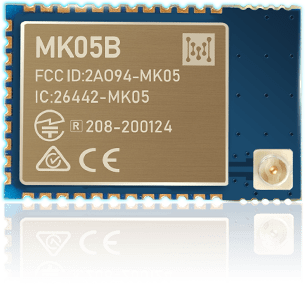 MK05B
MK05B uses a u.FL connector and requires an external antenna
Detail
Description
Bluetooth
Bluetooth version
Bluetooth® 5.2 SoC,supporting Bluetooth Low Energy, 2M LE PHY, 1M LE PHY, CSA #2
Security
AES-128
Radio
Frequency
2360MHz - 2500Mhz
Modulations
GFSK at 1 Mbps, 2 Mbps data rates
Transmit power
+4 dBm maximum
Receiver sensitivity
-96 dBm sensitivity in Bluetooth Low Energy 1 Mbps mode
Antenna
PCB trace antenna(MK05A)
External 2.4Ghz antenna(MK05B)
Advertsing distance @1Mbps
More than 120 meters(MK05A)
Current consumption
TX only (DCDC enabled, 3V) @ +4dBm / 0dBm / -4dBm / -20dBm / -40dBm
7mA / 4.6mA / 3.6mA / 2.5mA / 2.1mA
TX only @ +4dBm / 0dBm / -4dBm / -20dBm / -40dBm
15.4mA / 10.1mA / 7.8mA / 5.4mA / 4.3mA
RX only (DCDC enabled, 3V) @1Msps / 1Msps BLE
4.6mA
RX only @ 1Msps / 1Mbps BLE
10.0mA
RX only (DCDC enabled, 3V) @2Msps / 2Msps BLE
5.2mA
RX only @ 2Msps / 2Mbps BLE
11.2mA
System OFF mode(3V)
0.3uA
System OFF mode with full 24 kB RAM retention (3V)
0.5uA
System ON mode with full 24 kB RAM retention, wake on RTC (3V)
1.5uA
System ON mode, no RAM retention, wake on RTC(3V)
1.4uA
Mechanical Design
Dimensions
Length: 21mm±0.2mm
Width: 13.8mm±0.2mm
Height: 2.3mm+0.1mm/-0.15mm
Package
34 Plated Half-hole pins
PCB material
FR-4
Impedance
50 Ω
Hardware
CPU
ARM® Cortex®-M4 32-bit processor with FPU, 64 MHz
Memory
192 kB flash / 24 kB RAM
Interfaces
SPI master/slave
TWI master/slave
UART
PWM
PDM
QDEC
22 X GPIO
8 X 12 bit ADC
Power supply
1.7V to 3.6V
Operating temperature range
-40 to 85 ℃