Nordic® Semiconductor nRF52840 SoC solution
Bluetooth (2 Mbps,CSA #2,Advertising Extensions,Long Range)
64 MHz ARM® Cortex-M4F CPU
1MB Flash and 256kB RAM
1.7 V to 5.5 V
UART,SPI,TWI,PDM,PWM,ADC
21 x 13.8 x 2.3mm (with shield)
46 GPIOs
Antenna(MK08A – PCB antenna , MK08B – u.FL connector)
Highly flexible multiprotocol SoC ideally suited for Bluetooth® Low Energy, ANT+, Zigbee, Thread (IEEE 802.15.4) ultra low-power wireless applications.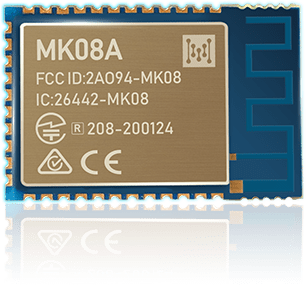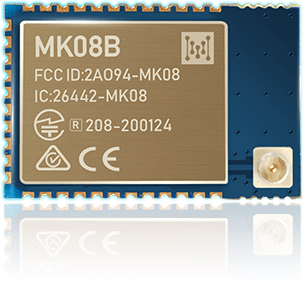 MK08 series nRF52840 modules are designed using Nordic Higher-end Bluetooth 5 SoC-nRF52840. Its transmission power can reach +8 dBm, built-in 1MB Flash and 256 KB RAM, fully supports Bluetooth 5, 802.15.4 (including Thread), ANT and private 2.4GHz wireless technology, and has a full-speed USB 2.0 controller and a series of peripherals (can support many devices through EasyDMA), including a four-channel SPI interface. MK08 nRF52840 module can also be powered by a power supply above 5V, such as a rechargeable battery power supply, with a power supply range of 1.7V~5.5V. MK08 Bluetooth 5 modules can be widely used in high-performance HID controllers, smart home and industrial and IoT devices. MOKOsmart can provide fast and professional technical support for software and hardware design.
MK08 series Bluetooth nRF52840 module has two different models — MK08A and MK08B.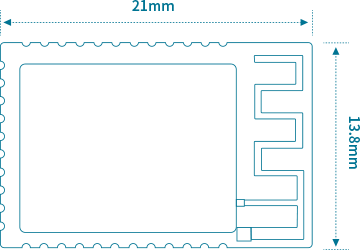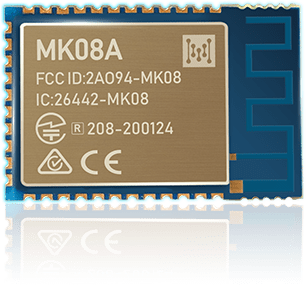 MK08A
MK08A integrates a high-performance PCB antenna.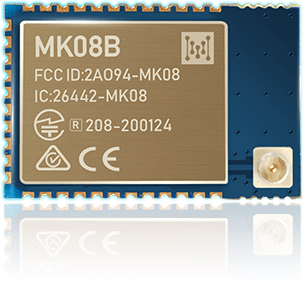 MK08B
MK08B uses a u.FL connector and requires an external antenna.
Detail
Description
Bluetooth
Feature
Bluetooth® Low Energy
Bluetooth® Mesh
1M LE PHY
2M LE PHY
Coded LE PHY (Long Range)
Advertising Extensions CSA #2
Security
AES-128
NIST SP800-90A and SP800-90B
Chacha20/Poly1305 AEAD
SHA-1 and SHA-2
HMAC
RSA
SRP
ECC
Application key management using derived key model
LE connections
Concurrent central, observer, peripheral, and broadcaster roles with up to twenty concurrent connections along with one observer and one broadcaster
Radio
Frequency
2360MHz - 2500Mhz
Modulations
GFSK at 1 Mbps, 2 Mbps 250kbps (IEEE 802.15.4-2006) and Long range (125kbps and 500kbps) data rates
Transmit power
+8 dBm maximum Configurable down to -40dBm
Receiver sensitivity
-103 dBm sensitivity in 125 kbps Bluetooth® LE mode
-99 dBm sensitivity in 500 kbps Bluetooth® LE mode
-95 dBm sensitivity in 1 Mbps Bluetooth® LE mode
-92 dBm sensitivity in 2 Mbps Bluetooth® LE mode
-93 dBm sensitivity in 1 Mbps nRF mode
-89 dBm sensitivity in 2 Mbps nRF mode
-100 dBm sensitivity in IEEE 802.15.4 mode
Antenna
PCB trace antenna(MK08A)
External 2.4Ghz antenna(MK08B)
Mechanical Design
Dimensions
Length: 21mm±0.2mm
Width: 13.8mm±0.2mm
Height: 2.3mm+0.1mm/-0.15mm
Package
34 Plated Half-hole pins
PCB material
FR-4
Impedance
50 Ω
Hardware
CPU
ARM® Cortex®-M4 32-bit processor with FPU, 64 MHz
Memory
1MB flash, 256kB RAM
Interfaces
4x SPI master/3x SPI slave with EasyDMA
2x I2C compatible two-wire master/slave
2x UART (CTS/RTS) with EasyDMA
3x real-time counter (RTC)
5x 32-bit timer with counter mode
4x 4-channel pulse width modulator (PWM) unit with EasyDMA
46 GPIOs
8x 12bit, 200ksps ADC
Audio peripherals – I2S, digital microphone interface (PDM)
Power supply
1.7V to 5.5V
Operating temperature range
-40 to 85 ℃ (-40 to +105 °C can be customized)
Clock control
32.768 kHz +/-20 ppm crystal oscillator
Power regulator
DC/DC regulator setup