MK13 Dule-Core Bluetooth 5.2 Module
512kB+64kB RAM and 1MB+256KB Flash Memory
Dual-core Arm® Cortex®-M33
Nordic® Semiconductor nRF5340 SoC Solution
A highly flexible multiprotocol SoC that is best suited for ANT+, BLE, Thread (802.15.4) ultra-low-power wireless applications, and Zigbee
Functions at a wide extendable range of operating temperature
Has enough memory to support light to intense tasks
Supports multiple forms of Bluetooth connectivity
Functions through the Nordic Semiconductor nRF5340 dual-core Bluetooth 5.2 SoC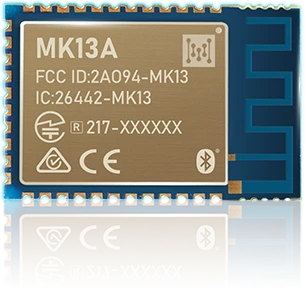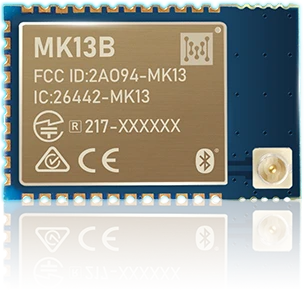 The MK13 series is a highly flexible and powerful Bluetooth® 5.2 module that is based on the Nordic® Semiconductor nRF5340. It is the world's first wireless SOC that comes with two Arm® Cortex®-M33 processors.
The module combines two flexible processors, an operating temperature with a ceiling of 105 °C, and an advanced set of features. These aspects make it the ideal choice for professional lighting, LE audio and advanced wearable, among other IoT applications.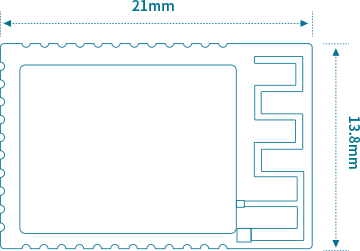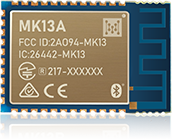 MK13A
MK13A integrates a high-performance PCB antenna.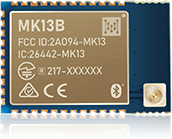 MK13B
MK13B uses a u.FL connector and requires an external antenna.
Type Of Specification
Details
General
Main chip
Nordic Semiconductor nRF5340 dual-core Bluetooth 5.2 SoC
Memory
512kB+64kB low leakage RAM and 1MB+256kB flash
Dimensions
21mm x 13.8mm x 2.3mm
Antenna
MK13B – External 2.4Ghz antenna
MK13A – PCB trace antenna
Package
22 LGA pads + 34 diameters of Half-holes
Operating temperature
-40 to 85°C Can be customized to an Extended Industrial temperature of -40 to +105°C
CPU
DSP instructions and 128/64 MHz Arm Cortex-M33 with FPU
Radio
Frequency
2402MHz – 2480MHz
Bluetooth features
Bluetooth Low Energy
Bluetooth Direction Finding (AoA/AoD)
1M LE PHY/2M LE PHY (High speed) (Long range)
Bluetooth Mesh
Bluetooth Low Energy Audio
Advertising Extensions
CSA #2 (Channel Selection Algorithm #2)
Wireless protocol
NFC/Bluetooth Low Energy/Zigbee/Thread/802.15.4/ANT/2.4 GHz proprietary
Power
Power supply voltage
1.7V – 5.5V
Output voltage
1.8 V to 3.3 V regulated supply for external components
Power regulator
Switching regulator for DC/DC buck setup
Interface
Analog interfaces
12-bit, 200 ksps ADC
General-purpose comparator
Low-power comparator
Digital interfaces
32 MHz high-speed SPI
12 Mbps full-speed USB
UART (CTS/RTS)/I2S/TWI/PDM/PWM/QDEC
96 MHz encrypted QSPI
NFC
Near field communication (NFC-A) tag
GPIOs
46 flexible General Purpose IOs
The positive thing about this module's features and specifications is that they make it versatile in terms of use cases. You can leverage it for low-power standby tasks or high power-intensive use. Some of the most common use cases include:

Advanced wearables

Professional lighting

LE Audio