MK11 TI Bluetooth CC2642 Module
Texas Instruments CC2642R SoC solution
Bluetooth 5 – Direction Finding(AoA)/2 Mbps/CSA #2/Advertising Extensions/Coded PHY(Long Range)
48 MHz ARM® Cortex-M4F CPU
352KB Flash/256KB ROM/8KB Cache SRAM/80KB ultra-low leakage SRAM
1.8 V to 3.8 V
UART/SPI/I2C/I2S/SSI/PDM/ADC/DAC
DC/DC converter enabled
25 x 17x 2.8mm (with shield)
-40 ℃ to 85℃ (MAX 105℃ can be customized)
30 GPIOs
PCB antenna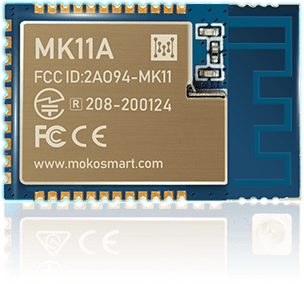 The MK11A cc2642 module is a low-cost and low-power consumption Bluetooth module based on Texas Instruments CC2642R SoC solution, which has a powerful 48-MHz Arm® Cortex™-M4F processor supporting Bluetooth® 5.1 Low Energy and Proprietary 2.4 GHz applications.
This is a Bluetooth 5.1 module that supports Bluetooth Direction Finding/AoA. MK11A TI Bluetooth module has 352KB in-system programmable flash memory, 80KB ultra-low leakage SRAM, and its rich memory strongly supports the rapid implementation of the BLE 5.1 solution. MK11A can support up to 105℃ (customization required), which can meet more and more complex environmental applications.
The MK11A cc2642 module is optimized for low-power wireless communication and advanced sensing in building security systems, HVAC, asset tracking, medical, wired networking, portable electronics, home theatre & entertainment, and connected peripherals markets, and applications where industrial performance is required.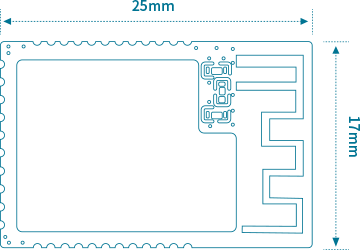 Detail
Description
Bluetooth
Bluetooth version
Bluetooth® 5.1 SoC Bluetooth Low Energy CSA #2 LE 1M PHY, LE 2M PHY, LE Coded PHY (long range) Bluetooth® Mesh Direction finding/AoA Advertising Extensions
Security
AES 128- and 256-bit Crypto Accelerator
LE connections
Concurrent central, observer, peripheral, and broadcaster roles with up to twenty concurrent connections along with one observer and one broadcaster
Radio
Frequency
2360MHz - 2500Mhz
Modulations
GFSK at 1 Mbps, 2 Mbps data rates
Transmit power
+5 dBm maximum
Receiver sensitivity
-105 dBm for Bluetooth 125 kbps (LE Coded PHY)
-97 dBm for 1 Mbps PHY
Antenna
PCB trace antenna
Advertsing distance @1Mbps
More than 120 meters
Mechanical Design
Dimensions
Length: 25mm±0.2mm
Width: 17mm±0.2mm
Height: 2.8mm+0.1mm/-0.15mm
Package
36 Plated Half-hole pins
PCB material
FR-4
Impedance
50 Ω