Small Bluetooth Module MK01
Nordic® Semiconductor nRF52832 SoC solution
Bluetooth 5 (2Mbps CSA#2 Advertising Extensions)
512kB Flash and 64kB RAM
Wide supply voltage range: 1.7 V to 3.6 V
Full set of digital interfaces including SPI/2-wire/I²S/UART/PDM/QDEC
NFC-A Tag
Dimension: 10.0×10.0x2.0mm (with shield)
22 GPIOs
Antenna (MK01A – Ceramic chip antenna MK01B – u.FL connector)

MK01 series is a powerful, highly flexible, ultra low power tiny Bluetooth® 5 modules based on Nordic® Semiconductor nRF52832 SoC solution, which has a 32 bit Arm® Cortex™-M4 CPU with floating-point unit running at 64 MHz.
MK01 smallest Bluetooth module has an ultra-small size of 10mm x 10mm with 28 LGA (Land Grid Array) 0.4mm x 0.4mm pad pins providing 22 GPIOs (including 32.768 kHz crystal and reset pins) of nRF52832CIAA (WLCSP package).
MK01 series Bluetooth module has two different models — MK01A & MK01B.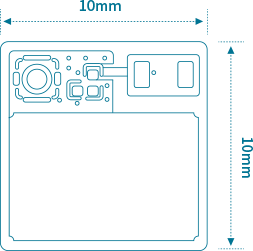 MK01A
MK01A integrates a high-performance ceramic chip antenna.

MK01B
MK01B uses a u.FL connector and requires an external antenna.
Detail
Description
Bluetooth
Bluetooth version
Bluetooth 5.2 SoC,supporting Bluetooth Low Energy, Concurrent Central & Peripheral, 2M LE PHY, 1M LE PHY, Advertising Extensions, CSA #2, Bluetooth Mesh
Security
AES-128
LE connections
Concurrent central, observer, peripheral, and broadcaster roles with up to twenty concurrent connections along with one observer and one broadcaster
Radio
Frequency
2360MHz - 2500Mhz
Modulations
GFSK at 1 Mbps, 2 Mbps data rates
Transmit power
+4 dBm maximum
Receiver sensitivity
-96 dBm sensitivity in Bluetooth Low Energy mode
Antenna
MK01A - Ceramic chip, Peak Gain: 0.9dBi / Efficiency: -1.8dB (66%)
MK01B - Peak Gain: 3dBi / Efficiency: 85% (2.4GHz 3dBi Terminal Mount Dipole Antenna)
Advertsing distance @1Mbps
MK01A - more than 80 meters
MK01B - more than 150 meters using 2.4GHz 3dBi Terminal Mount Dipole Antenna
Current consumption
TX only (DCDC enabled, 3V) @ +4dBm / 0dBm / -4dBm / -20dBm / -40dBm
7.5mA / 5.3mA / 4.2mA / 3.2mA / 2.7mA
TX only @ +4dBm / 0dBm / -4dBm / -20dBm / -40dBm
16.6mA / 11.6mA / 9.3mA / 7.0mA / 5.9mA
RX only (DCDC enabled, 3V) @1Msps / 1Msps BLE
5.4mA
RX only @ 1Msps / 1Mbps BLE
11.7mA
RX only (DCDC enabled, 3V) @2Msps / 2Msps BLE
5.8mA
RX only @ 2Msps / 2Mbps BLE
12.9mA
System OFF mode(3V)
0.3uA
System OFF mode with full 64 kB RAM retention(3V)
0.7uA
System ON mode, no RAM retention, wake on RTC(3V)
1.9uA
Mechanical Design
Dimensions
Length: 10mm±0.2mm Width: 10mm±0.2mm Height: 2.0mm+0.1mm/-0.15mm
Package
36 LGA (Land Grid Array) pads
PCB material
FR-4
Impedance
50 Ω
Hardware
CPU
ARM® Cortex®-M4 32-bit processor with FPU, 64 MHz
Memory
512 kB flash / 64 kB RAM
Interfaces
3xSPI master/slave with EasyDMA
2xI2C compatible 2-wire master/slave
22xGPIO
7x12 bit ADC
UART (CTS/RTS) with EasyDMA
I2S with EasyDMA
PWM
PDM
NFC-A
Power supply
1.7V to 3.6V
Operating temperature range
-40 to 85 ℃
MK01-KIT evaluation board is applicable for MK01A and MK01B mini Bluetooth® module. It is a full featured evaluation board that provides a complete I/O pin and debug pin(SWD) out to headers, external 32.768 kHz crystal setup, DC/DC regulator setup, power port over USB Type-C, NFC antenna FPC connector, one RESET button, one user button and one user RGB-LED. The evaluation boards also provide the option to be powered from a CR2032 coin cell battery and have current sense hole to allow for convenient current measurements.