IP67 Waterproof
Compatible with Google's Eddystone & Apple's iBeacon (3 frames-URL, UID & TLM) simultaneously
Shockproof
Resistance to high temperature
Double-side adhesives or an Armband available
Flame retardant
Has a replaceable battery
H7 Helmet Beacon is a newly designed indoor and outdoor location beacon fitted with a 3-axis accelerometer sensor that can transmit data to Eddystone and iBeacon in real-time. It also has Radio-frequency identification (RFID) to control access and an NFC (Near Field Communication) chip for wake-up. H7 helmet beacon is engineered for tough and demanding environments like mines, factories, warehouses, tunnels, and construction sites. This is why it has a waterproof structure IP67, strong and resistant firmware, and hardware.
We offer H7 helmet beacon in a portable case and provide you with illustrative diagrams in the user manual to help you develop your firmware easily. In addition, the package will also have an API or SDK for your app development.
All specifications in the H7 helmet beacon can be customized, and sensor data can be examined.

Compatible with Bluetooth Standard 5.0

Has Ultra-low power consumption chipset Nordic nRF52810/Telink TLSR8258

You can offer your specific configurations

Fitted with RFID to control access and NFC for wake-up control

High sensitivity by a 3-axis accelerometer sensor- motion detection when the beacon is in movement

Supports a smartphone app for both Android and iOS. We provide API/SDK for app development

100% configurable parameters

Firmware update Over the Air (OTA)

Support button trigger for alarm(emergency) and motion trigger

Customizable certifications
Dimensions (L*W*H)

57.4mm * 41.4mm * 18.7mm

Battery Model

CR3032

Battery Capacity(mAh)

550mAh

Default Battery life

Up to 5 years on default settings, but the 3-axis G-sensor won't be present
Up to 2 years on default settings where motion detection is active 24/7

Battery replaceable

Yes

Max Transmission Range

150 meters in open areas

Waterproof

Yes IP67

Protocols

Eddystone and iBeacon (TLM, URL,UID)

Firmware Update

Nordic DFU OTA or J-link

Attachment Method

Armband, Double sided adhesives, Sticker

Built-in Sensor

3-axis accelerometer sensor

Certifications

In Europe: CE-EMC, CE-RED, CE-LVD, RoHS, and REACH
In the United States of America: FCC
Other Certifications needed are customizable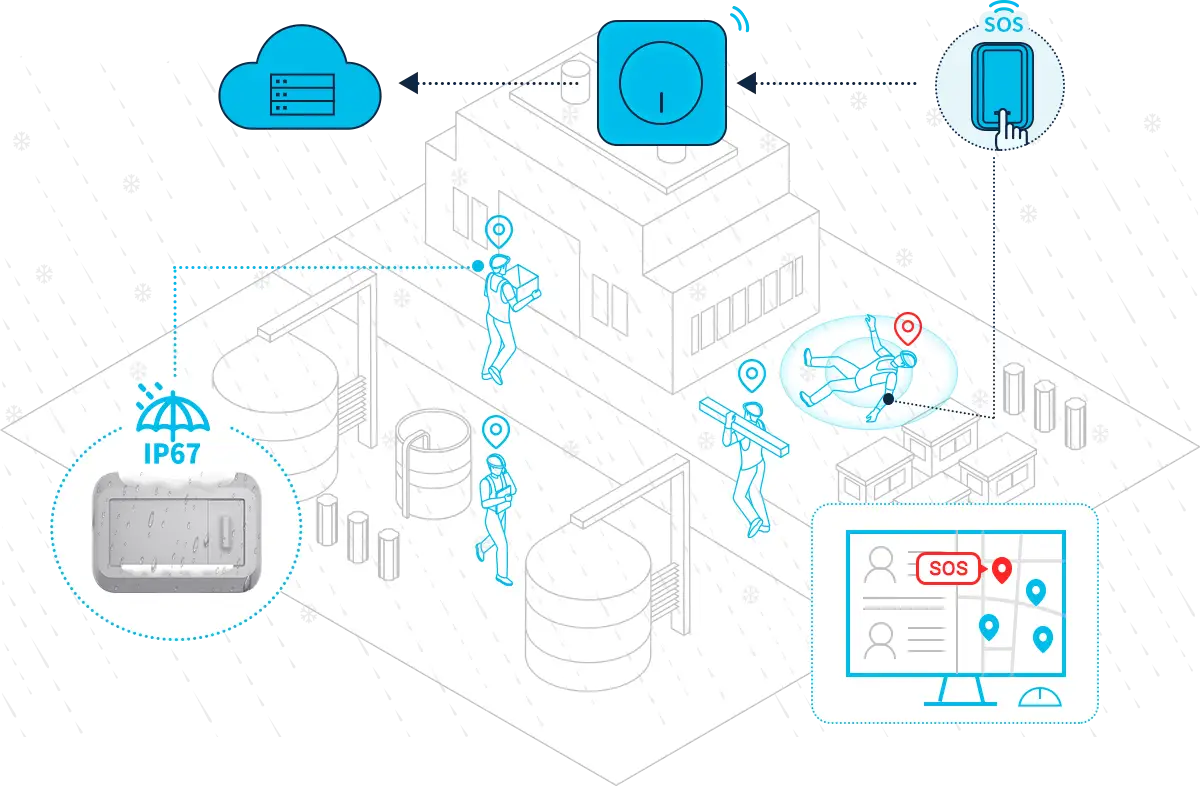 1. Personnel/Employee safety: Has an external push button to ask for emergency assistance in case an employee feels unwell or collapses.
2. Personnel tracking and positioning: Has a 3-axis G-sensor that transmits real-time signals upon movement.
3. Can be deployed in harsh working environments due to its reliable resistance to high temperature, rain and snow, and even fire.