Smart IoT Gateway Products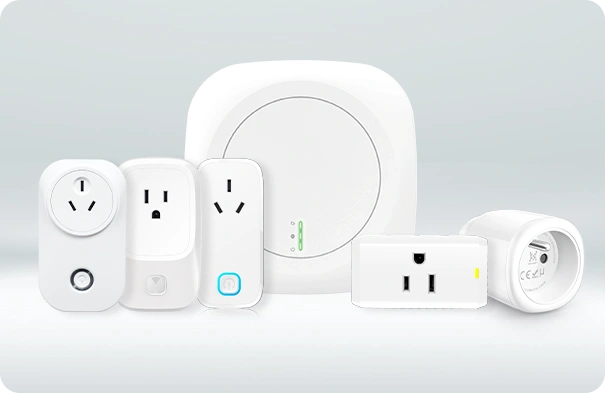 An IoT gateway device bridges the gap of communication that exists between IoT devices, equipment, sensors, and the cloud. It systematically connects the cloud and the field by offering storage solutions to local processing. Also, it can independently regulate field devices based on the sensor's data input.
An Edge Gateway assembles at the edge systems intersection, amongst the local and external internet and the local intranet used by the other devices in an environment. Therefore, an edge gateway acts as a network connectivity entrance point, both inside and outside the device environment.
MOKO Smart IoT Gateway Devices
How does an IoT Gateway Device work?
It is impossible for devices to directly communicate with systems as their capabilities and requirements often proliferate. Energy-incentive protocols such as Bluetooth and Wi-Fi are unsupportable by some sensors and controllers. When they connect to a range of private and public networks, they aggregate data to be vast and helpful in its raw form.
Nowadays, the majority of IoT gateway devices in a network are proficient in gathering collective data. For instance, the car traffic sensors aggregates and sends data to an AI analysis service in the cloud. However, all the raw data is first sent to the IoT gateway before it reaches the cloud.
The following simple processes are followed by an IoT Gateway:
1. Pre-processing, cleaning, and filtering raw data.
2. Translating protocols for better communication and encryption.
3. Sending data to an internet or intranet target.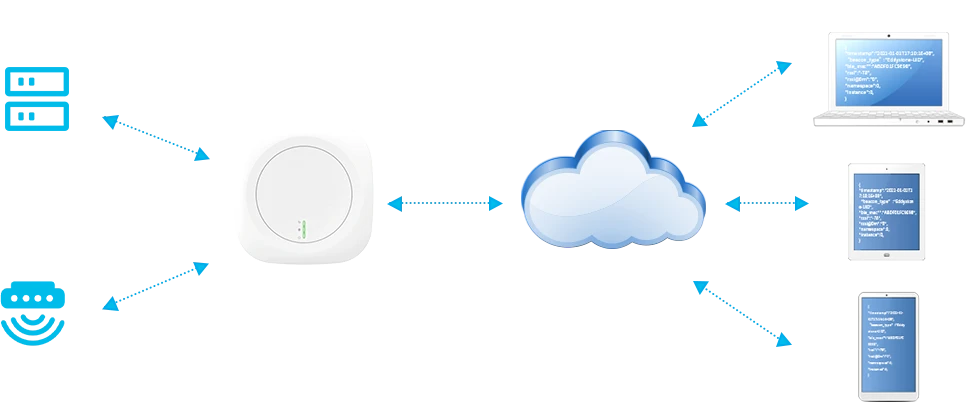 The Best IoT Gateway Examples in 2021
Some of the best examples of IoT gateways in 2020 are;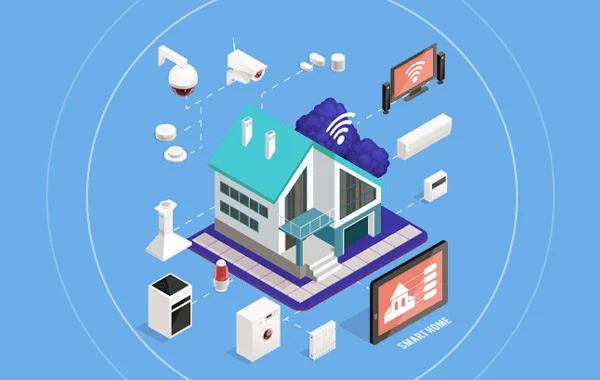 Home Security
The Internet of Things is the important thing motive force at the back of a brilliant and safe home. IoT delivers total security by bonding a variety of sensors, alarms, cameras, lights, and microphones. All of this can be done using a smartphone.
Smart Farming
Farming may be a particularly advanced endeavor these days. An accumulative number of farmers use IoT-enabled tools to look out for the weather, soil structure, wet soil levels, crop well-being and development, and stock activity.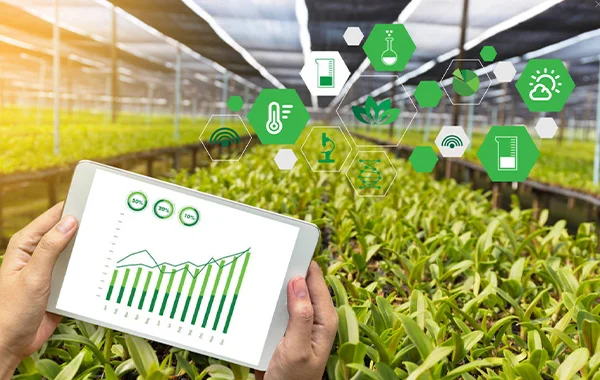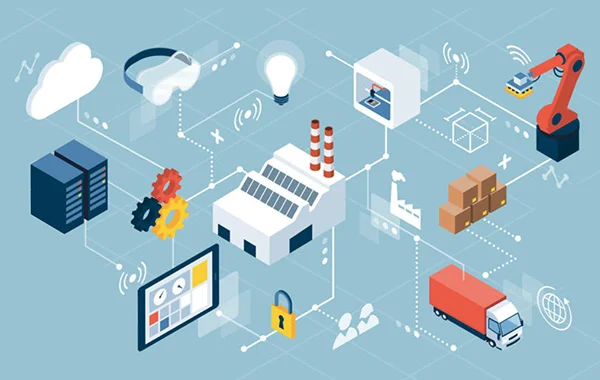 Industrial Security and Safety
Sensors and cameras can be used to observe the perimeter of restricted areas and sense trespassers in non-authorized zones. Small leakages of hazardous chemicals or pressure build-ups can be recognized and stabilized before they turn into serious problems.
Motion Detection
Using sensors to word movement or vibration in large-scale structures, which include; buildings, bridges, and dams, can apprehend the minor disturbances and designs that might lead to catastrophic failures. Networks of sensors are also utilized in regions at risk of landslides, avalanches, and earthquakes.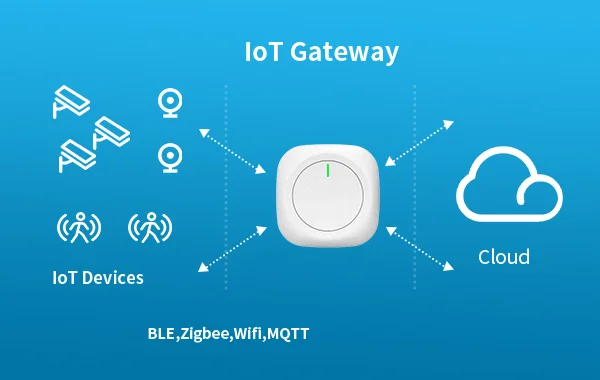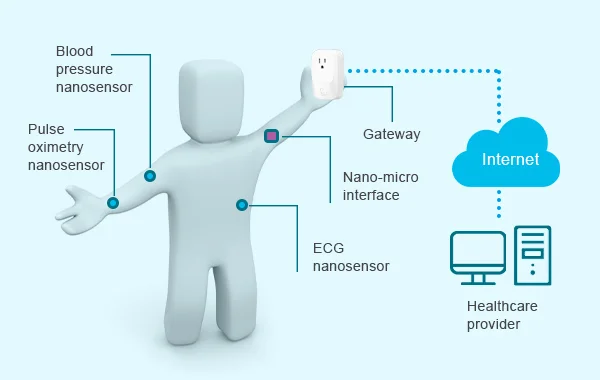 Ingestible Sensors
Ingestible digital devices, unevenly the scale of a tablet and organized with a strong source, microprocessor, controller, and sensors, may be absorbed to screen infection situation and switch records from in the gastrointestinal tract—for instance, to sense hemorrhage or absorption of pharmaceuticals.
AR Glasses
Google Glass is a minor, lightweight computer tattered like a pair of eyeglasses for hands-free effort. The data is presented inside the "lenses" of the specs, which can admit various Internet applications, comprising Google Maps and Gmail.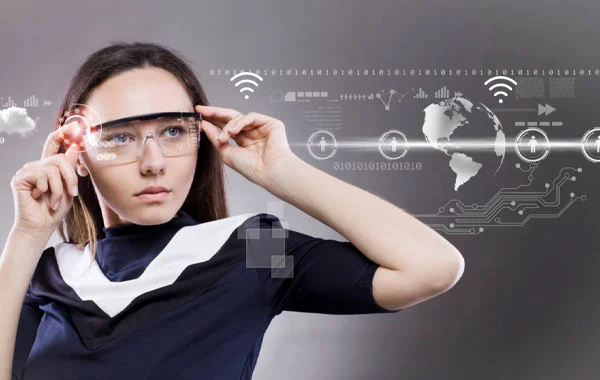 With the expansion of the Internet of Things (IoT), most businesses have been at risk of find integrating multiple devices and protocols. An IoT Gateway has become an indispensable component in structuring a healthy IoT. It also provides computational power in edge computing scenarios. Here at MOKOSmart, we have the best world-class IoT gateways that can easily connect on various projects.
Strategies of Securing an IoT Gateway

To keep your gateway IoT secure, you must ensure that all your communications that arise between the gateway and the devices are in line with the three fundamental security core principles. They include; integrity, confidentiality, and authentication. This applies to every communication that happens in external and internal networks.
Also, it is essential to note that an IoT gateway is likely to be attacked due to two reasons:
It uses advanced processing power to run more demanding applications. Better software comes with more power; hence most IoT gateways are more vulnerable to exploitation by hackers.
Due to the location of the edge device location, an IoT gateway is a possible menace path point of entry
We recommend you keep an eye on the following steps to secure your IoT gateway device fully.

Establish the Gateway Device
To establish your gateway device, apply the X.509 Digital Certificate. After this, all the external entities connected to the gateway will enable the HTTPS or NTLS protocols. With all this, you will be certain that you are using a trusted device that hands out all instructions to devices or sensors in the ground.
Establish Accord a 'Strong' Identity for the Gateway Device
Use additional security measures to protect your IoT gateway devices. Clone and extract private keys from your gateway device as it is at risk of physical tampering. This makes it unquestionable that all the digital certification is properly stored and can't dispatch the gateway.
Provide Identity to Your Ecosystem Using the Gateway
IoT gateway devices can be used as a reliable security mechanism for securing anything connected to the intranet. The gateway performs the role of a proxy between the devices in a field and the platform.
Every communication in your intranet is well protected after securing your gateway device. Subsequently, your IoT ecosystem will be secured end-to-end using a PKI infrastructure as you now have security, confidentiality, and authentication.
IoT Gateway vs. IIoT Gateway
IoT gateway devices aggregate and transmit sensor data, thereby end up managing and controlling complex connected surroundings. Their vigorous growth is predicted to rise as they assist in translating communication protocols.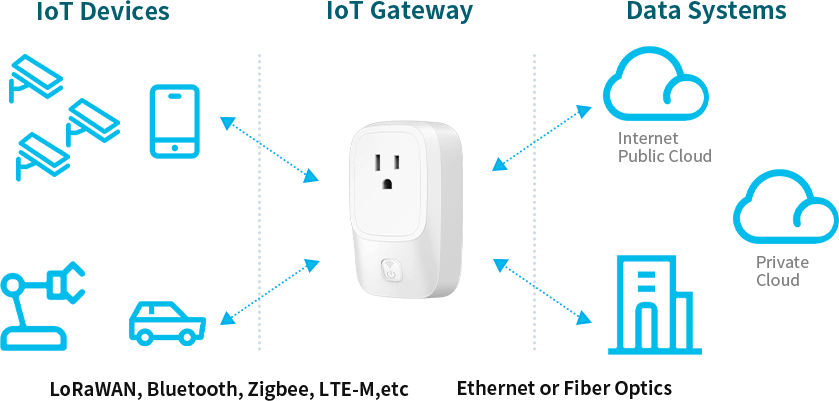 It is estimated that security market components and home automation are likely to account for more than half of overall shipments by the end of 2021. Sections of mobility and transportation create the most returns in the industrialized sector.
In the rising IoT gateway market, most suppliers gradually turn to software and services to differentiate, although no consolidation is anticipated anytime soon. The reason is, most industrial and commercial settings with IoT gateways have distinctive approaches to requirements of the processor, antenna designs, and ruggedness.
The Industrial IoT gateway
By the end of 2021, the industrial IoT gateway market is anticipated to expand at a Compound Annual Growth Rate of more than 15 percent. The expected growth rate is considerate, considering that perspective, industrial markets with IoT spending are still at the top.
Before the year ends, the industrial IoT gateway market research is anticipated to have a total value of USD 1,390.2 million. The IIoT gateway market has the largest end customers covering more than 68% of the total market.
Main Function of IoT Gateway
> Acts as a network router – IoT gateway routes data between the cloud and the IoT devices.
> Pre-processing and filtering local data – Before local data is transferred to the cloud, it is preprocessed at the edge by an IoT gateway device.
> Provides extra security – IoT gateways offer additional security for the data transmitted by the IoT network.
> Establishes a communication bridge – An IoT gateway establishes some communication bridge that occurs between the IoT devices and the router.
> Performing data aggregation.
> Responsible for verifying protocols.
> Bridging communication.
> Works as a streaming device, data cache, and buffer.
> Devices real-time control and offline services.
> Collects data.
> Filters and cleans files before sending them.
> It acts as an extra intelligence for most IoT devices.
> It offers extra security.
> It configures devices by changing the management.
Applications of IoT Gateway
Some of the most used examples of IoT real-use case scenarios include;
Establish the Gateway Devices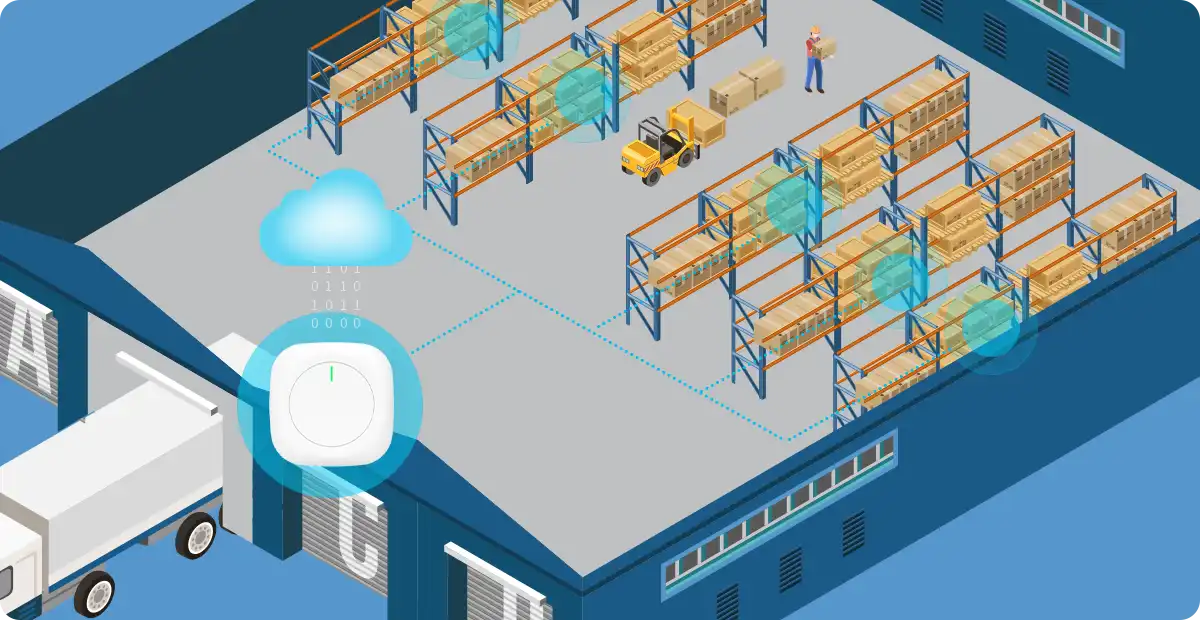 Establish the Gateway Devices
IoT is essential in the shipping container industry by improving security as it keeps track of every container. In this industry, the Gateway for IoT is usually designed with a high processing performance, low power consumption and must be ready for threatening surroundings

Secure Handling of Imaging Devices
Provide Vehicle Area Networks
Below are some of the best IoT gateway providers.
Original Manufacturer offering IoT Devices ODM & OEM Services.
It is the first IoT gateway open source platform aimed at offering solutions to an end-to-end connected device on a universal standard.
Azure IoT platform is offered by Microsoft comprising of managed services and other IoT solutions.
SAP Leonardo Internet of Things
It uses real-time aptitude from digital IoT policy services and sensor data to link people, assets, and business.
IBM Watson IoT platform derives business values from IoT devices as it is a fully managed and cloud-hosted service.
Balena IoT platform constructs, organizes, and manages fleets of connected IoT devices.
It provides a widespread result for gathering, processing, examining, and picturing IoT data in real-time.
Afero IoT platform offers an IoT gateway ble secure connectivity for commercial and residential purposes.
Management Fundamentals
of an IoT Device
Authentication and Onboarding

You know that there are by now a lot of devices up and administering on the internet. All of this must be appropriately linked to the web. In the early stages, the admission manner is crucial as it helps you secure provisioning aids to be aware of hostile attacks. When it comes to the device endorsement process, launch a durable and protected link amongst the IoT device gateway and the IoT platform.
Configuration is carried out right after the device onboarding process. As most devices with internet-connected sensors and gears are purchased with manufacturer-provided generic pre-configuration, it is vital to further configure the end-user along with its attributes. The IoT ecosystem accomplishes the configuration process.
To get the most acceptable competitive benefits, along with onboarding, verification, and configuration, maintenance is also significant. Innovative functionalities may enter, or security defenselessness can also arise over time. And all these can generate a solid threat to intelligent disposition. When this condition occurs, the IoT Device Management software can suggest innovative clarifications.
It will be biased if we skip analytic devices while conferring IoT gateway device Management. These devices are obliging to cut down the device stoppage. It is all about avoiding the letdowns even before they seem in real-time. IoT Device Management mainly uses effective outline analytics mechanisms to distinguish such difficulties.
Irrespective of your location, it is easy to access relevant information in real-time with IoT. A smart device and a reliable internet connection are the only requirements needed by IoT.
IoT enables you to complete various tasks with an envying speed efficiently. For instance, it is easy to make automation when using IoT. Thus, it allows employees to devote their effort and time and to something more puzzling.
Adapting to New Standards
Although IoT is rapidly changing, it has more minor alterations than the rest of the high-tech world. It is tough to track the latest updates without IoT.
It is easy to search for the latest news, purchase an item online or even visit a blog when using IoT; hence it is an incredible time-saving tool.
It is wonderful to access data easily, but unfortunately, private data is more exposed and can be accessed by everyone. As data breaches are exceptionally worrying, most companies fear losing their clients due to cyber-attacks.
IoT is highly on an internet connection; hence it can't be used in a place with no internet. Also, most individuals are increasingly dependent on IoT for everyday use. Due to this, IoT has significantly led to a decline in attention spans.
Complex operations are behind IoT, although it seems easy to complete tasks when using it. The process is primarily affected whenever the software makes wrong calculations. Thus, when an IoT error is made, it turns out to be tough to fix it.
Biggest Challenges in Creating an
IoT Gateway Resolution
Most companies are focusing on establishing themselves as an Industrial IoT and the connectivity of their imminent products and services. Three categories of challenges must be overwhelmed for the IoT industry to succeed.

Technology
This section covers all skills needed to make gateways IoT run efficiently as a separate solution or part of present systems. This is not an easy undertaking as there are many technological challenges, such as Safety, Connectivity, Compatibility & Durability, Principles, and Intellectual Scrutiny & Actions.

Connectivity
The major challenge facing the future of IoT is the linking of too much IoT gateway hardware. This defines the configuration of present communication models and the fundamental technologies. Organizations primarily rely on a consolidated server/client paradigm to validate, permit and associate distinct nodes in a network.

Security
IoT has now revolved into thoughtful security anxiety that has drawn the devotion of prominent tech organizations and government agencies worldwide. The future of IoT triggers a security nightmare represented by baby monitors hacking, cameras, cool fridges, thermostats, and drug infusion pumps. Therefore, many innovative nodules are being added to the internet and networks. They will deliver malevolent actors with countless occurrence vectors and potentials to carry out their malicious actions. This is principal because a considerable number of them are suffering from security hovels. The more critical swing in security will derive from the point that IoT will become further deep-seated in our lives. The protection of sensitive data and assets will no longer limit the concerns. This can lead to IoT hack attacks targeting our health and lives in general.
IoT Gateways Edge Computing
Some of the IoT edge gateway devices can produce a vast quantity of data. This becomes a challenge if the organization has a large number of devices in its IoT network and tries to direct the information from to the cloud from all those devices. On the other hand, an Azure IoT gateway can weaken the internet bandwidth available in an organization while at the same time incurring enormous cloud storage expenses.
Using edge computing shuns all these harms of processing the required data. This approach diminishes the volume of data sent to the cloud, thereby decreasing both expenditures.
When an organization has an assortment of real-time data streaming security cameras that are IP-enabled, sending all the raw security recordings to the cloud for data processing doesn't make much sense. This is exclusively true if several of the cameras mainly monitor uninhabited areas.
It is essential to process the edge video footage instead of uploading all of the security footage in actual time. The edge device can distinguish among unimportant security footage such as videos of an empty room. The reviewed footage is sent to the gateway device by an edge device, which later uploads the files to the cloud.
An intel IoT gateway is essential for securing and running  IoT devices. They also assist organizations in lessening the consumption of their IoT-related internet bandwidth. The IoT gateway price ranges from $150 to $300, depending on its key features.
The Global Industrial IoT Gateway Market 2020-2024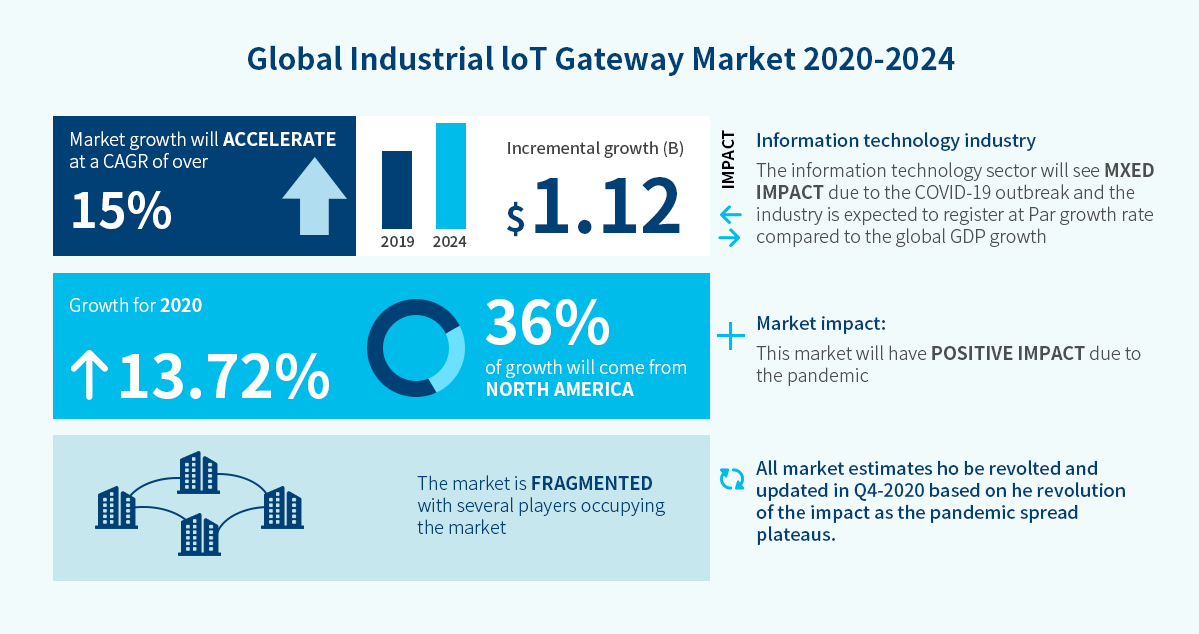 The programmable IoT gateway marketplace is anticipated to grow by at least $ 1.12 billion between 2020 and 2024. It shifts onward through a CAGR of 15% through the projection period. The document on the economic IoT gateway marketplace putting in place makes an all-inclusive evaluation, marketplace length and developments, increase, growth drivers, and challenges, in addition to supplier evaluation rounding 25 vendors.
The document offers a possibility for an update evaluation with regards to the modern-day international marketplace scenario, updated developments and drivers, and the overall marketplace environment. The marketplace is a company with the aid of using improved single-mindedness on part computing and simplicity of bonding records and operation technologies. On the pinnacle of using engineering information for projecting, safety is foretold to develop the market boom.
The smart gateway hub evaluation comprises geographic landscapes and end-consumer sections. It is segmented as:
This study recognizes the growing focus on providing end-to-end service as one of the leading causes motivating the market growth of the smart IoT gateway in the course of the next few years. Also, developing the need for changed IoT gateways aws and alliances inside the IoT marketplace will fundamental to substantial requests inside the marketplace.
The document gives a complete image of the marketplace on how it examines, synthesis, and sums records from a couple of reasserts examining key parameters. The business IoT gateway marketplace covers the subsequent zones:
•Industrial IoT gateway market sizing
•Industrial IoT gateway market projection
•Industrial IoT gateway market industry study
The study was navigated employing an intention aggregate of secondary and number one information mutually with thoughts from key members within the industry. The file contains an all-inclusive marketplace and supplier panorama, similarly to examine the significant thing vendors.
It would be hard for our devices to communicate with outside networks or the internet without IoT gateways. Gateways are essential elements that undertake the ordinary task of a router which is forwarding packets in multi-hop surroundings. They are also important as they enhance the connection of different devices to diverse technologies. On the other hand, IoT Bluetooth gateway eases blue tooth connection enabling you to capture data with ease. Visit MOKOSmart and purchase the best IoT Gateway Bluetooth suitable for your home or office work.