W3/W4 Indoor Positioning Beacon
Neck chain and bracelet are available
Selectivity mount for ON/OFF button
Additional Motion sensors and RFID available
Compatible with iBeacon and Eddystone
(UID, URL, TLM) at the same time.
All the parameters of this product can be
modified via configure APP
The W3/W4 indoor positioning beacon is a BLE portable tag with the ultra-low power ARM® chipset NORDIC® nRF52 series. Not only is the case easily portable, the precision hardware and the strong, sturdy firmware support make it easy to use. The W3/W4 positioning beacon is designed for commercial advertising and indoor positioning-based service.
The W3/W4 positioning beacon beams pulses of 2.4GHz signals at user-set intervals, and the W3/W4-iBeacon signal can connect to and be decoded by both iOS and Android BLE-enabled devices.
Note: The key difference between the W3 positioning Beacon and W4 positioning Beacon is that W4 has a push-button, which the W3 positioning beacon does not have.
Ultra-low power consumption chipset nRF52 series
Support 5url broadcasting
Can be turn off beacon via configure App
Firmware update Over The Air (OTA)
Logo and color customizable (MOQ)
Provided with your own configuration (MOQ 50 units)
100% Configurable Parameters via app (Android & iOS)
| | |
| --- | --- |
| Size(H*W*L) | 40.4 * 29.0 * 8.6mm |
| Battery Model | CR2032 |
| Battery Capacity (mAh) | 240mAh (replaceable) |
| Default battery Life | 12 months |
| Battery replaceable | Yes |
| Max Range | 30m(+4dBm) |
| Waterproof | Yes |
| Protocols | iBeacon& Eddystone: UID, URL, TLM Eddystone Configuration GATT Service |
| Firmware updating | OTA |
| Attachment method | Bracelet , keyring and neck chairn |
| Built-in Sensor | Motion LIS3DH |
| Addition Tech | RFID, RGB |
W3/W4 Indoor Positioning Beacon Display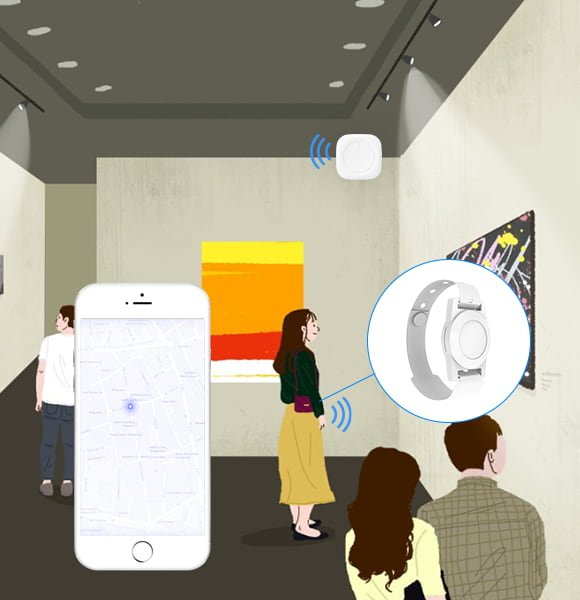 Information push:
When the user is close to a particular painting, product, or shop, the APP recognizes the W3 Beacon with the best signal (that is, the closest), and scans its broadcast information (UUID, Major, Minor) through Bluetooth, and then connects to the background server through the network's corresponding information in the database, displaying the information of the drawing in the APP.
Location information:
Since GPS positioning is not ideal for indoor use, the above map can refer to the indoor map, and then the APP judges the signal strength of the surrounding position Beacon, then sends it to the background to calculate and determine the approximate location of the mobile phone carrier and display it on the map. , When the user is moving, the real-time data calculation takes on the effect of indoor navigation, basically making it an 'indoor GPS'. The user's location information can also be obtained in the background, so that you know which areas are densely populated, and proper use of monitoring can divert people through discounts or activities, and you can also collect data on the favourite areas for users to attract more consumption data analysis.