W5 Bluetooth Beacon Tracker
IP68 Waterproof standard
Rechargeable Li-battery, USB direct charging
Mechanic button with trigger function for hospital patients and emergency call
Additional motion sensor suit for falling detection
Compatible with iBeacon™ and Eddystone™ (UID, URL, TLM) at the same time
W5-P5202DF beacon tracker is a portable tag with 3-axis accelerometer sensor. The W5-P5202DF has a wearable bracelet shape, IP68 waterproof construction, precise hardware, powerful firmware and buttons. We also provide android & iOS SDK for you. W5 beacon tracker is designed for the working environment where a reliable GPS signal is not available such as large buildings, supermarket or factory where staff or visitor need to be located immediately.
Furthermore, it helps staff or visitor if they encounter a dangerous situation or needs assistance. Through press the button of W5 beacon tracker, it will send emergency alarm anywhere and anytime. This real-time alarm and position information will be sent to the platform via a wireless Bluetooth network and received by emergency control room or security personnel.
Therefore, it will make sure that all of the employees are safe in the workplace.

Advertising Beacon Device
Ultra-low power consumption chipset NRF52 Serise
6 Slots can be configured
Support button trigger and motion trigger
G-value, sampling rate and sensitivity of 3-axis accelerometer sensor can be configured
Logo customizable (MOQ 100units)
Provided with your own configuration (MOQ 100 units)
100% Configurable Parameters via MokobeaconX Pro app (Android & iOS)
| | |
| --- | --- |
| Size(H*W*L) | Body size: 47.8x35.7x11.7mm Wearable range: 13cm~25cm |
| Battery Model | Lithium polymer battery |
| Battery Capacity (mAh) | 180mAH 3.7V |
| Default battery Life | About 5 months(at default setting, one charging) |
| Battery replaceable | Yes |
| Max Range | >120m(+4dBm,in the open air) |
| Antenna | Ceramic Antenna |
| Waterproof | Yes IP68 |
| Protocols | iBeacon& Eddystone: UID, URL, TLM Eddystone Configuration GATT Service |
| Firmware updating | OTA |
| Attachment method | Wearable |
| Built-in Sensor | Accelerometer sensor ,RGB led |
| Button | Mechanic |
| Certification | CE & FCC |
W5 Bluetooth Beacon Tracker Display
W5 Beacon Tracker for Employee Indoor Safety Management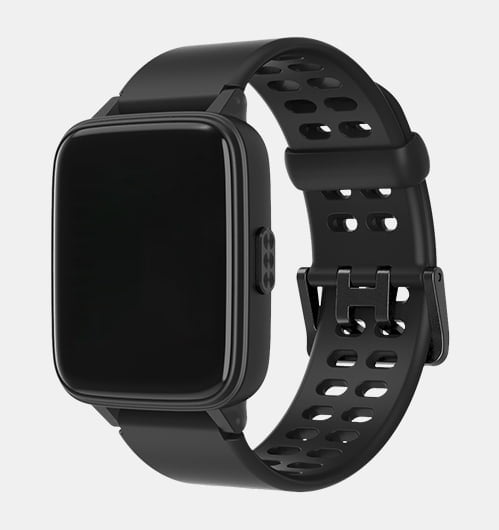 MOKO W5 beacon tracker, W2, H1, and H3 beacon with one panic button, employees can wear it on the neck or wear it on the wrist. The unique MAC or ID of the beacon will refer to employee's information. When they are entering into the working place, wristband beacon tracker will continuously advertise related ID and MAC address, Moko MKGW1 or MK103 Gateway will always scan the Bluetooth message from the beacon tracker and transmit to the server/cloud via WIFI, then control room person or security personnel will monitor and read the position of employees via platform or App on mobile phone or Pad.
If employees need emergency assistance, through pressing the button on the beacon tracker, the original broadcasting message will be changed soon, this information will be sent to the platform and App immediately. Then emergency control room or security personnel will fix the position of this employee and know who is he/she.