The aging population is getting worse, it's normal that elderly person is left is home alone. The hidden danger brought by the elderly living alone has become a social issue. Fortunately, a panic alarm is an IoT sensor that can be worn on your body or placed in an easily accessible location, allowing you to quickly report a warning if you need help. Panic alarms for elderly at MOKOSmart can even detect when an elderly person falls and report it to the alarm system. In this article, we will give a comprehensive introduction to panic alarms for elderly, including the benefits of this sensor, its working principle, and two models of panic buttons from MOKOSMART.
What is panic alarm for elderly?
Panic alarm for elderly, also called Telecare Systems, Personal Alarms, Panic Buttons, Emergency Calls, etc., is a simple and immediate call to the police for seniors who live alone or otherwise may need emergency assistance. This panic alarm solution is usually presented in the form of a wristband, collar, or wall. When the elderly feel uncomfortable, fall down or are in other dangerous situations, they can press the panic button to obtain support and help from the designated personnel. Panic Buttons on the market generally have two options: silent panic alarm and audio panic alarm. The audible siren alarm is preferable to the elderly as other members of the family or neighbors can rush to help as soon as they hear the sound.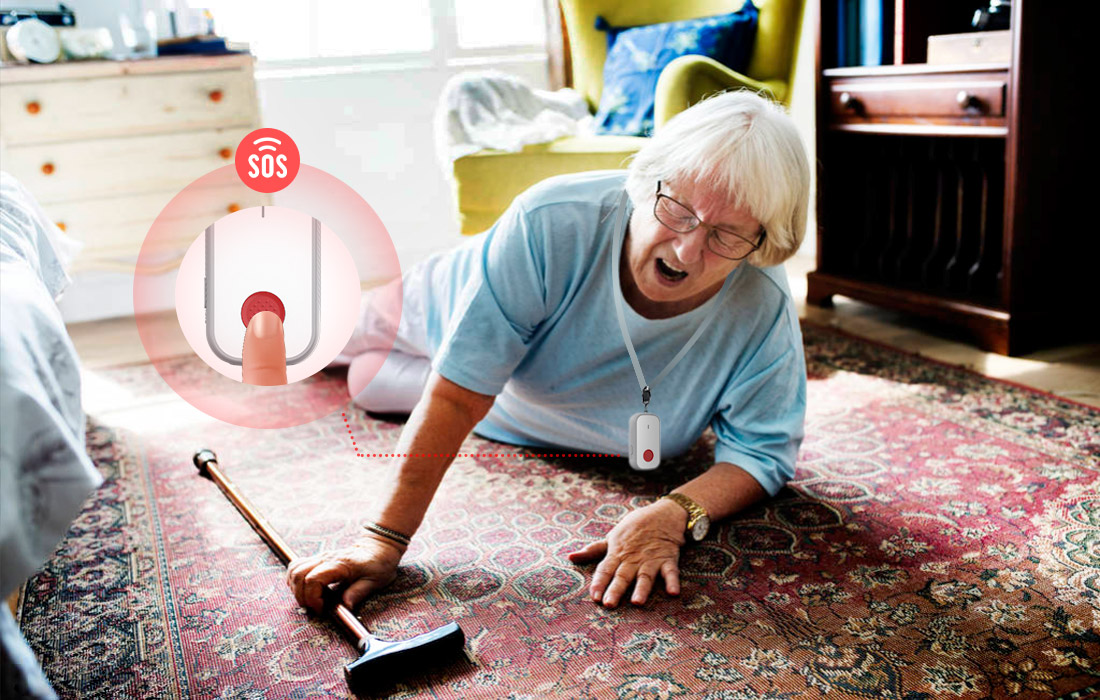 How can a panic alarm help you to take care of your elderly parents?
A panic button is a necessary tool for the elderly, as listed in the following are a few advantages of panic alarm we organize in detail for you:
Recognize emergencies faster. The elderly are likely to fall and fall into a coma, making it impossible for them to press the button. An emergency button for elderly that detects falls neatly solves this problem, detecting problems in time and reporting them to supervisors.

Make older people who live alone feel more secure. The panic button for seniors is small and portable, whether worn around the neck or on the wrist, allowing them to easily set off the alarm when they need help, which gives them a sense of reassurance that their needs can be answered quickly and not be ignored.

Reduce anxiety about falling. Older people are less flexible than younger people have poor balance, and the more afraid they are of falling, the more likely they are to have accidents. With the panic button, the elderly can relax when they live alone and even do some exercise without worry.

Give you peace of mind. Not only the elderly will feel safe because of the panic button, but also their family members or related guardians who work far away from home. They will not only receive the signal in the first time when the elderly encounter emergency but also log in to the supervision background to check the elderly's activity track and whether they take medicine on time.
How does panic alarm for elderly work?
The working principle of the panic alarm system for elderly is very simple. It's included an IoT sensor that can transmit signals to the gateway, and the gateway then transfers the signal to the cloud, where the end-user can receive notifications and take corresponding actions.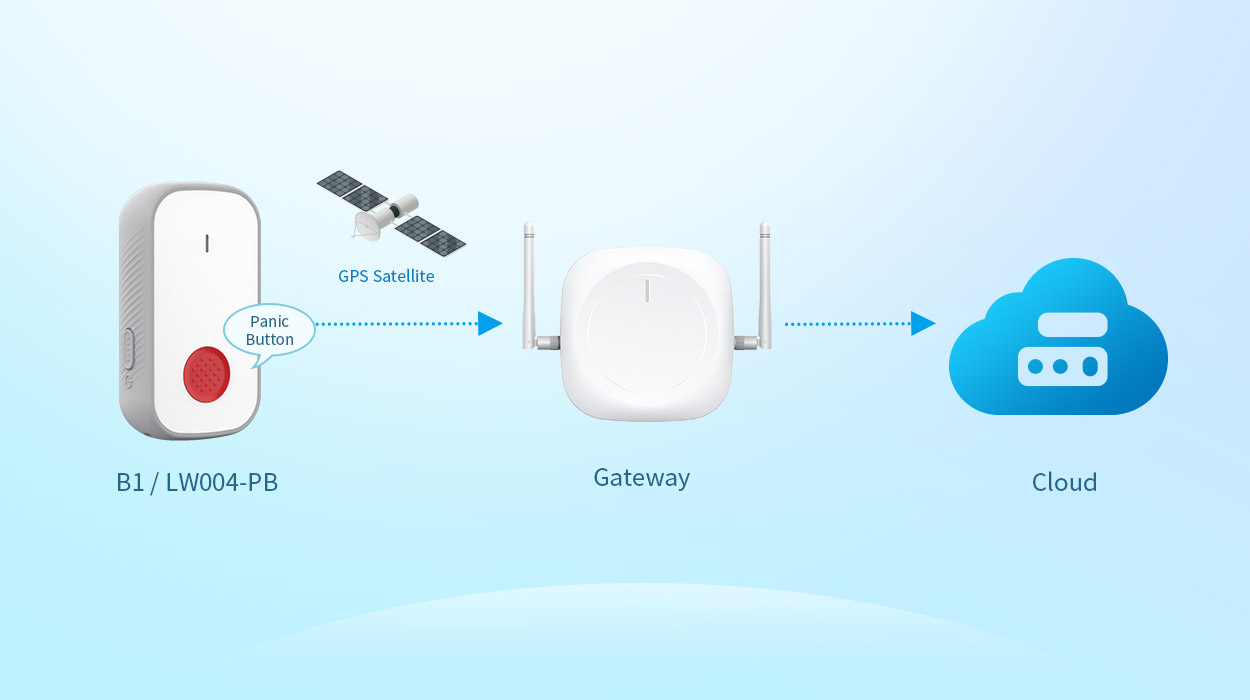 Best panic button for elderly from MOKOSMART
With a panic alarm button so easy to touch, some worry about false positives. In fact, this worry is unnecessary, because after the panic alarm is triggered, it can be checked in the background, which is the necessary means to fight for the golden rescue, and if you set a personal alarm directly connected to the monitoring department, the relevant personnel will directly contact the elderly and guardian to verify the situation. All in all, the panic button developed by MOKOSMART has high sensing accuracy, avoiding false positives as much as possible while providing reasonable and effective monitoring background and other additional functions. Let's take a look at what panic alarm for elderly has from MOKOSMART.
Models
Design
Location tracker
Fall detection
Range
Water Resistant
Battery Life
Treatment compliance
Sensor
B1 Panic Button
Lanyard, double-sided sticker
Yes
Yes
Up to 140m
IP65
9 months
Yes
Accelerometer sensor, motor and buzzer
LoRaWAN

-Based Panic Button

LW004-PB

Lanyard, double-sided sticker
Yes
Yes
Up to 5 km
IP66
4 months
Yes
Accelerometer sensor, motor and buzzer
MOKOSMART has two types of emergency panic buttons for elderly that are very popular and deployed in many places across the country, namely B1 and LW004. The main difference is their transmission technology and corresponding nuances. Let's briefly introduce some features of these two types of old people panic Buttons so that you can get to know more about our panic alarms.
Technology
B1 panic button uses Bluetooth transmission technology, which can cover up to 140m and is suitable for elderly people who are active at home.
LW004-PB adopts low-power long-distance LoRaWAN transmission technology, which can be located by Bluetooth, GPS or a combination of both. Its coverage is as high as 5 km. Compared with B1, it is more suitable for open outdoors and patients in hospitals as a medical panic button. Besides, it can also be used in schools and other empty places.
Deployment method
Personal panic buttons can be worn around an elderly person's neck or wrist. Alternatively, you can use double-sided adhesive tape to place distress panic buttons anywhere in your home that is easily accessible.
SOS alarm
Both of our two wireless panic buttons are one-button triggered with a built-in microphone and speaker. When the elderly need help, they can press the button to trigger the alarm and report the location.
Fall detection
In addition, B1 has a built-in 3-axis accelerometer, which will trigger an alarm when the old person falls accidentally. Relevant personnel can receive the alarm in the background and take corresponding measures. With fall detection, users can rest easy knowing that they will get the help they need even if they can't press the help button on their device after a fall.
Treatment compliance
In addition to the SoS alarm and fall detection, the panic button can also be used for treatment compliance. Old people are more forgetful than young people and often forget to take medicine on time. With this program, the elderly can press the button after taking the medicine every time, so that the person in charge of the background, such as the doctor in the hospital or the guardian of the elderly, can remotely track whether the elderly has taken the medicine on time. If the elderly fail to report the information achieved within the set time, the alarm system of panic alarm will be triggered.
Waterproof
B1 panic alarm for elderly is IP65 waterproof and LW004-PB is IP66 waterproof. Being waterproof with a high rate is an important indicator to check whether the panic button works well because the bathroom is a common place for elderly people to fall.
Wrapping up
Panic alarm exists to provide elderly users with a safe, simple, and quick way to help in emergency situations. The market for such emergency calls is endless. As an ODM OEM manufacturer that is dedicated to the R&D and manufacturing of IoT devices and location tracking solutions, MOKOSMART provides customized solutions according to the needs of customers so that you can rest assured outside, and the elderly in your family can feel more secure when living alone. Contact us to learn more!
Continue Reading About panic alarm for elderly