Bluetooth beacons are small but mighty tools causing big waves across industries. You'll find these tiny wireless devices embedded everywhere from retailers to event venues to airports. They work simply by broadcasting Bluetooth signals that nearby devices detect. Easy but powerful – beacons open doors for businesses seeking to enhance proximity-based experiences. Retailers can deliver hyper-targeted promotions, airports can provide navigation, and events can get rich visitor analytics. But you need the right beacon partners for robust, tailored solutions. In this post, we'll cover key criteria for selecting a beacon supplier and highlight 10 of the best Bluetooth beacon companies worth considering.
An overview of Bluetooth beacon technology
In recent years, these tiny wireless transmitters have been blowing up like hotcakes across retail, transportation, healthcare, events – you name it. It is estimated that the global beacon market will reach $69.2 billion by 2030, growing at an impressive 36.9% CAGR. But what are exactly these smart devices? Put simply, beacons use Bluetooth to send out signals that any nearby device can pick up. Think of it like a lighthouse guiding ships – except instead of avoiding rocks, the signals tell your phone to do programmed actions like mobile payments, navigating indoors, sending deals to shoppers, and more.
With more IoT integration, Bluetooth beacons will enhance location-aware experiences. Moreover, beacons combined with other tech like LoRaWAN will help build a smarter, more connected world of the future. So remember, next time you get a coupon when walking by a store or find your way to your terminal at the airport, thank the trusty beacon for making it possible. The IoT train is only getting started!
Criteria for choosing a Bluetooth beacon manufacturer
The applications of Bluetooth beacons are expanding rapidly as more organizations adopt them – from contactless payments in stadiums to guided tours in museums. Partnering with the right beacon companies can help you capitalize on these opportunities. Otherwise, you may be faced with a bulky or unsuitable beacon solution. When researching manufacturers, keep in mind the following five key criteria to focus on finding the best Bluetooth beacon supplier for your use case: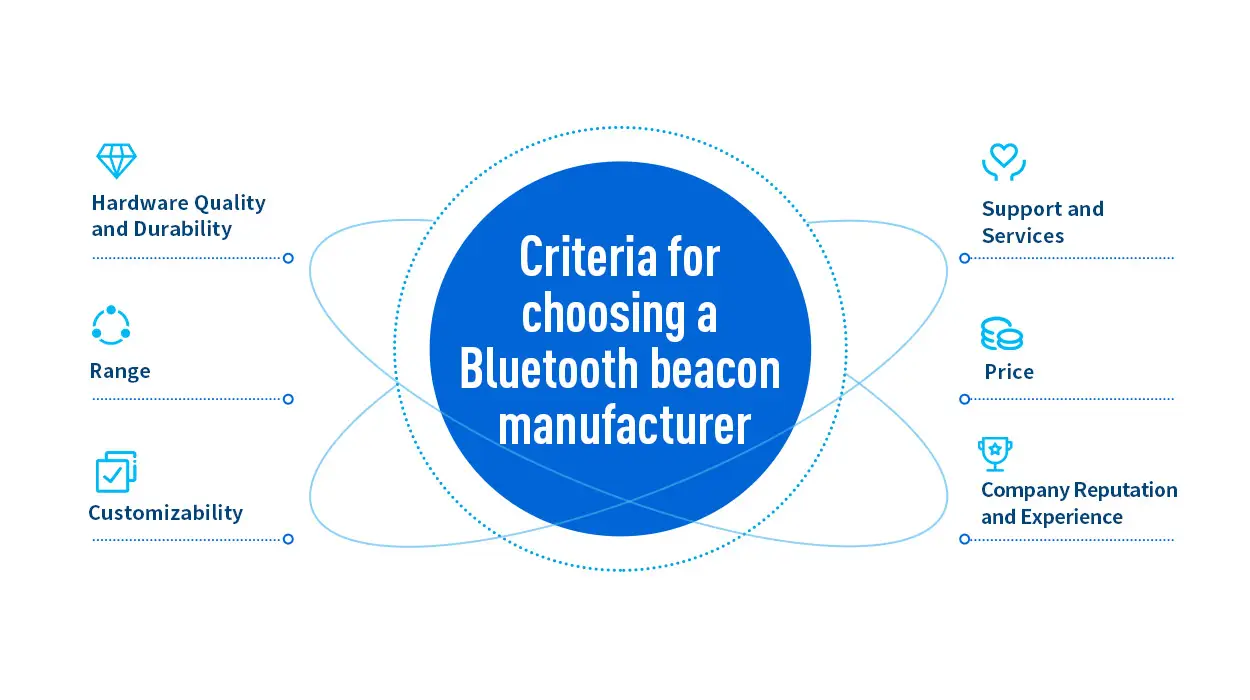 Hardware Quality and Durability – Can withstand real-world use and abuse.
The BLE beacons should be built to last through rugged daily use even with rough handling. Look for sturdy casing that can withstand drops, vibrations, liquid splashes, etc. Internally, quality components from reputable suppliers are a must. Check IP ratings and battery life.
Range – Provides reliable, consistent signals to the advertised range.
The beacon's range depends on factors like transmit power, antenna design and wireless interference. Test out sample beacons to ensure their advertised range holds up consistently in your intended environment. Having a too-short range will limit use cases.
Customizability – Ability to customize hardware, SDKs, apps, enclosures and more.
See what hardware, software and enclosure customization options are offered. Useful custom features include branded enclosures, custom UUIDs, variable transmit power, SDK controls etc. This allows tailoring beacons to your specific use cases.
Support and Services – Responsive technical support and repair/replacement services.
The manufacturer should have responsive technical support via channels like phone, email, etc. They should offer repair/replacement services for defective beacons, preferably with quick turnaround times. Long warranties show confidence in product quality.
Price – Competitive pricing fitting your budget constraints.
Balance your budget constraints with getting quality hardware. But the most expensive doesn't always mean the best. Get quotes from multiple Bluetooth technology providers to find competitive pricing.
Company Reputation and Experience – Proven track record delivering beacons for global clients.
Look at case studies, client lists, testimonials and reviews. More years in the beacon business and large, satisfied customers indicate reliable products and support. When possible, go with an experienced beacon manufacturer.
10 key Bluetooth beacon companies you should know
Whether you need versatile hardware built for scale, a software platform with advanced analytics, or a fully customized solution, these innovative players have you covered. Read on to look at the strengths of these 10 leading Bluetooth beacon companies.
Kontakt.io
Founded in 2013 and headquartered in Krakow, Poland, Kontakt.io is an industry leader in indoor location services using Bluetooth Low Energy (BLE) beacon technology. Providing various beacons and cloud services, they enable real-time indoor positioning, asset tracking and occupancy insights.
As early innovators with BLE beacons, Kontakt.io focuses on developing smart building and Bluetooth IoT solutions, especially for healthcare. They help world's leading health systems optimize operations through location-bsed services and experiences. Kontakt.io continues to innovate with BLE technology to create smarter, more responsive indoor environments.
MOKOSmart
Founded in 2006, MOKOSmart is a Chinese leading original manufacturer of Bluetooth beacons and other IoT devices. Their competitively priced hardware includes beacons with up to a 20-year battery life, waterproof design, long-range models, and more. This delivers the flexibility to use MOKOSmart beacons across various applications in events, warehouses, stadiums, etc.
MOKOSmart also offers end-to-end beacon customization – from tailored firmware to hardware and white-label product solutions. With low energy consumption, durable builds, and budget-friendly pricing, MOKOSmart removes barriers to beacon adoption. Partnering with MOKOSmart for Bluetooth devices, companies can get to market faster with BLE-based solutions.
Elainnovation
If you need robust and sturdy industrial Bluetooth beacons, ELA Innovation should be on your shortlist. ELA Innovation is a leader in developing and manufacturing wireless beacons and sensors using Active RFID and Bluetooth Low Energy technologies. Their versatile beacon products embed different communication technologies including Wirepas Mesh and Quuppa AOA to meet the demanding requirements of industrial IoT applications globally.
For over 20 years, Elainnovation has brought deep hardware expertise to the ultra-low power beacon arena. This enables their quality beacon products to meet the constraints of the most challenging environments. With its focus on robustness and adaptability, Elainnovation is ideal for tracking assets in industrial settings, construction sites, warehouses, transportation and logistics, etc.
Accent Systems
You can't discuss track & trace solutions without mentioning Accent System. Their innovative solutions combine Bluetooth beacon devices, location sensors, cloud analytics, and APIs. This delivers real-time asset and personnel tracking across complex facilities.
By combining leading IoT technologies and real-time analytics, Accent System delivers understandable data to labor-intensive industries. The company offers fully tailored IoT solutions for contact tracing, asset tracking, cold chain monitoring, shipment tracking, and more. With their end-to-end solution, Accent System enables companies to monitor interactions and locations in facilities in real-time.
Zebra Technologies
Zebra Technologies is a global leader in innovative mobile computing, barcode printing, and information solutions. The company offers a wide range of products and services, from mobile computing, barcode printing, RFID, to location systems,  and even cloud-based analytics platforms. Their solutions serve companies across manufacturing, retail, healthcare, transport, logistics, and more.
More than just providing smart beacon hardware, Zebra offers complete beacon solutions spanning beacon hardware, software, and cloud services to large businesses. Their BLE beacons are optimized to work with Zebra Savanna™ data intelligence platform and Zebra's MotionWorks™ location solutions.
Blueup
BlueUp is the leading Italian Bluetooth beacon company manufacturing Bluetooth Low Energy devices including beacons, tags and sensors. Their BLE products are certified for major technologies like iBeacon, Eddystone, Quuppa AoA RTLS, and Wirepas Massive networks.
Their diverse portfolio includes a wide range of beacon form factors – small enough to fit on a wall or stick to assets, yet powerful enough for most use cases. BlueUp beacons are applicable in asset tracking, equipment monitoring, proximity marketing, warehouse management, and more. The Bluetooth connectivity makes them usable for just about any application that needs identifying, finding, tracking or sensing across industries.
Infsoft
Founded in 2005, Infsoft is a German leader in providing comprehensive platform solutions for large enterprises. The company specializes in people and assets location, area and equipment utilization analysis, space sensors evaluation, and workplace experience systems deployment. Infsoft also offers e-labeling components for mobile assets and situational room signage to complement its portfolio.
Their core offering Infsoft LocAware platform®, a central cloud IoT hub, contains extensive web applications for data management and visualization. LocAware enables bi-directional connections to third-party systems through numerous interfaces that consolidate internal and external data streams. Long-standing customers like Frankfurt Airport, Swiss Federal Railways, F. Hoffmann-La Roche, and Siemens rely on Infsoft for scalable, user-friendly beacon experiences.
Minew
Founded in 2007, Minew Technologies has grown into a well-known Chinese developer and supplier of Bluetooth and IoT devices. The company provides a wide range of products – from Bluetooth beacons to smart sensors, modules, trackers, and gateways.
Beyond just Bluetooth Low Energy, Minew supports multiple wireless technologies like WiFi, UWB, and LoRa connections. They commit to integrating those protocols into reliable products that help connect the physical world. Spanning over 50 countries, their IoT devices and solutions are utilized for indoor location services, smart retail, smart homes, asset tracking, and more.
Estimote
Estimote is a technology company focused on developing operating systems that aims at changing the way businesses operations and consumer retail experiences. Currently, their primary area of interest is brick-and-mortar retail stores. They manufacture attractive and highly capable beacon devices and software development kits (SDKs) that can be integrated with mobile apps.
Leveraging Bluetooth connectivity, their products empower retailers to engage with customers in new location-based ways. For example, their small wireless sensors can detect smartphone locations within a store and deliver targeted mobile ads and content. Estimote is currently piloting their solution with major retailers in the U.S. and Europe. With possibilities opened up by new technologies like Bluetooth Smart, Estimote aims to change real-world business operations and consumer interactions through their sensor-based analytics and engagement platform.
Bleesk
Bleesk fuses its proximity marketing mastery with beacon technology to deliver a platform for engaging today's always-connected consumer. The Bleesk solution enables businesses to create captivating campaigns that connect the digital and physical worlds for impact that resonates.
With Bleesk's polished beacon platform and flexible SDK, proximity becomes the catalyst for meaningful mobile moments. Savvy marketers can target promotions, trigger in-app experiences, and analyze cross-channel behavior with precision. Bleesk amplifies engagement across environments by unlocking the power of proximity. Backed by BLE technology crafted for scale, Bleesk enables brands to lead with location-based intelligence. For marketers seeking an elite proximity marketing solution, Bleesk delivers.
FAQs about Bluetooth beacon technology
How much do beacons cost?
Basic beacon hardware can cost between $5 – $30 per unit. Larger deployments get volume discounts. Software and maintenance costs extra.
What can Bluetooth beacons be used for?
Bluetooth beacons have many uses across industries like retail, transportation, healthcare, and real estate. Common applications include indoor navigation, proximity marketing, contact tracing, asset tracking, and providing location-based information.
Do I need an app to use Bluetooth beacons?
Yes, mobile apps are required to detect Bluetooth beacon signals and trigger actions. Beacons just broadcast, so apps need to listen for their signals to utilize the data.
What are the privacy concerns around Bluetooth beacons?
Bluetooth beacons do not track personally identifiable information. However, some may see the location sensing and behavioral data collected as invasive. Apps should allow opt-in and explain how beacon data is anonymized and secured.
CONTINUE READING ABOUT BLUETOOTH BEACON