What if; while sitting in your car in a mall's parking lot you only have to pull out your smartphone and a few taps later, you found yourself a free parking spot? Or, after tucking yourself in bed you realized you left the lights on, you only had to reach for your smartphone and a few clicks later, you turned the lights off? Or, when you can locate any of your staff at any time with just a glance at your tablet's screen. Then, you won't be wrong to say IoT manufacturers make the world go around.
Who are IoT manufacturers?
IoT manufacturing companies:
Produces one or more IoT hardware technologies––such as IoT sensors, and IoT devices.
Develops IoT applications and software such as IoT cloud systems and IoT communication technologies etc.
In partnership with IoT vendors and IoT partners, distributes these IoT products to various organizations in various fields.
Provide IoT solutions and applications in businesses in the healthcare field, agricultural field, and many other industries.
As there are lots of different IoT products, IoT technology manufacturers can be grouped into various classifications based on the kind of IoT technology they manufacture and their target industries.
Kinds of IoT Manufacturers
There are three major groups under which there are numerous subtitles.
The three major groups are:
IoT hardware manufacturers
IoT application service and software developers.
Target Industry
IoT hardware manufacturers:
IoT hardware manufacturers can be further divided into the exact types of IoT hardware and IoT device they manufacture. Some of which include:
IoT switch manufacturers
IoT gateway manufacturers
IoT lighting manufacturers
IoT sensors manufacturers
IoT screen manufacturers
IoT integrated PCB (Printed Circuit Boards) manufacturers
IoT application service and software developers:
Some IoT manufacturers specialize in rendering IoT application services and the development of IoT software.
They can be ranked based on the types of software they develop and the IoT services offered.
Some of which include:
IoT cloud service providers
IoT Communication technology and software developers
IoT network encryption service
IoT integrated management service
IoT user-interfacing application developers.
Target Industry:
IoT manufacturers can also be classified based on their target industries. Some of which could be Security, IT, smart buildings and cities, Agriculture, Healthcare, etc.
Note: IoT manufacturers could fall under more than one group of the above classifications at a time.
In light of the kinds of IoT manufacturers, here are examples of some of the top IoT manufacturers in the world.
Top 10 IoT manufacturers
Some examples of top IoT manufacturers in the world include the following:
MOKOSMART: IoT fitness tracker, Beacons, sensors, and other IoT device
INSPIRE: IoT energy and power management
ENEVO: IoT-integrated waste management organization
IBM: IoT hardware manufacturers
SAMSARA: Increases business's operational efficiency with IoT technology
SAP: IoT optimizes organizations' administrative and management structure
MOBILOITTE Incorporation: Various industries IoT Application developers
CISCO: IoT device manufacturers established in 1984 in the United States of America.
SIMPLISAFE: Provides IoT security for homes.
CSG:  Telecommunication companies IoT integration.
Mokosmart (Original IoT Device manufacturers)
Mokosmart is one of the leading IoT manufacturers based in Shenzhen, China. Mokosmart expertise in trackers, smart sensors, and other GPS tracker IoT devices sets it atop its competition.
You would be blown away by the 8000m2 manufacturing space surface area, where more than 250 highly skilled employees work to produce only the best products.
Inspire
Inspire is a Californian top IoT company that applies IoT technologies in optimizing energy for customers. You can easily manage smart energy and it is relatively cleaner.
Enevo
Enevo is an environment-friendly IoT company that applies IoT technology to waste disposal and waste management through the implementation of IoT sensors in waste containers. Enevo's major customers are restaurant owners but basically, anyone around the world can benefit from their environmental and financially effective service.
IBM
IBM was established over a century ago with tens of thousands of employees. IBM stores and processes IoT data in encrypted cloud systems. It is located in New York City.
Samsara
Samsara is a large IoT data management organization. Their thousands of employees are dedicated to optimizing businesses and Companies' databases with IoT technologies and sensors. To help increase the organization's efficiency in data collection, processing, tracking, communication, and overall operational efficiency. Samsara was created in 2015.
SAP
SAP is an American company that operates an IoT cloud system where business data can be stored, analyzed, and managed effectively. Some operational calendars such as meeting scheduling, event-management amidst others are also organized through the cloud system.
Mobiloitte
Mobiloitte is an International IoT company with branches in the USA and Asian countries, India and Singapore. It specializes in IoT Applications development for various industries which include, healthcare, security, etc. In their 17 years of existence (as of June 2021) they've garnered almost 1,000 employees.
Due to the large––and rapidly expanding–– number of IoT companies. You might be conflicted about how exactly to select the IoT Company to best suit your needs.
How to find the top IoT Companies for your needs
What to consider when selecting the IoT companies that best suit your needs:
The User dashboard must be customizable
As many IoT user dashboards are display-only that only show the sensor-derived data with no option for customizing. When you're selecting an IoT company, you're advised to choose one that has a customizable user dashboard as it gives more freedom and a more enjoyable user experience. In addition to being to control more than one IoT device at a time.
State-of-the-art encryption and Security policies
Study the security policies of any IoT company and only choose IoT companies with advanced end-to-end data security protocol, user's control of their login access, and other policies that ensure complete security of your IoT data and network.
Ensure your devices are compatible with the IoT network protocol
Your IoT devices have to support and be compatible with all the IoT protocols presented by the IoT Company. Otherwise, your IoT network will be riddled with glitches and operational disturbances.
The optimal Data Management protocol
The IoT Company must have adequate cloud capacity for storing your data. And a data management system that ensures adequate monitoring, processing, and security of your data.
IoT application in Industries
Internet of Things application is numerous. Ranging from IoT applications in Smart buildings, and smart cities to Industrial IoT applications. Industrial processes can be optimized with the implementation of Internet of Things technologies, and communication networks in their operation.
Manufacturing Industry
IoT implementation in the manufacturing Industry results in the optimization and creation of smart machines capable of carrying out machine-to-machine communication. This increases efficiency cuts waste and improves operational capability.
Agriculture
IoT application in agriculture is every farmer's dream. You can do practically everything, from the smart irrigation meter which you can control with your smartphone to deducing the tiniest milligram of fertilizer, water, and light intensity needed to optimally grow your plants. And applying such conditions to each plant type. The production yield increase of IoT in agriculture is enormous.
Healthcare Industry
Healthcare Industries has always been one that is saturated as people always come down with health conditions. It's the natural way of life. Therefore, to keep up with the ever-growing patients. IoT implementation is most needed. And, the application of IoT in healthcare has led to the development of smart medical devices such as Smart sensors that measure physiological parameters such as temperature, heart rate, blood pressure, and even blood glucose level. These devices can communicate the data between themselves, analyze it, and come up with a diagnosis that the attending physician can easily act upon.
Smart Homes
IoT technologies such as IoT sensors, IoT switches, and certain devices can be implanted in thermostats, for smart and optimal management and also analysis of your home's heat regulatory system.
Automobiles
Automobiles are now being embedded with obstacle sensors, alarm sensors, and even a brainbox that could effectively analyze the recorded data and display the processed data to the user for a quick and effective decision.
Fitness
IoT sensors can be integrated into every device such as a bracelet to track and monitor your weight in terms of the number of calories you lose in carrying out your daily activities. Juxtaposing that data with your calorie intake, you can determine your net calorie intake or the number of calories retained by your body.
Smart cities
Smart energy management, waste disposal, and traffic control achieve great efficiency with an IoT network connected.
The explosive IoT growth
IoT growth in recent years is explosive. Experts estimate a 30.7% annual growth in Internet of Things device installation. The implantation of IoT sensors, IoT devices, and other IoT technologies has revolutionized many fields and Industries.
IoT implementation increases efficiency, reduces stress, and is cost-effective among other things. It also makes life in general easier, and more pleasant to live. These benefits and its wide range of applications from implantation of IoT sensors in your TV screen to automatically changing the channel to an educational documentary when your mum walks in. Or optimizing your company's manufacturing process by IoT technologies implementation which manages your data, helps you keep track of your assets' locations, and even instigate self-repair to any damaged machine component.
Therefore, the over 10 billion estimated IoT non-major devices (not including laptops, tablets, and phones) by 2025 should come as no surprise.
What are the benefits of choosing IoT manufacturers In China?
IoT manufacturing is achieved at a reduced cost.
The manufacturing process is relatively faster.
There is a large market and IoT manufacturers can easily, expand.
IoT manufacturers in China have high competition, this, in turn, pushes the IoT manufacturers to constantly improve their products and services. Making the overall IoT service in China better than most countries.
What are some IoT products and solutions MOKOSmart offers?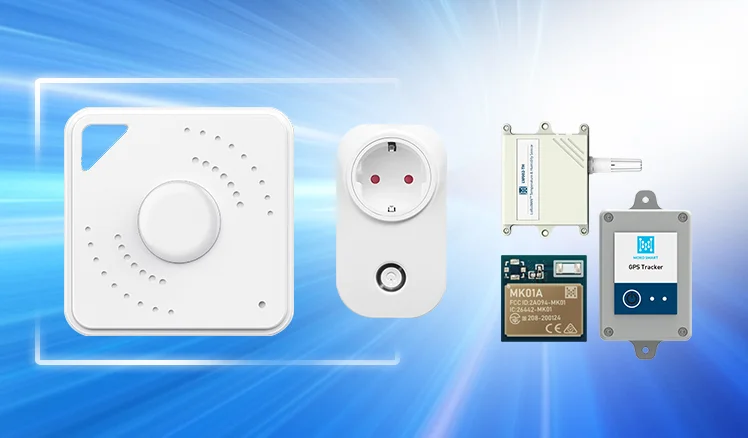 Bluetooth Beacons: Solves the problem of asset mismanagement and misplacement; can be used in keeping track of asset locations.
Smart Home Devices: It's applicable in smart lighting and power, and entire IoT-enabled home control.
Bluetooth Module: Can be incorporated into devices to enable low-energy but high-efficiency inter-device data communication.
LoRaWAN-Based GPS Tracker: can be used to track assets, automobiles, etc. using GPS location technology and LoRaWAN communication technology for data communication.
LoRaWAN-Based T&H sensor: IoT sensor used in detecting, reading, and analyzing the temperature and humidity of a particular location.