What if, while sitting in your car in a mall's parking lot, you only need to pull out your smartphone, and with a few taps, you find yourself a free parking spot? Or, after tucking yourself into bed, you realize you left the lights on, but you only need to reach for your smartphone, and with a few clicks, you turn the lights off? Or, you can locate any of your staff at any time with just a glance at your tablet's screen. With the power of IoT manufacturers connecting everyday gadgets online, life's little hassles seem to melt away with just a few screen taps. Those clever IoT companies truly make the world go around more smoothly.
Who are IoT manufacturers
IoT manufacturers develop the hardware and software that powers the Internet of Things. These companies engineer the hardware and software – the sensors, devices, platforms, apps – that collect, analyze, and transfer data, allowing seamless connectivity. These manufacturers partner with companies across industries to provide nuts and bolts solutions that make life more connected. Without their contributions, the IoT would remain merely theoretical potential.
The explosive IoT growth
IoT growth in recent years has been explosive. Experts estimate an 18.6% annual growth in the Internet of Things device market growth. The implantation of IoT sensors, IoT devices, and other IoT technologies has revolutionized many fields and Industries.
IoT implementation increases efficiency, reduces stress, and is cost-effective among other things. It also makes life in general easier, and more pleasant to live. These benefits and its wide range of applications from the implantation of IoT sensors in your TV screen to automatically changing the channel to an educational documentary when your mum walks in. Or optimizing your company's manufacturing process by IoT technologies implementation which manages your data, helps you keep track of your assets' locations, and even instigates self-repair to any damaged machine component.
Therefore, the over 10 billion estimated IoT non-major devices (not including laptops, tablets, and phones) by 2025 should come as no surprise.
Kinds of IoT manufacturers
IoT manufacturing companies can be classified into three key groups – hardware producers, software developers, and industry specialists – to understand the roles of companies enabling connected devices and systems.
IoT Hardware Manufacturers
IoT hardware companies produce the physical devices and components that make up IoT systems. Sub-types include:
IoT sensors – Temperature, pressure, humidity, motion sensors, etc.
IoT connectivity – Chips, modules, antennas enabling wireless communication.
IoT controllers – Microcontrollers, system on chips, that power IoT devices.
IoT actuators – Motors, valves, switches that enable automation.
IoT boards – Development boards and platforms used to prototype IoT products.
IoT Software and Service Providers
Some IoT manufacturers specilize in developing the softwate and offering services that power IoT solutions. They can be ranked based on the types of software they develop and the IoT services offered.
IoT cloud platforms – Manage connectivity, data, analytics, security in the cloud.
IoT network software – Enable communication between devices and cloud.
IoT analytics – Software to derive insights from IoT data.
IoT security – Secure IoT devices and networks through encryption and access controls.
IoT system integration – End-to-end solution development and deployment.
Target Industry
IoT solution companies also classify themselves based on the industry they serve:
Consumer IoT – Wearables, home automation, appliances, entertainment.
Industrial IoT – Manufacturing, supply chain, asset tracking.
Infrastructure IoT – Smart cities, utilities, water, energy management.
Healthcare IoT – Remote patient monitoring, medical devices.
Automotive IoT – Self-driving vehicles, telematics, infotainment.
Retail IoT – Digital signage, smart shopping carts, AI cameras.
Many IoT companies span multiple categories based on the range of technologies or industries they target. However, the classifications provide a useful way to segment the diverse IoT manufacturer ecosystem.
Exploring the top 10 IoT manufacturers
In light of the kinds of IoT manufacturers, here are examples of some of the top IoT manufacturers in the world.
MOKOSmart – Established in 2012 in Shenzhen, MOKOSmart provides a competitive edge through expertise in IoT hardware design and manufacturing. As one of the best IoT device manufacturers, the company offers LoRaWAN sensors, BLE beacons, cellular trackers and smart gateways.
You would be blown away by the 8000m2 manufacturing space area, where more than 250 highly skilled workers focused on producing the best products.
Bosch – the venerated German engineering and technology firm was founded in 1886. Bosch offers an end-to-end IoT suite including the cloud service – Bosch IoT Insights platform to manage networked devices and data at scale, and Industry 4.0 solutions to optimize operations through AI and automation.
Cisco – since its founding in 1984, Cisco Systems has become a global leader in IT and networking solutions. The American company provides a vast selection of products/services including networking, IoT, security, collaboration, and data centers. For IoT deployments, Cisco delivers end-to-end solutions such as networking equipment, gateways, operations/data management platforms, and security systems.
AWS – launched in 2006, Amazon's cloud computing arm has grown into the world's most comprehensive and broadly adopted cloud service. The service centers on AWS IoT Core which can support billions of devices and route messages reliably and securely. AWS IoT Core simplifies using AWS services to build IoT applications that gather, process, analyze and act on data from connected devices without managing infrastructure.
SAP – founded in 1972 and headquartered in Germany, SAP is a global enterprise software leader. For IoT, SAP offers Leonardo IoT, Edge Services and its Cloud Platform. SAP enables digitizing real-world objects to monitor, track and analyze. With its end-to-end capabilities, SAP enables enterprises to optimize operations and assets through IoT.
Samsara – founded in San Francisco in 2015, Samsara is an IoT startup enhancing operations across industries through integrated hardware/software. The company aims to achieve seamless tracking, monitoring, and management of vehicles and fleets. Samsara enables businesses to bring their transportation and logistics operations into the digital age.
Sierra Wireless – part of Semtech, is a key player in IoT solutions. It streamlines IoT solutions with IoT modules, routers, and connectivity services. Its products have a broad range of applications in manufacturing, healthcare, public safety, and energy industries.
Oracle – leads in technology with a full suite of integrated cloud apps and infrastructure through cloud services. It covers everything from migrating existing workloads to building new cloud-native applications. Their Fusion Cloud IoT Intelligent Apps boost visibility and efficiency by collecting data from connected devices in manufacturing, assets, logistics, safety, and customer experience.
Silicon Labs – a leader in secure, intelligent wireless technology for a more connected world. As a fabless global tech company, it is responsible for the design and production of semiconductors, as well as other silicon devices and software. These products are sold to IoT infrastructure manufacturers and design engineers worldwide.
Telit – a pioneering force in global IoT, known for top-tier performance. Their engineering practices exceed industry standards, ensuring seamless device connectivity. With over 20 years of experience, Telit leads in IoT modules and software. Their solutions are relied upon by first responders for disaster communication and by healthcare for real-time patient monitoring.
How to find the top IoT companies for your needs
Due to the large and rapidly expanding number of IoT suppliers. You might be conflicted about how exactly to select the IoT company to best suit your needs. Below will show you some considerations when selecting the IoT solution companies:
The user dashboard shall be customizable
Many IoT user dashboards are display-only and only show the sensor-derived data with no option for customizing. When you're selecting an IoT company, you're advised to choose one that has a customizable user dashboard as it gives more freedom and a more enjoyable user experience.
State-of-the-art encryption and security policies
Study the security policies of any IoT company and only choose IoT companies with advanced end-to-end data security protocol, user control of their login access, and other policies that ensure complete security of your IoT data and network.
Ensure your devices are compatible with the IoT network protocol
Your IoT devices have to support and be compatible with all the IoT protocols presented by the IoT device manufacturer. Otherwise, your IoT network will be riddled with glitches and operational disturbances.
The optimal data management protocol
The IoT service company must have adequate cloud capacity for storing your data. And a data management system that ensures adequate monitoring, processing, and security of your data.
IoT application in industries
Internet of Things application is numerous, ranging from IoT solutions in smart buildings, and smart cities to Industrial IoT. Industry processes can be optimized with the implementation of IoT technologies, and communication networks in their operation.
Manufacturing Industry: IoT implementation in the manufacturing Industry results in the optimization and creation of smart machines capable of carrying out machine-to-machine communication. This increases efficiency cuts waste and improves operational capability.
Agriculture: IoT application in agriculture is every farmer's dream. You can do practically everything, from the smart irrigation meter which you can control with your smartphone to deducing the tiniest milligram of fertilizer, water, and light intensity needed to grow your plants. And applying such conditions to each plant type. The production yield increase of IoT in agriculture is enormous.
Healthcare Industry: The healthcare industry has always been one that is saturated as people always come down with health conditions. Therefore, to keep up with the ever-growing patients, IoT implementation is needed. Smart medical devices can communicate the data between themselves, analyze it, and come up with a diagnosis that the attending physician can easily act upon.
Smart Homes: IoT technologies such as IoT sensors, IoT switches, and certain devices can be implanted in thermostats, for smart and optimal management and also analysis of your home's heat regulatory system.
Automobiles: Automobiles are now being embedded with obstacle sensors, alarm sensors, and even a brainbox that could effectively analyze the recorded data and display the processed data to the user for a quick and effective decision.
Fitness: IoT sensors can be integrated into every device such as a bracelet to track and monitor your weight in terms of the number of calories you lose in carrying out your daily activities. Juxtaposing that data with your calorie intake, you can determine your net calorie intake or the number of calories retained by your body.
Smart cities: Smart energy management, waste disposal, and traffic control achieve great efficiency with an IoT network connected.
What are the benefits of choosing IoT manufacturers in China
IoT manufacturing is achieved at a reduced cost.
The manufacturing process is relatively faster.
There is a large market and IoT manufacturers can easily, expand.
IoT manufacturers in China have high competition, this, in turn, pushes the IoT manufacturers to constantly improve their products and services. Making the overall IoT service in China better than most countries.
What IoT products and solutions do MOKOSmart offer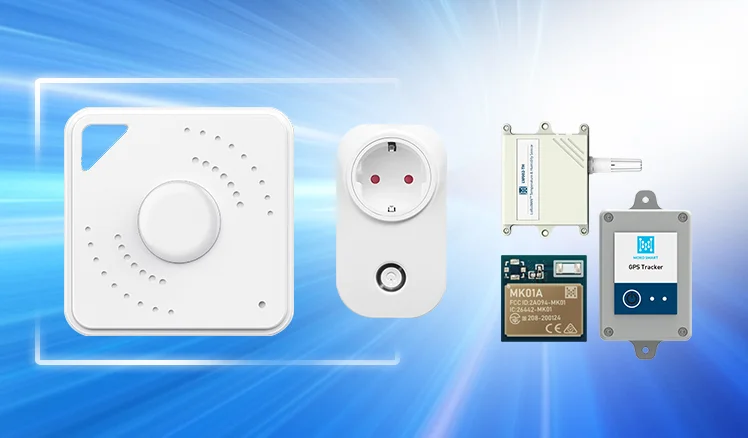 Bluetooth Beacons: Resolve asset mismanagement and misplacement issues, enabling accurate asset tracking.
Smart Plugs: Ideal for smart lighting, power control, and overall IoT-based home management.
Bluetooth Modules: Integrate into devices for efficient, low-energy inter-device data communication.
LoRaWAN GPS Tracker: Utilize GPS and LoRaWAN technology to track assets, vehicles, and more.
LoRaWAN T&H sensor: Detect, read, and analyze temperature and humidity in specific locations.
CONTINUE READING ABOUT IOT MANUFACTURERS