The phenomenon of aging is becoming more and more obvious, and its negative impact on the society has attracted the attention of the society. More technologies to effectively solve the independent living of the elderly need to be promoted. Medical iot technology is proven to be key to solving this problem, as it can provide effective care for the health of older people. The application of this technology is wide and it can be used by everyone, regardless of age or industry. Our other articles have introduced many application of the Internet of Things. This article will focus on the specific benefits of IoT for elderly care. IoT devices can provide seniors and people who need special care with reliable and accessible convenience. For older adults who are isolated or living alone, IoT technology can arise the attention of caregivers or family members to spot behavioral changes in the elder. This can improve the efficiency of healthcare industry and minimize operating costs. What's more, it can help the elderly to live independently while reducing government costs.
Why IoT for elderly care is needed
It is predicted that the world's population will reach 8 billion in 2023, and the problem of aging is getting more and more serious. Generally speaking, the aging rate of society is calculated according to the ratio of the elderly aged 65 to the population. According to statistics, the aged population will reach 2.1 billion in 2050, accounting for 12 percent of the world's population, and the ratio will reach 15 percent in 2025. In other words, 1.2 billion people will be 60 years old or older in 2025. According to the report of U.S. Census Bureau, the number of Americans 65 and older above that age will reach 78 million in 2023. Today, the government doles out financial aid to 35% of older Americans, at an average annual cost of $26,000 per person. In addition to the serious aging of the elderly, young people have no time to take care of the elderly is also the main reason why the elderly are so dependent on the government. What's more,with social changes such as increased geographical mobility and reduced community cohesion, older people are more isolated and therefore more vulnerable than ever before. In addition, shelter-in-place orders issued as a result of the COVID-19 pandemic have highlighted the social exclusion and loneliness of older people and vulnerable individuals, many of whom have developed serious health complications as a result.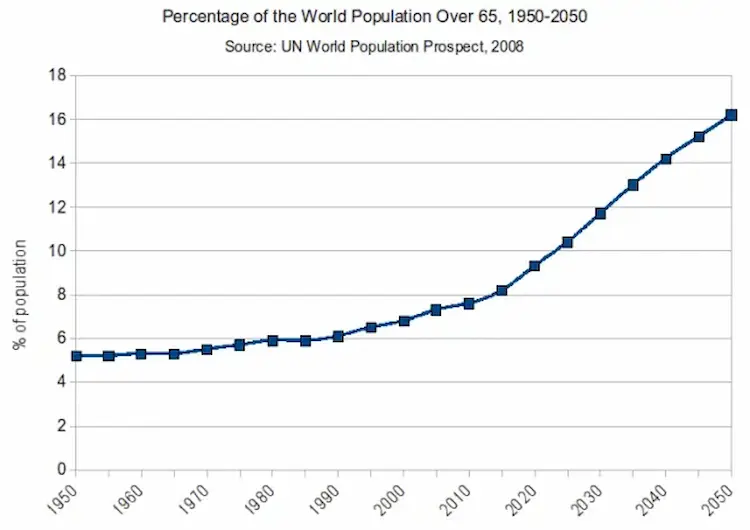 Application of IoT for elderly care
With the help of smart home care solutions, seniors can continue to live independently in their homes, as IoT sensor enable the family or caregiver to monitor the status and location of the elder.And once the sensor detect any abnormal situation,alarm setting will be triggered to send notification. Thanks to this monitoring, older people can feel safe in their homes because they know help is available in an emergency. Wireless call buttons provide an easy way to call help independently in an emergency. It available in many of our IoT sensor,for example, H3,H5,H6, H7,etc. A call from Panic Button can alert a family member, friend, or healthcare experts.
Emergency call system helps promoting independent life
Falls are common accident in older people who become less responsive as they age. Therefore, timely assistance at home and in nursing facilities is necessary. Our IoT wearables, combined with community RTLS, enable caregivers and family members to easily and efficiently monitor the elderly. The real-time location of elders can be tracked indoors or outdoors, and a built-in emergency call system can help them get instant aid in the event of a fall or other accident. The system's alarm parameters can also be customized, including alerts triggered by buttons on IoT devices and automatic location alerts that indicate roaming, wandering, or lack of activity.
Various sensors can immediately notify staff of the behavior and status of patients who are unable to take care of themselves. In the case of an Alzheimer's patient, "window sensors" can alert staff when the patient leaves or enters the room. Motion sensors placed at different points in the nursing facility provide further insight into the patient's movement. Wireless panic buttons can always be installed within easy reach, even in the bathroom. For more flexible patients, the emergency button can also be used as a wearable device to ensure timely assistance even if they can't reach the wall-mounted emergency button. To reduce response times during emergencies, the system displays and records the current location of residents and workers in real time. Employees will receive instant notification via a connected mobile app, and those closest to the scene will be dispatched to provide assistance. Applying the real-time location systems and IoT devices does not conflict with the autonomy and dignity residents deserve. While helping the elderly to live independently, we also ensure that their data will not be leaked to the outside world. We always respect the privacy of the elderly.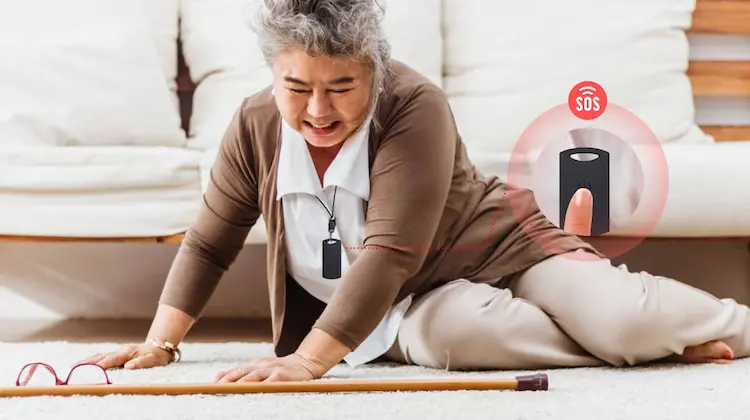 Ensure the safety of the elderly through location tracking
RTLS sensors and beacons combine technologies such as Gen2IR, Wi-Fi, RFID, and BLE. In addition to being worn on the body, it can also be installed in various locations across the community, including floors, buildings, and rooms. Outdoor or additional indoor safety zones can also be created by facilities using GEO-fencing. And with beacons, cables, sensors, and other wearable IoT devices, family and staff members can quickly and precisely locate the elderly. By knowing the exact location of residents, the care management schedules can be simplified. Location analysis can also help reveal any changes in residents' daily lives. If residents start showing unusual trends, staff and family members can learn what is going on and make adjustments before a potentially dangerous or bad situation develops. Memory loss and cognitive impairment are common in the elderly. Sometimes, residents become forgetful and stray into restricted areas or leave buildings, leading to dangerous situations. Using RTLS and other devices that support the Internet of Things, workers can quickly and easily locate residents in real time and redirect them before they stray too far from the safety of their place of residence. RTLS can be integrated with security and access control to actively restrict areas in the community. The sensors create indoor GEO-fencing and set up entrances. When certain dangerous residents approach monitored doors, elevators or other exit points, sensors lock entrances in unauthorized areas or alert staff.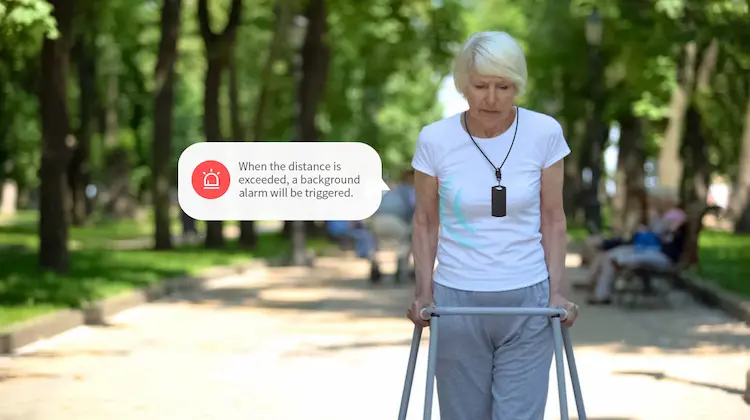 IoT for elderly care rest assure the family
Wireless sensors allow gentle and attentive monitoring of the elderly and those with special care needs. By monitoring the habits of the elderly on their phones, IoT technology can make it easier for families far from home to mind their business. By installing "window sensors" or "motion sensors" in an elderly person's home, supervisors can detect their movements inside and when they last opened a window or left the room. By integrating this series of activity tracks into smart home care solutions, the elderly's irregular movements can be notified and react to accidents before they happen.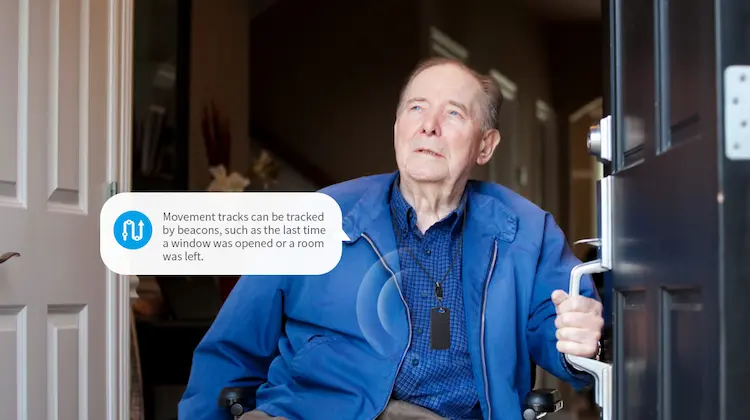 IoT for elderly care solution can be integrated into a complete system
Our iot for elderly care solution incorporates different communication protocols. The gateway supports Zigbee, Bluetooth, WIFI and LoRaWAN. Connecting IoT devices (such as motion sensor Mini, window sensor, emergency button, smart alarm or smart plug Mini) to a gateway can monitor the behavior of older adults, remotely control the device and enable them to call for help in an emergency. By integrating medical care devices such as blood pressure monitors, scales, fitness trackers, blood glucose meters, and other home care solutions, an additional insight into a patient's health can be accessed. Based on your and your customers' needs, combine your solution with the equipment and start your home care solution.
Through the Internet of Things, a fully connected community is possible because sensors and devices are integrated to monitor windows, doors, smoke detectors and elevator controllers. A variety of RTLS beacons and sensors enable senior living communities to create full wireless coverage. Closed network systems enable users to get a full visibility and control over who accesses records, which minimize the chance of data leakage.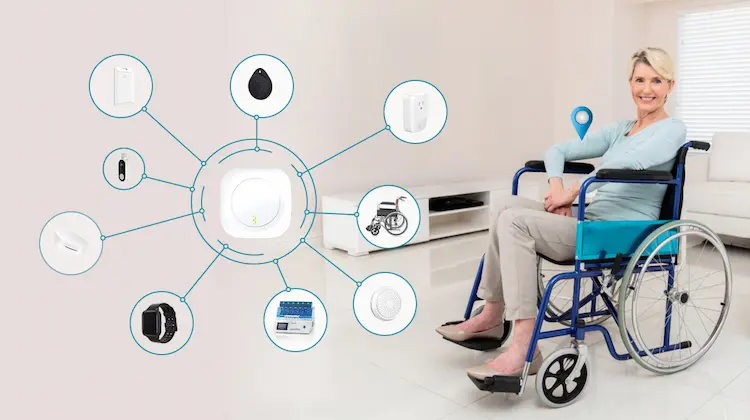 Intelligent control of home appliances is good for the elderly with poor legs
The main purpose of IoT solution is to make the devices we use smarter and more convenient for human beings. MOKOSmart's smart plug can be used for all appliances in your home. Once connected to an appliance, users can not only monitor its use in real time, but also control it remotely. There are multiple uses in IoT for elderly care. For example, when an Alzheimer's patient forgets to turn off the stove, or forgets to turn it off when they get home, the system sends an alert to the user to be aware of the situation and turn off the switch remotely. Families can also schedule the home appliances so that the elder can enjoy the household appliances without need to bother how to operate it. In addition, old people often urinate at night and often need to get up to go to the toilet. With the intelligent control of the light switch of the room and the toilet, old people don't need to get up in the dark, which avoids the risk of falling down. And when a guest comes to visit an elderly person who lives alone and has trouble with his legs, he can easily open the door by manipulating the software. When we do customer research, many customers say that old people are impressed by this function.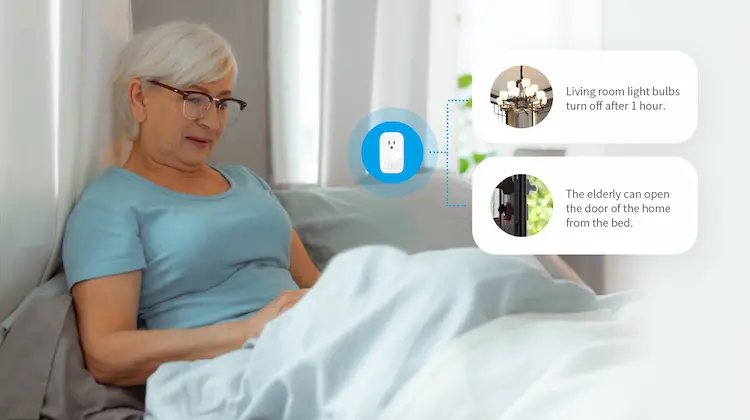 How IoT for elderly care sensor work
The Internet of Things can frequently transmit small amounts of information over long distances.
Sensors supported by the Internet of Things can detect the condition and movement of connected devices, but do not collect personal information. Besides, these devices support communication at a very low cost as a result of consuming minimal energy. This means that families can get effective treatment without having to pay exorbitant fees.
Devices running on other networks, such as cellular networks, can also make sure that the elders are under constant supervision and that vulnerable individuals are able to communicate their health needs immediately. The elders can maintain autonomy while living more independently by optimizing automatic and intuitive fall detection devices through the Internet of Things. The ability to monitor older persons remotely, receive alerts in an emergency, predict problems based on early warning signs, and proactively intervene provides peace of mind to healthcare providers and older persons' families.
Enjoy our IoT for elderly care now
MOKOSmart provides you with a mature, secure and simple wireless platform, and we also allow you to integrate our solutions through third party cloud platforms. Using a wireless platform, you can also build your applications without having to spend time developing, testing, and certificating devices. This gives you a head start on the competition, gives you access to more business opportunities and a quick return on investment. As an Internet of Things solution provider with over 16 years of experience, we have two IoT home care solutions for you to choose from. You can either choose from our end-to-end white label elderly care solution or build your own software based on our white label device. With a complete solution, you can quickly take the lead in the home care market. With our white label option, you can put together any device that are most suitable for your business and customers need. It could be a sensor that helps relatives or caregivers monitor an older person's status and whereabouts, a tool kit that helps patients call for help, or a tool that helps patients become more independent. What's the solution involved is depend on you. Contact us and learn how to develop your own IoT elderly care solution now!