Wifi Smart Plug Socket Manage Your Electronic Devices Anywhere, Anytime
Thanks to Wifi smart plug sockets, the home becomes a smart home with little money and effort. We offer an overview of differences and purposes and present examples.
More and more devices are networked and can be easily integrated into the smart home. Even older technology without an internet connection can become part of it. Your key to a smart home is smart sockets that can be remotely controlled with WLAN or other radio signals. They are also referred to as an intelligent socket, smart home socket or smart plug. This means that users can operate practically any wired device via a smartphone app and voice control, as well as integrate it into complex automation scenarios. You don't need a remote control to touch. We show which sockets are available and how users can use them to enrich their living experience.
How Wifi smart plug socket works as an easy way to a Smart Home
As an adapter plug, the small boxes connect any device to a WLAN or other radio network and in this way even transform the lamp inherited from the grandparents into today's high-tech. Unlike conventional sockets with a timer, modern radio models can be controlled remotely much more flexibly.
Smart control sockets usually receive their control signals via radio standards such as Z-Wave or ZigBee. WLAN routers and often also a gateway always serve as intermediaries. Therefore, there is often talk of WLAN sockets. Bluetooth or DECT are rarely used. A Bluetooth socket itself consumes less power but has a shorter signal range than is the case with WiFi.
The smart adapter plugs should not be confused with powerline adapters. These are sockets that forward the Internet signal to where no WLAN can get and no LAN cable is installed.
By default, users can switch wifi smart plug sockets on and off via app or voice command. In some cases, the circuit can be closed or interrupted with a physical button directly on the WLAN socket.
However, it is much more convenient if the smart home does its job and provides comfort without doing anything. To do this, WLAN sockets can be integrated into defined time schedules or sensor-controlled actions.
What are the benefits of having a smart plug?
You can check this report from Porch
Everything that can be networked with Wifi smart plug sockets
Popular areas of application in smart homes are pedestal fans or lamps in which no smart light bulbs can be used. After all, many households have a fan or light at home that still left the factory without a radio chip. Connected to a sensor for the indoor climate or a motion detector, smart sockets can ensure that the air is refreshed and the home is atmospherically illuminated.
In the same way, humidifiers and electric radiators that are equipped without their own WLAN connection can be integrated into home automation, for example. Or how about when the coffee machine has a cup of caffeine ready in the morning when you enter the kitchen? A WLAN socket makes it possible. But there is much more to it: warning of fires, chasing burglars or switching off the devices at home – the possibilities are practically unlimited.
Smart living made easy: finished projects for WiFi sockets
Registered users can quickly and easily create sensor-controlled networking scenarios to make their everyday life in the smart home more convenient. This is even easier with community projects that are already ready for use. They can be imported with just a few clicks and adapted to your own smart home. Here is a selection:
• Use a fan to freshen up stifling air
• Prevent mold with a dehumidifier
• Music as a sleep aid for the baby
• Open the front door and be greeted with music
• Celebrate with fitness confetti cannon for fitness progress
• Find the best WiFi smart plug socket for your own smart home
The range of intelligent sockets is growing and growing. How can you make the right choice? If you pay attention to the following differences, you will find the right model for you.
Additional functions of Wifi smart plug
Simple smart plugs only serve as an intermediate station for the remote control of devices. If additional functions are desired, it is worth taking a closer look at the product properties. A timer function is sometimes practical. Some Wifi smart plug sockets also measure the device's power consumption and provide information in the app and dashboard. These consumption data can be used to gain insightful knowledge about your own smart home. This is especially true when users consult electricity analysis services such as Fresh Energy. If you keep an eye on energy consumption in this way, you can save cash in the long term and at the same time protect the carbon footprint.
Gateway: Like many other smart home systems, some intelligent sockets also require an intermediary box that connects them to the WiFi router. In the best case, a so-called gateway, also called an access point, bridge or hub, is easy to set up. If you want to save time and space, consider a WiFi socket without a gateway.
Remote control by voice: practically all smart sockets can be operated via a free app. But far from all models listen to voice assistants like Google Assistant or Amazon Alexa. Voice control is much more convenient than app control, especially for simple actions such as switching on and off. The product information clearly states whether the Wifi smart plug socket can be understood with a smart speaker such as Google Home and Amazon Echo.
Outdoor use: Many smart sockets are intended for indoor use of the smart home. If you want to use it to control light on the balcony or in the garden, you can use a special outdoor model. So that a model can be used outdoors, it should be so weatherproof that it supports the IP44 standard.
How does a WiFi smart plug socket work?
Wifi smart plug socket functions as a kind of adapter that controls the power supply to connected devices. In this way, almost all electrical devices can be integrated into home automation. For example, toaster, coffee machine, standard lamp or garden lighting. Using a radio or WLAN socket, users can even remotely switch household appliances on or off while on the go. This is e.g. then very practical if it only occurs to you on the way to work that the desk lamp is still on at home. In this case, a few clicks in the associated smartphone app or a voice command are enough to solve the problem.
Depending on requirements, users can choose from different radio standards. In addition to the classic WLAN and Bluetooth (or Bluetooth Low Energy), there are also special Smart Home radio standards such as ZigBee. While models with WLAN and Bluetooth can be installed particularly quickly, devices with ZigBee, Z-Wave and Co. consume significantly less energy and do not slow down the Internet speed in large numbers.
In the following summary, we present the most popular model of all common radio standards for networkable sockets.
What do I have to consider when buying WLAN sockets?
Functions: Basic models can usually only be switched on and off using an app. It is also possible to integrate these sockets in an Alexa or Google Home-based smart home. Our favorite in terms of the price-performance ratio is the MK100, which masters all the functions mentioned here.
Current/maximum load: Very inexpensive WLAN sockets often have a maximum output of 6-15 A.
WLAN sockets are an inexpensive way to integrate "old devices" into a smart home. If you don't want a complete smart lighting system, a WLAN socket also helps to enable lighting control via the app – at least when it comes to conveniently switch individual lamps on and off via smartphone or when the lighting elements are to switch on and off at certain times. However, only the smart plugs are controlled by telling them whether they should allow electricity to flow or not. For this reason, the connected device itself must always remain switched on, since it is only controlled indirectly.
Which app is useful for WiFi sockets?
Smart sockets from China (e.g. MOKOSmart) often work with the Smart Life app.  This is used for commissioning and is also required if a connection to the app is to be made afterward. In this case, the app control is usually completely replaced by voice control.
Cheaper alternatives are often available from Chinese manufacturers, but data protection is often handled very questionably there.
With the intelligent WiFi Smart Plug and the associated App, common household appliances such as lamps, heaters and coffee machines can be conveniently controlled by mobile phones. Whether the heating is switched on on the way home from the office or you can comfortably run your Sunday coffee from your bed: MOKOSmart's smart product family now makes all this possible.
The intuitive operation of the App, which is available free of charge in the App Store or on Google Play, makes everyday life even easier. When plugged into the socket, it can be controlled and automated from a smartphone and tablet thanks to the WiFi Smart Plug. In addition, the smart helper, which runs over WLAN, has an integrated timer. This makes it very easy to determine that the light is switched on at dusk and switched off again at dawn.
"The Wifi Smart Plug socket is a completely new product, but what is even more important is that we are taking a new path. With wifi smart plug socket from MOKOSmart, it will be possible to sensibly network your home with a focus on simplicity and usability, "reports Peter Olsson, Category Manager Multimedia at Clas Ohlson.
The MK100 is the first product in the new Wifi smart plug socket series. Further innovative products for a networked home are MK100, MK102, MK112, MK114. The App is available free of charge in the App Store or on Google Play and the WiFi Smart Plug is available in all branches and online.
If you are concerned with home automation and want to automate your home, you will soon come across the issue of radio-controlled sockets and will, therefore, be spoiled for choice between WLAN, Bluetooth, ZigBee or DECT models. But does a complete smart home system have to move into the home when purchasing a smart WLAN socket? No, luckily not. We give an overview of the world of the intelligent Wi-Fi smart plug socket and present tests and evaluations of the best wifi smart plug socket models in comparison.
Wifi Smart Plug: MK100 WLAN socket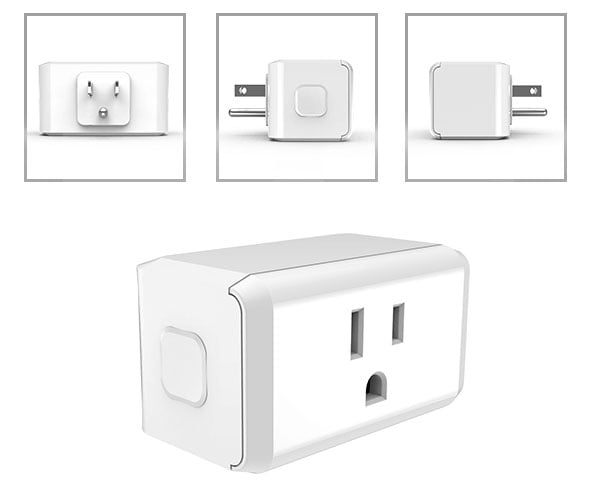 This Wifi smart plug socket from MOKOSmart works excellently without prior integration into a smart home system, as our practical test showed. However, the MK100 socket is not only quick and easy to install, it can also be conveniently controlled using the free manufacturer app, Amazon Alexa and Google Assistant. Last but not least, with up to 15A it offers a significantly higher maximum load than most other radio-controlled sockets in our comparison.
Conclusion: If you are looking for a WLAN socket, you couldn't make a better choice.
We particularly liked the MK100 for the following reasons:
Apparently always at home
Turn your lights on and off on a schedule. This makes it appear to burglars that you are at home even though you are traveling.
Everything under control from the bed
Switch off your living room lamps conveniently via smartphone when you are already in bed or let all the lights go out automatically at midnight. Just start the morning brewing process for your filter coffee from your bed.
Modern, elegant, unobtrusive
The WLAN socket scores with an elegant, reduced design. It fits perfectly into any living environment
Save energy and money
With the MK100, you can easily and easily set your personal comfort temperature in your home and save energy and money! The WiFi socket measures the energy consumption of space heaters and fans in real-time and creates weekly and monthly reports.
Never leave the iron on again
Have you ever been on the road and wondered if your iron might still be on? With MK100, MK102, MK112, MK114 WiFi smart plug socket, you no longer have to worry. Simply set a limit in the timer and your electronic devices will be switched off automatically.
Product highlights
Access on the go: Control all devices conveniently via smartphone – anywhere and at any time
Creation of schedules: Switch your devices on and off automatically at different times – e.g. at sunrise and sunset
Consumption display: Analyze your energy consumption in real-time or via weekly and monthly reports
Away mode: turn your lights on and off at different times to make it appear that someone is at home
Easy setup and operation: Connect the WiFi socket to your WiFi and download the free Kasa app
MK100 Wifi smart plug socket Price
For those who want to save money, we recommend the MK102 socket as a cheap alternative. Except for the non-existent energy consumption measurement, their functions correspond to the model HS110. You can also use it e.g. Timer controlled to ensure that the coffee is ready in the morning when you get up.
Conclusion on intelligent WLAN, ZigBee, DECT and Bluetooth sockets
With a WLAN socket or a smart plug, a first step on the way to a networked smart home is quickly done: Simply plug the devices to be controlled into one of the smart sockets and then install the radio socket via WLAN and smartphone.
Radio-controlled sockets are a good way to simply switch devices in the household on and off via the network or even via the Internet and to have other data – such as the measurement of the power consumption of individual devices – conveniently displayed on the screen. But one thing is certain: the development will not stop at the issue of WLAN sockets and it is therefore worthwhile for all smart home enthusiasts to follow the developments around smart sockets. It remains exciting to see which intelligent devices manufacturers will come up with. Because every new WiFi socket offers the potential to automate even more conventional devices.