Wifi smart switch is one part of the Smart Home devices. The WiFi switching module can be hooked into your own MOKO MokolifeX app and thus can be switched on / off using the smartphone. It's"Nice" for the small price.
The really great thing about the switching module, however, is that it can be flashed with an alternative firmware and thus integrated into open-source home automation solutions such as HASS.io, ioBroker, or openHAB.
WiFi Smart Switch: MK117D & WS001 & WS002
MK117D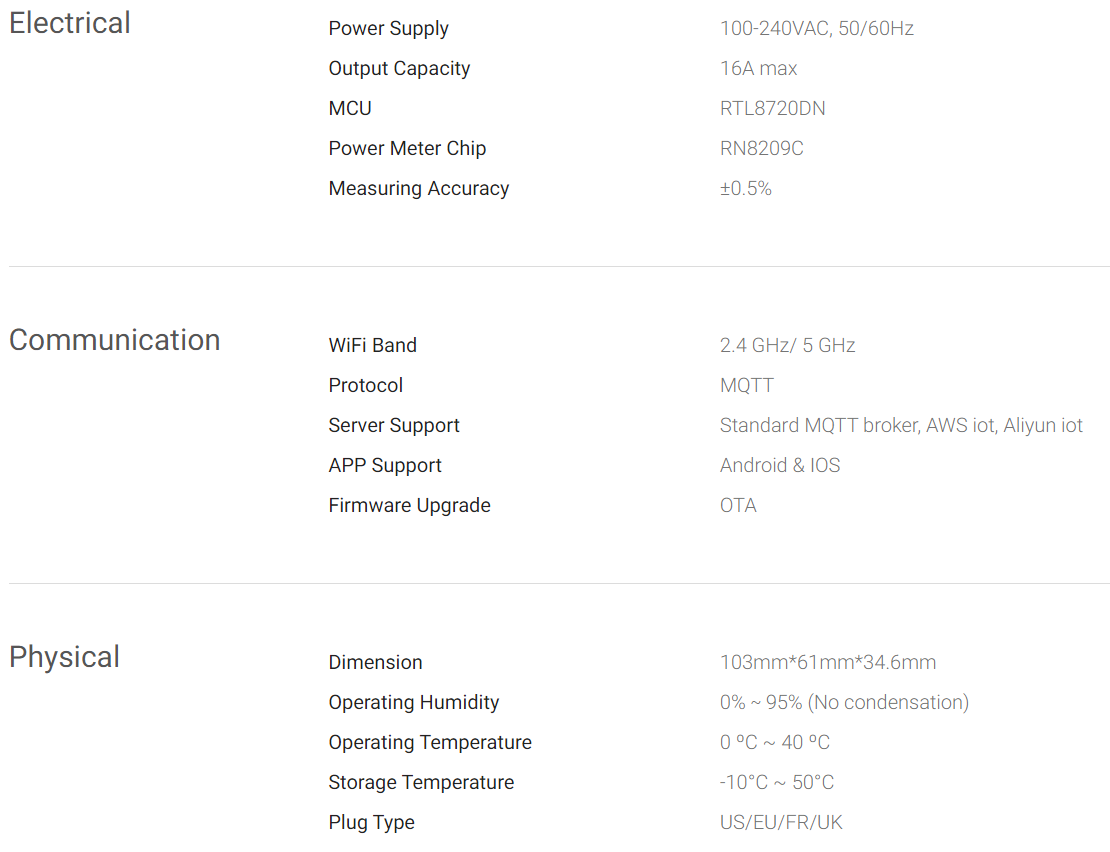 MK117D is a Dual-Band Wifi Smart Plug working over 2.4 GHz/ 5 GHz internet. It is designed for high-accuracy power and energy monitoring. By working with AWS IoT, and Aliyun IoT, the development of the whole system can be completed. It also enables consumers to monitor power usage, and save energy by remotely controlling the load switch when they are out. By the way, you can even perform statistics and analysis on your server faster as it supports locally tracking the hourly/daily/monthly/historical total energy consumption.
WS001
WS001 is a 2-channel universal WiFi wall switch for your smart home system to remotely and automatically turn on / off household appliances and electronic devices via a phone APP. It can connect and control two devices at the same time. In the smart switch APP MokolifeX, you can switch each of the two connected devices on and off independently. It also supports timing when the appliances are turned on / off at a specific time and allows sharing with others so that you can control your smart home with your family. You can also control your home appliances via Amazon Alexa and Google Home / Nest, enjoy intelligent living and make your home smarter.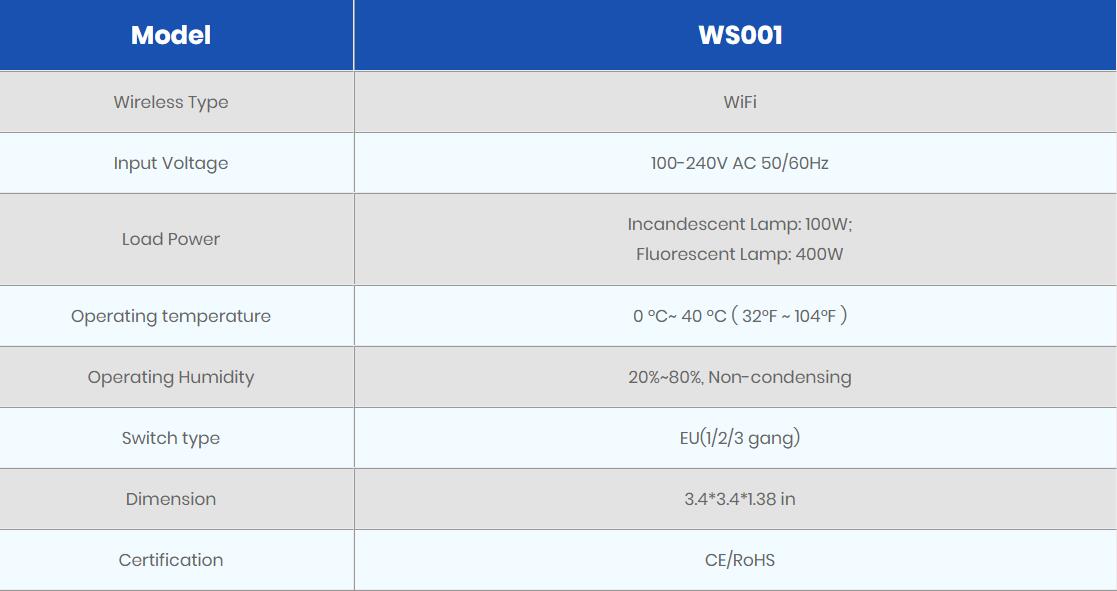 • Suitable for ordinary lamps, such as incandescent lamps, fluorescent lamps, led lamps, etc.
• Built-in standard ESP-12F module, support WiFi communication
• Can work with MOKO MokolifeX APP
• Supports standard MQTT V3.1.1 protocol and TLS V1.2 transport layer encryption protocol
• Can connect to standard MQTT servers, such as Mosquitto MQTT and EMQTT; also can connect to AWS IoT /Azure IOT HUB /Aliyun IOT
• Support API for APP and cloud server developing
• Customized service:
• Support customized hardware with Zigbee, Z-wave, Bluetooth and other wireless types
• Schematic diagrams are available for customers to develop firmware
WS002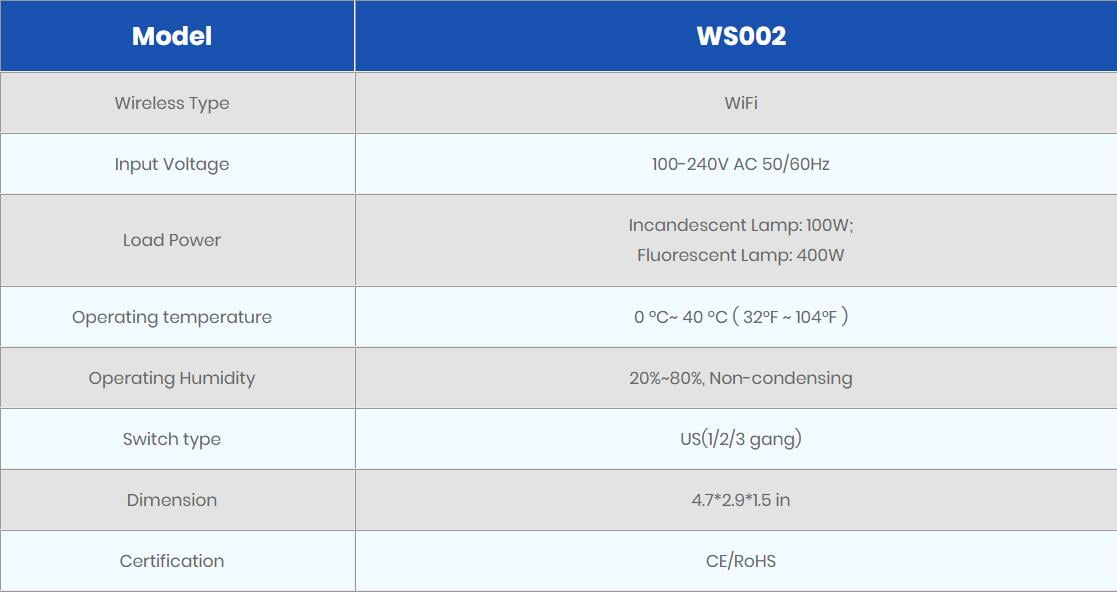 • Applicable to common lamps, such as incandescent, fluorescent lamps, led lamps and so on.
• Built-in standard ESP-12F module, support WiFi communication
• Can work with MOKO MokolifeX APP
• Supports standard MQTT V3.1.1 protocol and TLS V1.2 transport layer encryption protocol
• Can connect to standard MQTT servers, such as Mosquitto MQTT and EMQTT; also can connect to AWS IoT /Azure IOT HUB /Aliyun IOT
• Support API for APP developing
• Support customized hardware with Zigbee, Z-wave, Bluetooth and other wireless types
• Schematic diagrams are available for customers to develop firmware
How does wifi smart switch work
Unlike the traditional light switch, the smart wifi switch functions as a smart home technology that allows owners to control anything connected to it, including household appliances such as lights, fans, air conditioners, and garbage disposal devices, via a smartphone app after connecting to Wi-Fi. Smart wifi switches are available in a variety of shapes and sizes. It can still be used as a traditional light switch when there is no wifi connection, although some of its smart features are compromised or temporarily disabled. Personal preferences on how to use smart switches vary from person to person. Some prefer voice commands, such as "turn on the kitchen lights," while others prefer to use an app on a smartphone or tablet. Therefore, we recommend and install smart switches, but leave the actual programming to our customers. Here are some of the features that many smart switches offer:
• Voice control
Wifi plug socket with voice control Settings or speakers can be functioned and be executed as per your voice command. For example, if you want the Light to be dimmed, you can just say "Hey Lily, dim the bedroom light".
• Remote monitoring and control
Even if you're not at home, you can monitor your home devices in real-time and remotely operate the switches using an app on your phone or computer.
• Programmable schedule
This works for routine situations like turning on the coffee maker at 7 a.m. and the rice cooker at 6 p.m.
• Create a different atmosphere
One interesting feature of the smart switch is that it can automatically operate the device according to different activities, such as turning on the TV and the shower head, and automatically dimming the smart lights.
• Integrate with other smart home devices
In addition to connecting smart apps, it can also connect to smart home hubs.
Networking your home and controlling it from anywhere in the world – doesn't necessarily have to be expensive.
If you want to network your home, you first think of expensive solutions from Innogy or Bosch. But you don't necessarily have to spend a lot of money on a networked home – at least if you can make a few cuts in the range of functions.
Installation: Special notes
Important note: You should only have electrical installations carried out by approved electricians. In the event of damage, many insurance companies accept no liability for circuits that you have created yourself. Even worse: in the event of damage by third parties, you can be held liable. In addition, you may only connect insulated devices with a smart plug without earthing to the switch, since there is no terminal for earthing. Little or no electrical experience? Stay away and have a professional do it!
First, you need MOKOSmart's WiFi switch. Of course, you also need a functioning WLAN network with internet access on site.
First, the specialist must install the Wifi smart switch on your device, such as a lamp. To do this, he cuts the lamp's power cord at any point. Caution: Be sure to disconnect all cables from the power beforehand or to trigger the fuse. The person skilled in the art isolates all cores from both cable ends and fastens the ferrules. Now you put the smart network switch between both ends. It should be noted that the side with the device is created at "Output" and the side with the current in the "Input" of the smart power switch. The blue wire belongs to the N connection. The phase (brown cable) comes to the phase connection "L".
Connect the wifi smart switch to the WLAN
If the smart switch is set up correctly, you can now switch the lamp on and off using the small, black button. Now the setup follows via the app. To do this, download the free "MokolifeX" app from the Google Play Store or Apple AppStore and create an account. You can then use the "+" symbol to set up your WLAN switch.
If the green LED lights up permanently, the setup was successful and the device is connected to the network. If the LED flashes, you will find a legend for the various error messages here.
In operation: protection against burglary & schedules
If you have successfully set up the device, you can now create schedules in the app or control the Wifi smart switch manually. For example, you can set the lights in the living room to turn off at 3 a.m. every day or in the kitchen every evening between 7 p.m. and 10 p.m. Perfect if you are traveling and you don't want your own four walls to appear deserted. Control on the go is also possible.
You can also share each device with other users for control. They also need the app and their own account. For example, the whole family has access to the lights in the living room.
Cloud storage is required to enable control via the app. This is currently free of charge and can be used at any time. Unfortunately, you have no control over where and how your data and that of your devices are stored on the servers.
Compatibility: Control via the app, Alexa or Google Home
In addition to the app, the smart life switch is also compatible with current voice assistants. In the test, the sensor worked perfectly with Google Home. The switches only have to be named in the home app and assigned to a room. Then it's enough: "Ok, Google. Turn on the light in the living room "- and it was already bright. Amazon Alexa also supports the manufacturer, according to its own information.
Once the smart home switches are properly installed, the system works perfectly. But there are too many things to consider before commissioning: A certified electrician must install the device and ensure that there is no danger to third parties. This switch is only for professionals. If you are looking for a simple plug-in solution, you should rather spend a little more money in your hand.
Smart control of existing lighting without replacement
With the smart wall light switch, existing lights and illuminants that are normally not Apple HomeKit-capable can be integrated via the system. No bulbs need to be replaced. In addition, the conventional, familiar control via switch is retained. Furthermore, the Wifi light switch can be easily adapted to the existing device on the wall and can be installed in different versions. If there are some Wifi smart switches in a circuit, the replacement of just one switch is enough to control the lights. Thanks to the compatibility of the smart wall switch with Apple HomeKit, the functions can be controlled via the app or with the Siri voice control.
There is also the possibility to use scenes. Several devices are addressed and activated or deactivated with one command. For example, you could combine switching on the ceiling light in the living room with activating a table lamp that is connected to an Eve Energy socket. In addition, the smart life light switch has built-in schedules that are easily programmable. This makes it very easy to automate the switching of your own lighting. The schedules are saved on the device and can be set with times and reference values ​​such as "sunrise" or similar specifications.
The brilliant Light Switch presents itself in a very inconspicuous simple design, which easily replaces conventional wall switches. The normal function is retained and can be used at any time.
Install the Smart Wifi Light Switch on the electrical wire
It only takes a few minutes to set up your Wifi Light Switch. If you cannot determine which is a load and a power cord, or if you are unfamiliar with electrical work or feel unsafe, please contact a professional electrician.
The wall box must be five (5) centimeters deep
IMPORTANT: Metal covers are not suitable for the Wifi light switch (these can cause interference with the WLAN network) and it is only suitable for dry indoor areas (living areas).
When you have met the electrical requirements, follow the electrical installation instructions below.
Step 1: Turn the main wifi smart switch or fuse of the switch you are replacing OFF. Multiple main switches may need to be turned OFF to ensure that the switch you are working on is turned off and no electricity is present.
IMPORTANT NOTICE: CHECK WITH A CONTACT-FREE VOLTAGE DETECTOR whether there is no more voltage or press the best light switch several times to check it.
Step 2: Use a screwdriver to disconnect the wiring from the old light switch.
Step 3: Determine the conductors on your smart Light Switch.
Jumper wires (live/outer conductor): the two (2) live conductors are marked black on this light switch. Each light switch is equipped with these two conductors. However, they can also be marked in red or black and red.
Neutral conductor: is required by your Wifi Light Switch, but is not available in every electrical installation. If available, you will usually find it in the wall socket, secured with a clamp.
It is usually marked green or copper-colored. If you don't find a ground, that's not a problem. It is not absolutely necessary for the wifi Light Switch.
Step 4: Install the Wifi Light Switch. Connect the two (2) black conductors of the Wifi Light Switch to the existing switching conductors (live conductor / outer conductor) of the wall socket. If there are several conductors, fix them in the clamp.
NOTE: The clamp is the attachment that connects the conductors together.
Wi-Fi smart plug VS ZigBee and Z-Wave smart switches
In addition to Wi-Fi, Bluetooth, ZigBee, and Z-Wave are also the most common types of connections for smart switches.
A Wi-Fi-enabled smart switch can make direct connection with your home Wi-Fi network. This the way they are updated by servers, communicate with your smartphone, and stay connected to your smart network and other devices. In general, Wi-Fi and Bluetooth smart switches are the easiest to install because they don't require a smart home hub. As a result, they can easily connect to your existing home network.
Devices connected via ZigBee and Z-Wave work slightly differently. These are alternatives to Wi-Fi connections. ZigBee uses the same wireless frequency (2.4 GHz) as Wi-Fi, but does not interfere with the bandwidth of the Wi-Fi network. Z-wave uses different radio frequencies. These devices must be connected to a smart hub, which then connects to your Wi-Fi.
Smart Switches under the situation of Wi-Fi Outage
Even the best systems fail occasionally. A Wi-Fi outage can be caused by a Wi-Fi router failure, a storm, or a problem with your Internet service provider. Let's see how the functionality of a smart switch will be affected when wi-fi fails.
App controls are disabled
A wifi smart switch couldn't be allowed to communicate with your phone app when Wi-Fi is down. The same goes for smart hubs that keep Z-Wave and ZigBee switches connected. In another word, you can't be allowed to use your smart app to perform switches or give commands, and voice commands won't work either. In other words, your smart light switch during a Wi-Fi blackout almost becomes an old-fashioned light switch.
Physical connections keep switches working
Unlike other smart devices that rely solely on an Internet connection, Wi-Fi doesn't mean your switch won't work at all. Because a Smart Switch is physically connected to your home's electrical system. So, when the Wi-Fi goes down, you can walk up to the wall and use a switch to control your lights.
No Wi-Fi means no smart features
Without Wi-Fi, the smart Switch's smart features fail, and you can't pair the smart switch with your new device. So it can be tricky to set up all of your smart devices before Wi-Fi network can be connected again. It also means that anything you control with a smart switch that isn't physically connected will be unresponsive.
You may lose your schedule
Wi-fi outages often disrupt your smart switch's ability to stay connected, meaning it won't be able to access the smart schedule stored on your phone.
The failure of this feature affects everyone differently. Of course, it will be a headache for those who rely heavily on smart home technology. The good news is that when Wi-Fi is turned on, your schedule will return to normal.
Your smart device won't be able to update
Device updates can fix security holes and other minor issues, which are key to having a secure smart home.
If there's no Wi-Fi network, your smart switch may tend to be vulnerable to security vulnerabilities that can be fixed with regular updates.
Zigbee smart plug and Z-Wave switch retain some features
ZigBee and Z-Wave devices retain some functionality when wifi is disconnected. But they will still finally depend on connecting to your Wi-Fi, and their utility will be limited similar to that of Wi-Fi smart switches.
One of the big features ZigBee and Z-Wave smart light switches will be available to maintain is connectivity with other smart devices in your home. Even if Wi-Fi is disconnected, all devices connected to the smart hub will keep remaining connected. They can't be updated or execute other features that require Internet access, but I can still communicate with each other.
This means that switches that are not physically connected to the control light can keep functioning even without the Internet.