Mokosmart is a company that specializes in developing and manufacturing BLE beacons. Small devices called Bluetooth beacons provide signals to other adjacent Bluetooth-enabled devices. They are frequently used in location-based services, including asset tracking, proximity marketing, and interior navigation. In recent years, GPS beacons have also become increasingly popular, and customers may wonder which type of beacon is more suitable for their needs. In this article, we will explore the differences between GPS tracking beacons and Bluetooth beacons and which applications are more suitable for each type of beacon.
What is a Bluetooth Beacon?
Bluetooth Low Energy, also known as BLE, has a number of advantages over GPS. BLE is universally applied to wearable devices, beacons, retail, and other fields. An IoT solution known as a BLE beacon continuously transmits a radio signal to identify itself. Due to their low energy usage, BLE beacons are a good choice for digital contact tracking. They can manage to track with the minimal data exchange required.
What is a GPS Beacon?
Next, let's look at GPS beacons. They are small, portable devices that use Global Positioning System (GPS) technology to determine their location. They can be used to locate individuals, automobiles, and other valuables. GPS beacon tracker can also be used to create geofences, which are virtual boundaries around a physical location. When a GPS beacon detects that it has crossed a geofence boundary, it can trigger an alert or action, such as sending a notification to a mobile app or turning on a device.
Use cases and applications of Bluetooth Beacons and GPS Beacons
There are many uses and applications for the two unique navigation technologies known as GPS and BLE. When it comes to deciding between BLE and GPS beacons, it is essential to take the specific requirements of your business and applications into account.
BLE beacon
There are several different types of beacons, including wristbands, round-shaped ones, and key fobs. It transmits a radio wave that is easily able to pass through solid objects like iron gates and pillars. Indoor navigation and proximity marketing applications, like those from Moko Smart, are better suited for BLE. They have a shorter range compared to GPS beacons but offer a higher level of accuracy, making them ideal for applications that require precise location information.
One example of Bluetooth Beacons at work is proximity marketing. When a person approaches a location with beacons, like a nearby store, a gadget in his pocket records the Bluetooth signal being delivered in coded form, which is then decoded by a beacon-enabled app. If the software is able to decode these signals, it determines the device user's absolute position with respect to the store's beacons and notifies him of it through location-aware notification. For instance, the app can work with the closest beacon to broadcast a special offer each time someone enters a market's shampoo aisle.
GPS beacon
Potential applications for GPS beacons include outdoor asset trackings, such as monitoring the location of vehicles, equipment, or cargo. GPS beacons can also be used for geofencing, which can be helpful for applications such as fleet management or perimeter security. For example, a company with a fleet of vehicles could set up geofences around their depots or other designated areas. If a vehicle with a GPS beacon enters or leaves a geofence, the company could be notified, allowing them to track the movement of its assets more effectively.
One example of a GPS iBeacon at work is fleet management. Beacons are often used by businesses to understand the real-time condition of their fleet of vehicles. By installing GPS devices in fleet vehicles that can help drivers optimize routes, fleet managers can track the location and status of their drivers, reducing operational costs and improving fleet safety.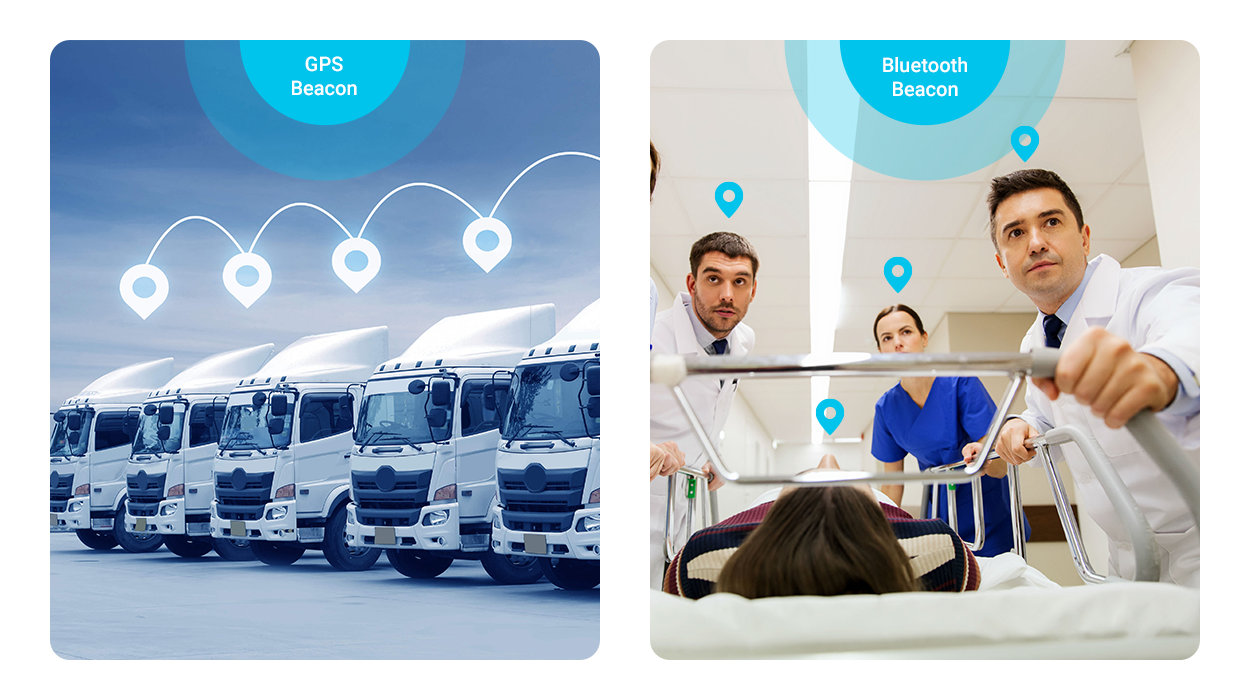 Comparison Between Bluetooth Beacons and GPS Beacons
BLE and GPS Beacons might seem similar, but some fundamental differences separate them. To help customers make an informed decision about which type of beacon is right for their application, let's compare the features of GPS and Bluetooth beacons in a table:
Technology 
The first and biggest difference between GPS and BLE beacons is how they operate. GPS beacons rely on a system of satellites in Earth's orbit that continuously send out identifying broadcasts. Trackers can pick up signals from these satellites and then use triangulation to determine where the device is on Earth. On the other hand, Bluetooth beacons operate using Bluetooth Low Power technology once connected to a mobile terminal. If the item is within signal range, they can locate it or use the location service on your phone to show you the last position the item was in before it lost connection to the mobile terminal.
Range
Another difference between GPS and Bluetooth beacons is their range and location accuracy. Bluetooth beacons usually have a range of only 100 meters and are suitable for indoor navigation. However, Bluetooth beacon location accuracy might vary based on elements like signal strength and interference. GPS locator beacon technology, on the other hand, can have an unlimited range. This makes GPS beacons potentially more suitable for remote tracking outdoors.
Power consumption
Power consumption is also a difference between GPS and Bluetooth beacons. GPS beacons typically require more power than Bluetooth beacons, which can limit their battery life. Bluetooth beacons, like Moko Smart's, can be designed to consume very little power, allowing them to last for months or even years on a single battery. This makes them ideal for applications where the beacons need to be placed in hard-to-reach areas or where frequent battery changes are not feasible.
Cost
One of the main advantages of Bluetooth beacons is the low cost. They are much cheaper to produce than GPS beacons and typically cost between $10 and $100. The MOKO SMART, for example, costs $2-60. This makes them ideal for where cost is the main consideration. Additionally, depending on the device, they have an extended battery lifespan that can last for several years.
Security
Finally, security is an important consideration when choosing between GPS and Bluetooth beacons.
There are almost no security issues with GPS beacons, and the privacy and security risks associated with GPS mainly come from the receivers and communication mechanisms inherent in the manufacturer's servers. Today, most manufacturers employ various authentication and storage technologies to protect GPS receivers.
Beacon hacking is one of the frequent risks to the security of BLE beacons. Hackers can locate beacons with lax security in public areas, although most beacon makers now have certain safeguards in place to stop this from happening. It's crucial to realize that BLE beacons purchased from trustworthy and reliable providers, like MOKO SMART, are 100 percent secure.
Factors to Consider When Choosing Between Bluetooth and GPS Beacons
When choosing between GPS and Bluetooth beacons, there are several factors to consider. These include the range, power consumption, cost, and use cases. When selecting your choice, consider the following important inquiries:
What is the range required for your application?
Is power consumption a concern?
What is your budget for the beacons?
What is it you're trying to track?
Is proximity marketing necessary?
These inquiries above will help you identify the kind of beacon that is most appropriate for your particular use cases.
Conclusion
Both BLE and GPS have benefits and shortcomings when it comes to navigation. While GPS works well for tracking items in open spaces or huge areas, BLE is best for tracking assets that are close at hand. In the end, the technology selected will depend on the specific use cases of the organization.
At Mokosmart, we offer both GPS and Bluetooth beacons to meet the diverse needs of our customers. Whether you need to track outdoor assets or create a personalized shopping experience for your customers, we have the right solution for you.
It's also worth noting that hybrid solutions combining GPS and Bluetooth technologies are becoming more popular. These solutions can provide the benefits of both technologies, such as using GPS for outdoor tracking and Bluetooth for indoor navigation.
In summary, choosing between GPS and Bluetooth beacons requires a careful evaluation of the application requirements. Factors such as accuracy, range, cost, battery life, and installation complexity should be considered. With the help of a trusted provider like Mokosmart, you can select the right beacon technology for your needs and enjoy the benefits of IoT connectivity.
CONTINUE READING ABOUT GPS BEACONS