EV charging stations are equipment that link electric vehicles (EVs) to a power source to recharge their batteries. Under the dual role of policy and market, domestic EV charging infrastructure has advanced rapidly, creating an excellent industrial foundation. By the end of March 2021, there were 850,890 public China EV charging station, and all charging stations (public and private) totalled 1.788 million.
To achieve "carbon neutrality," China will promptly develop new electric vehicles in the future. The steady increment of new electric vehicles will raise the demand for charging piles. It's expected that by 2060, China's investment in charging piles will have reached 1.815 billion yuan.
Our MOKO EV AC charging station solution
In order to meet our new electric vehicle charging needs for our clients, we have raised to the occasion and come up with multiple MOKO EV charging solutions. These solutions includes our very own MOKO EV charging station which is accompanied by a standby technical support, APP SDK, custom design service and an intelligent charge station.
Types of EV AC Charging stations we offer
We offer a variety of electric vehicle charging stations that includes;
1. 3.3kw AC Charging station with Single socket
2. AC Charging station with two sockets
3. AC Charging station with 10 Channels
Features of our Electric Vehicle Charging Stations
• They can support 2 wheelers, 3 wheelers and 4 wheelers
• They offer flexible charging modes whereby, charging can stop when battery is 100% full, charge as per paid amount, charge as per the set electric charging power or charge per the set time.
• They have accurate meters and offer effective energy monitoring
• They off multiple protection like waterproof (rated IP54), temperature, overvoltage and under voltage, short-circuit, etc., making them safe and reliable
• They support Bluetooth Low Energy communication and Wi-Fi. They also support LTE which is optional.
• They are highly flexible with either a fixed charging cable or a socket-only version
• They are easy to install and don't need special skills.
• They are expandable and can be customized to suit client's needs.
• They have a physical remote on/off switch with an LED indicator.
Our EV charging stations have a Low ripple and less noise AC-DC PCBA design which are machine tested and ready to start working with minimal human intervention. We offer standby proactive maintenance services and are available to render after sales services that includes installation or repair.
Classifications of EV charging stations
EV charging stations have four different classification categories. According to charging mode, they are classified into DC charging stations, AC charging stations, and AC/DC integrated charging stations. According to the installation method, they are classified into floor-type charging stations and wall-mounted charging stations. According to the installation location, they are classified into public charging stations (personal-vehicle and public-vehicle stations) and special charging stations. Finally, according to the number of charging interfaces, they are classified into one charge stations and multiple charge stations.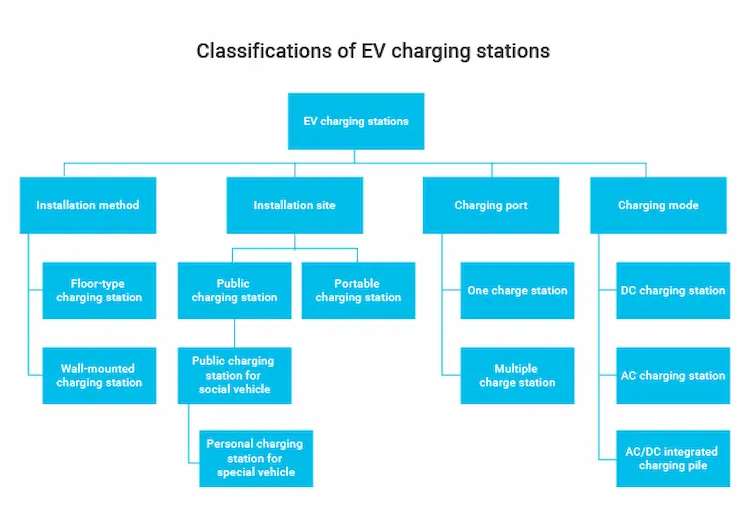 According to the China EV charging infrastructure report by EV CIPA, the number of AC China EV charging station reached 495,000 by the end of March 2021, which was 58.17% of all stations. DC charging stations were 355,000, (41.72%) while AC/DC integrated charging stations were 481 (0.12%).
By the installation location, by the end of March 2021, the number of special EV charging stations in China reached 937,000, accounting for 52.41%. That of public charging stations was 851,000, accounting for 47.59%. The main China EV charging station are special and AC charging stations.
AC charging stations, commonly known as slow chargers, are fixedly installed outside electric vehicles and connected with the AC power grid to deliver AC power for the vehicle's integrated (inbuilt) charger.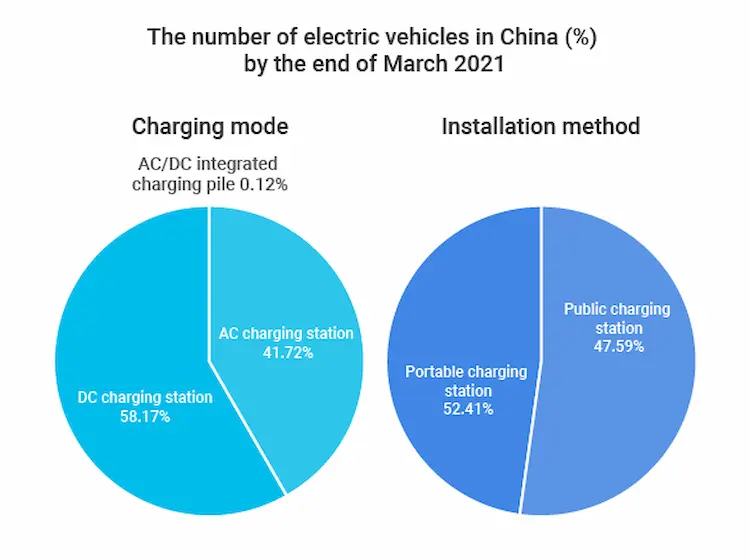 Analysis of EV charging pile industry chain
Currently, China's charging equipment industry has low barriers and a low degree of product differentiation. As more EV charging station businesses emerge, market competition intensifies; hence room for profit in the sector is compressed.
The industrial chain of EV charging stations involves manufacturers of upstream charging piles and equipment required to construct and operate EV charging piles, such as shells, bases, and cables.
The middle stream is the EV charging station operator, in charge of constructing and operating charging stations.
The downstream is the service provider. It provides location, booking, and payment services. It is also a management platform that coordinates the upstream, downstream, and customer needs. Moreover, it provides an overall operation plan.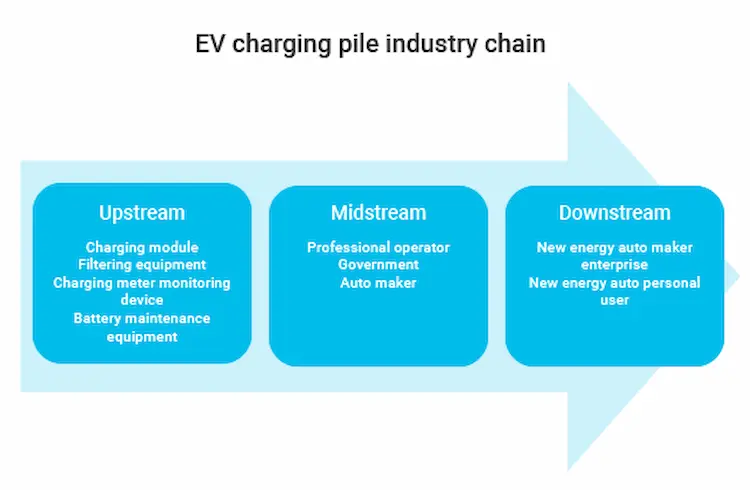 Upstream charging station industry
The electronic components required by the EV charging pile industry upstream are mainly charging modules, filtering devices, monitoring and charging equipment, and battery maintenance equipment.
The acquisition threshold of these components is low, and the degree of product homogenization is high. Therefore, the enterprise can't have outstanding performance in terms of original parts. Many upstream companies are developing to middle stream while producing components, integrating the upper and middle stream to improve their competitiveness.
The Midstream charging station industry
In the EV charging station industry chain, midstream charging operators are complex for potential entrants. The reason is that the cost of midstream is high, and specific financial capabilities are required. According to relevant statistics, the charging module of the charger is the core charging equipment. It accounts for 45%-55% of the total cost of charging facilities.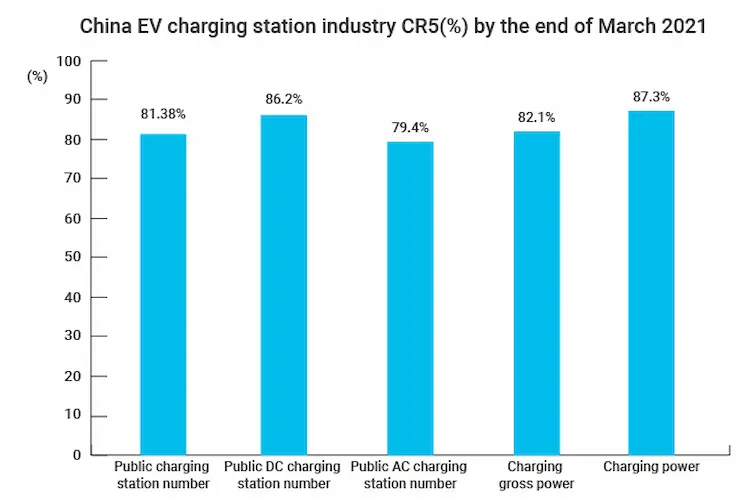 The cost of construction of an EV charging station is 2.5 million yuan, and the cost of distribution facilities is about 1.6 million yuan. Meanwhile, the market concentration of EV charging stations stocks in China is high. By 2020, there were only 25 large-scale operators in China (the number of charging piles is more than 100).
By the end of March 2021, the top five operators occupied more than 79% of the market share. These are in terms of the number of public charging stations, the number of dedicated charging piles, the number of DC piles, the number of AC stations, the total charging power, and the amount of electricity used.
In general, Special Call, State Grid, and Star Charge occupy the leading market share, with the number of public charging piles accounting for more than 20%. Special Call accounts for 25.5%. State Grid and Star Charging account for 23.1% and 20.7%, respectively.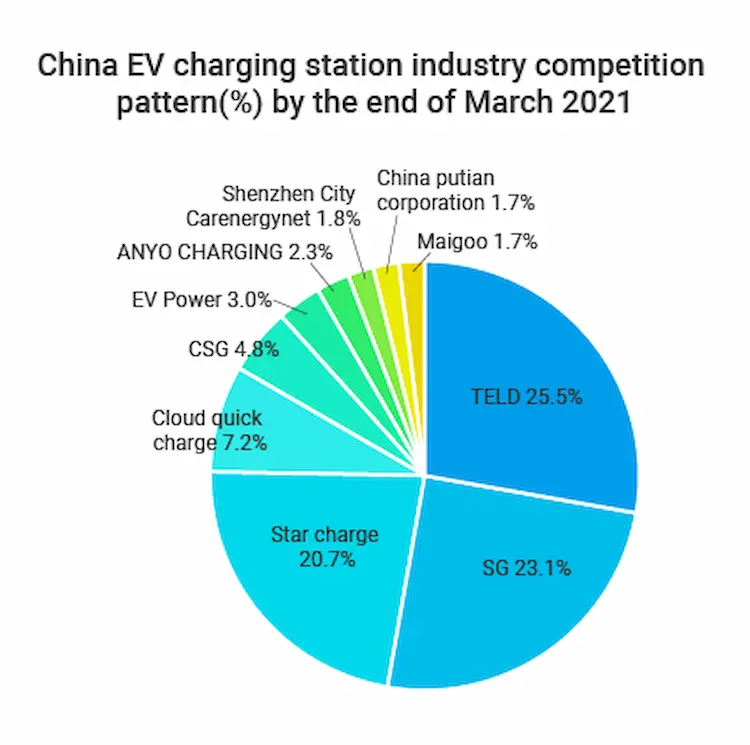 Downstream charging station industry
The development of the EV charging station industry is inseparable from the expanding downstream demand and the guidance of national policies. Electric car sales are rising in China's new EV infrastructure. Even after more than ten years of development, consumers' recognition of electric vehicles is constantly improving.
In addition, the new EV industry has shifted from being entirely policy-driven to being controlled by policies and the market. According to CAAM statistics, domestic production and recent EV sales were 1.366 million and 1.367 million, respectively, with an annual growth of 9.98% and 13.35%.
At the beginning of 2021, the manufacture and of China's electric cars multiplied by 3.2 and selling multiplied by 2.8, and the production and sales of pure electric cars were 455,000 and 433,000, which is, respectively, 3.6 and 3.1 times.
In terms of holding capacity, by the end of 2020, the total holding capacity of new electric vehicles in China was 4.92 million, with an annual growth of 29.13%. The demand for new electric vehicles and the holding area continues to increase, expanding the market for EV charging stations.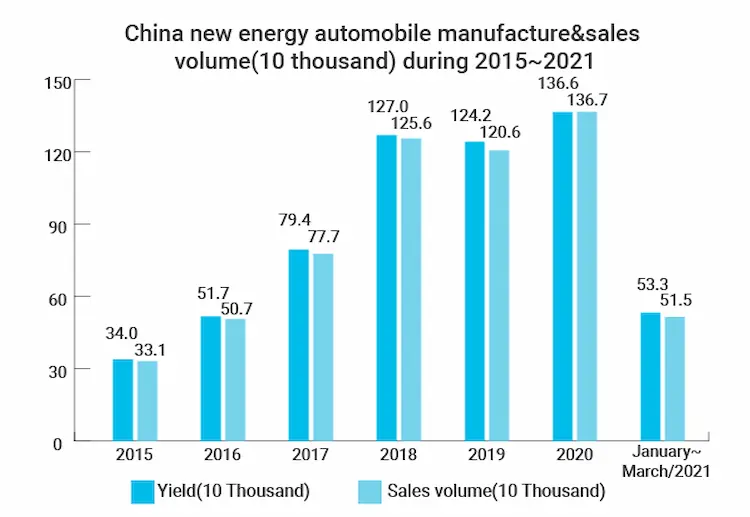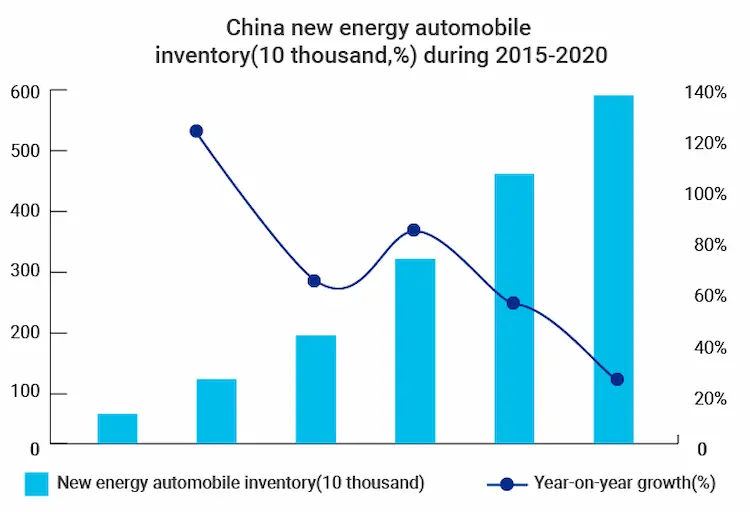 Charging station policy
By many policies, there is ample room for development in the charging infrastructure. However, the investment return cycle is quite long. Limitations such as policies that only favor slow-speed EV Charging infrastructure should be further refined.
The local governments should launch more feasible policies so that various departments, including fire protection, power industry, and property management, can have coherent guidelines to follow.
Meanwhile, the local government can plan the network layout structure of charging facilities according to the existing situation and provide investment and construction rights. In addition, the compatibility of charging facilities should also be a focus of the policy. If EV charging stations can be compatible with a variety of EVs, the construction speed of the charging network will be improved significantly.
The implementation method of pile subsidy policy
1)Some cities have increased subsidies. Guangdong ranks first on the construction scale.
By the end of March 2021, 30 provinces in China had issued policies and plans related to charging facilities. Concurrently, along with the inclusion of charging stations into the new infrastructure, cities also increased their subsidies for public charging station operation based on facility subsidies.
In Shanghai, the subsidy for public charging station operation increased from a maximum of 200 yuan/kWh per year in 2016 to a maximum of 800 yuan/kWh per year in 2020.
Beijing will provide construction subsidies of up to 500 yuan/kWh for domestic public EV charging facilities operational before May 31, 2020, and haven't acquired subsidies. They will also give 0.1 yuan/kWh for the operation part, with an annual subsidy cap of 1,500 kWh.
In 2020, Chengdu will provide graded operation subsidies based on the charging volume. The subsidy is 0.1 yuan/kWh within 10 million kWh, 0.15 yuan/kWh for 10-20 million kWh, and 0.2 yuan/kWh for more than 20 million kWh.
By the end of March 2021, Guangdong province had the most public charging stations, with 9,039 units, far ahead of other regions. Among the top ten, Jiangsu, Zhejiang, Beijing, and Shanghai are second-tier, with 5,000 public charging piles. Shandong province is in the third tier, with 4,510 charging piles. Hebei, Tianjin, Sichuan, and Hubei are fourth-tier.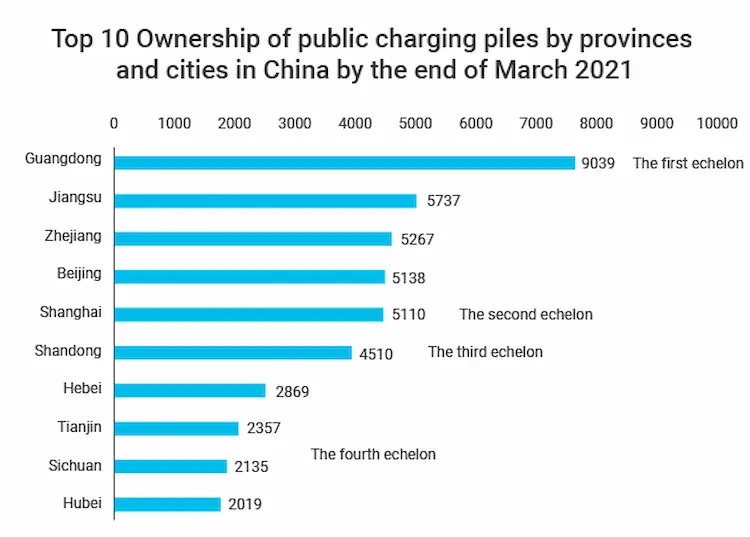 2)At the beginning of the 14th 5-year Plan, the country proposed the advancement of carbon neutrality. Promoting new EVs will effectively optimize China's energy structure, which will aid in achieving a carbon-neutral economy.
Following the increase of electric vehicles in China, the demand for EV charging stations will rise. If the vehicle-station ratio in China reaches 1:1 in 2030, the total number of China EV charging station will exceed 500 million in 2060.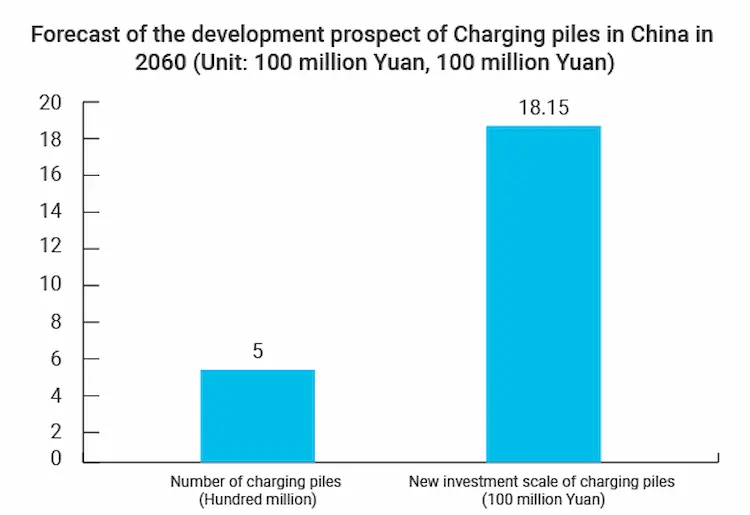 3)The future will develop in the direction of "four modernizations"
Furthermore, with the increasing advancements in EV technology, the technical requirements of EVs for charging stations exhibit a consistent trend. Therefore, charging piles are required to the objectives below:
1. Charging capabilities quicker than Li-ion and NiMH batteries – With good development prospects, conventional lead-acid batteries can possess values like affordability, fully-grown technology, great holding capacity, efficient output, and no lazy battery effect.
However, there is also the problem of low energy and a short driving range per charge. Improving the battery charging speed and capacity can solve this flaw.
2. Compatibility of EV charging stations with battery varieties– The charging device used in public places must adapt to different battery systems and all kinds of voltage grades. The charging system needs to be universal and perform various charging control algorithms that vary from vehicle to vehicle.
3. Development of intelligent EV battery– One of the critical problems of EVs is battery performance and application level. A smart EV battery aims to conduct an intelligent and nondestructive battery charging process.
This process involves monitoring battery discharge, battery calculation guidance, and intelligent management. Hence, it prolongs the service life of the battery and enhances energy-saving capabilities.
4. The electricity usage record of an EV corresponds with its operating power expense. Decreasing the power usage of EVs and enhancing their economy is an integral approach to promoting EVs' development.
For charging stations, priority should be given to designing EV charging stations with high capability of energy transformation and low cost of establishment.
5. Fusion of charging equipment– due to the necessity of minimizing the size of self-contained systems and the requirement of battery's dependability, an EV power control system will be incorporated in the electric vehicle's charging system.
The setup will be equipped with an electrical signals diode, current diagnosis, outflow prevention, and more features.
Operation mode and suggestion of China EV charging station
Comparison of various charging station business models
| | | | | |
| --- | --- | --- | --- | --- |
| Models | Features | Advantages | Disadvantages | Examples |
| Government-led model | Invested and operated by the government | Orderly and intensive development | Low operational efficiency is not conducive to a large-scale operation. | Beijing Olympic Charging station, Shanghai Olympic charging station |
| Enterprise-led model | Matching with electric vehicle sales | Abundant capital and effective management | Easy to lead to disorderly market development, lack of coordination with related fields | tesla |
| Mix model | The government provides the demand, and business builds it | Strong complementarity, high operational efficiency to avoid disorderly development | Subject to policy constraints | Qingdao TGOOD |
| Raise pattern model | Businesses publish information, An actual holding of one or more enterprises | High participation of social forces focus on user experience win-win | It is easy to be imitated, the market is prone to disorder, and whether the model is healthy remains to be proved | Star charge |
| User-led model | | | | ZongYi |
Business models that the government can carry out in the future
According to the 2016-2020 In-depth market survey and investment prospect forecast report of the China EV charging station industry by CIC Consultant, the current business model of China ev charging stations includes mainly the following three modes:
Charging station+ Commodity retail + Service consumption model
Centering on EV charging stations, establishing a reliable commodity retail and leisure service business circle will become a new model of developing EV and supporting industries in cities in the future.
Charging APP+ cloud service + remote intelligent management model
With mobile Internet development and sensing technology, electric vehicle owners and charging piles establish real-time online contact. Clients benefit from mobile utilities such as EV charging station maps.
Vehicle manufacturer + equipment manufacturer + operator + user mode
Integrating vehicle manufacturer encourages the equipment manufacturer, user, charging pile operator, financial institution, and other stakeholders to join forces in creating efficient commodities. Therefore, all participants in the ecosystem can see the broad future market space, deeply participate in building each value chain link, and optimize cooperation.
How much room is there in the charging station market?
Within five years, the size of the domestic market exceeded 100 billion yuan, a ratio of about 3:1. The current domestic car-station proportion will, in the short run, be static. Charging stations will gradually catch up with the new electric vehicles following the 2025 incremental implementation.
The government is planning to build 2 million public stations and 10 million private stations by 2025. In this period, the car-station ratio should be 2:1. Private EV charging stations are mainly AC stations that are low in cost, and the considerable investment is about 3,000 yuan.
In 2019, the ratio of DC to AC for public charging was maintained at 4:6. The charging-effectiveness demand will add to the percentage of DC stations. Therefore, by 2025, the ratio of DC charging stations will approach 1:1, and the investment of a single station will be about 8,000 yuan.

Within 10 years, the size of the domestic market is nearly one trillion yuan
It is expected that by 2030, the car to changing station ratio will approach the rational value of 1:1. When China's new electric vehicles reach 52 million, the incremental space of charging stations in 10 years will be about 50 million, which is 5-9 times the total space.
In five years, the construction record is going to surpass 500 billion, and the working model around 2025 will be perfect. After the essential stability of the industrial pattern, China electric charging station cost will multiply, granting an extra room of about one trillion.
According to Global EV Outlook 2019, the number of personal charging stations in the world will approximate 128M to 245M before 2030, with a total charging volume of 1000 to 1800 Gigawatts and capacity ranging from 480 to 820 terawatt hour. The count of public stations approximates 10 to 20 million, an aggregate charging volume of 113 to 215 Gigawatts, and an overall capacity of 70 to 124 terawatt-hour.
Based on the global mean, the average price of public EV charging stations will be 30,000 Yuan, and that of private charging stations will be 40,000 Yuan. Private charging stations will charge 0.5 Yuan/kWh in 2030. The service cost is 0.7 Yuan /kWh. Thus, the scale of global charging stations in 2030 will be 0.81 to 1.58 trillion Yuan, and the charging price range will be 0.66 to 1.13 trillion Yuan, a total of about 1.5 trillion yuan to 2.7 trillion Yuan.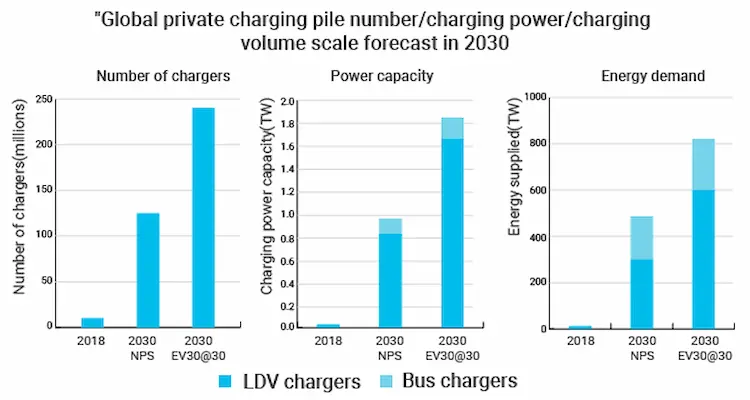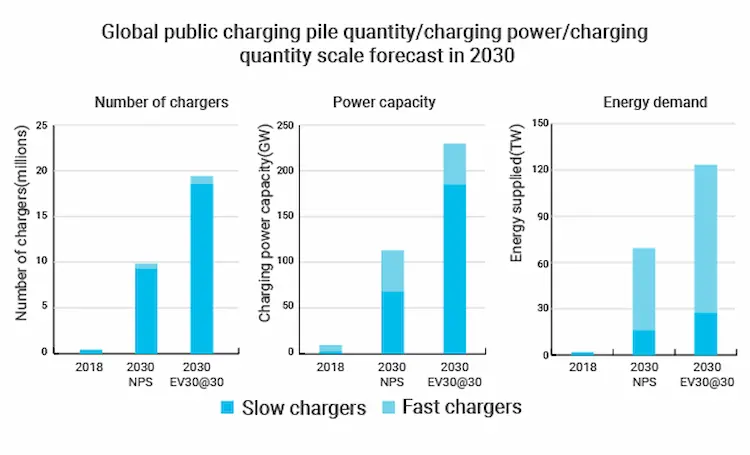 What are the current challenges in this sector?
(a) Pain point of industry development:
It's difficult for operators to make profits due to unbalanced development in the early stage.
In 2014 and 2015, there were noted incentives for the manufacture of new EV charging equipment. These incentives, alongside development guidelines of China EV Charging Infrastructure (2015-2020), prompted many enterprises to flock into the industry, which, at that time, was not yet established. This led enterprises into several mistakes.
Due to the bias of subsidies, businesses overinvested in AC charging stations. Power costs and site resources were given too much consideration, ignoring the EV charging station market demand. The result was low utilization of charging piles and vast losses of operators.
Several reasons put the industry into a complex profit state. However, leading operators have noted these shortcomings. They tend to pay more attention to exemplary operation, traffic data value assets, and user needs as the core to improve the utilization rate of EV charging stations to enhance profitability.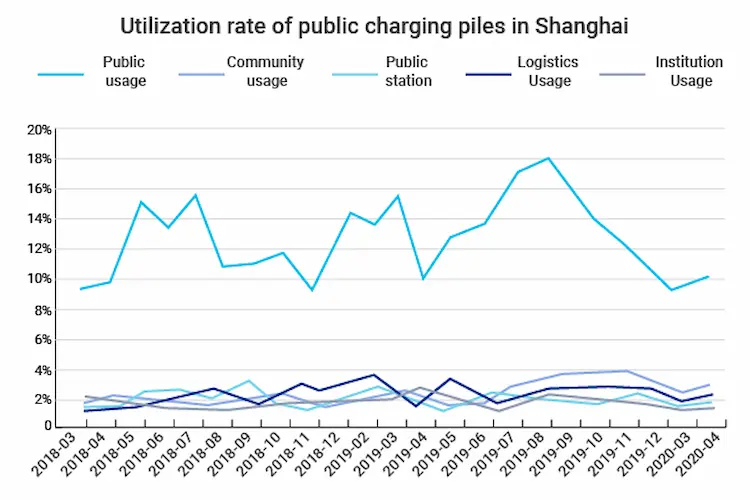 Public charging pile: less quantity, slow charging and poor quality
1. In terms of absolute number, compared with private stations, public EV charging stations reached the desired number as of 2015. However, there are still few in-user perceptions, making it challenging to find suitable charging piles. There are multiple causes for this:
One is the irrational charging station arrangement induced by massive building and inadequate functionality and sustenance in the premature phase. Some stations are in remote locations, which do not meet many common charging points of owners.
Secondly, the charging parking Spaces might be left unattended, causing fuel vehicles to occupy them. Based on the 2019 report on New EV Consumption Market by China's car-dealer company (CADA), fuel vehicles occupy 35.94% of parking Spaces equipped with EV charging piles.
In addition, there are closed cities and incompatible brands. On average, 5.82% of charging stations in cities exclude public usage. Brand-wise, 13.33% of domestic charging piles are incompatible due to conflicting pre-construction standards.
2. The charging speed, due to the varying standard of the new EV battery, is different. In the technology and development space, the upfront costs are too much. Moreover, the slow communication charging station affects owners charging experience.
3. The technical threshold of charging stations' equipment is low. Hence, many quality issues will automatically arise. As stated in the above report, 20.65% of public charging piles in the top ten hot cities like Beijing, Shanghai, and Shenzhen are faulty, resulting in many complaints.
Private charging pile: residence restriction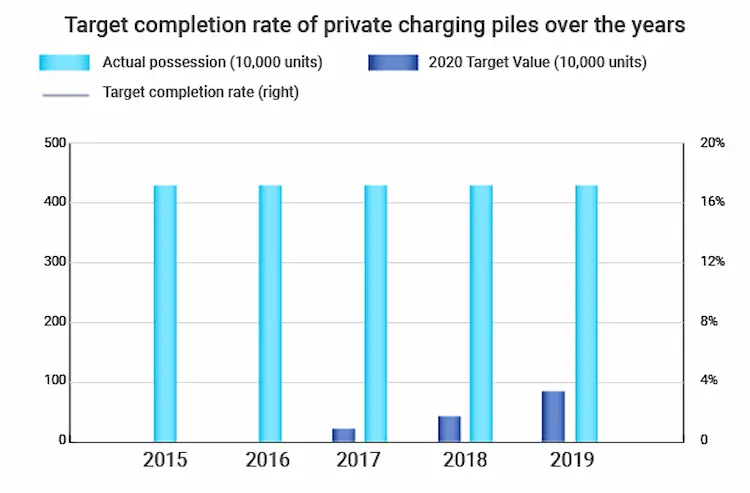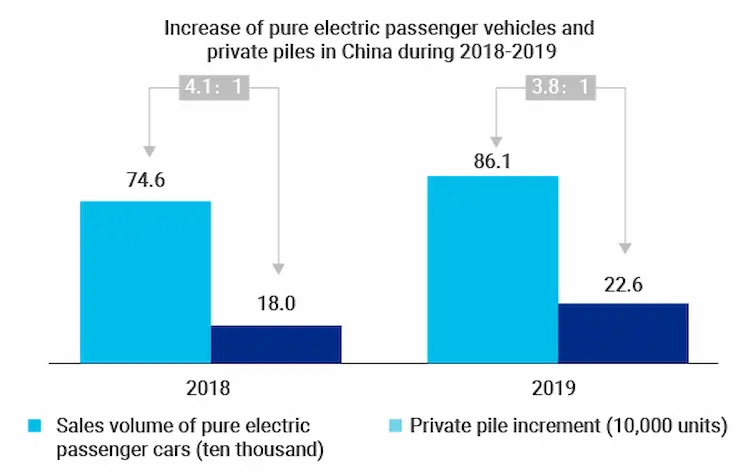 In the Guidance for the Development of EV Charging Infrastructure (2015-2020), the expected target of adding more than 12,000 centralized charging piles and more than 4.8 million decentralized charging piles by 2020 is proposed. The target includes 500,000 public charging stations and 4.3 million private charging stations. By 2019, public stations reached 516,400, breaking the mark, while the finishing speed of special stations was only 16.3%, slow progress compared to the 80% of private stations in the United States. Why is this? Here are the reasons:
1. The limitation of residence. EVs in China are mainly concentrated in high popularized urban centers, which differs from the US's location of EVs, found primarily on Single-family homes.
2. Coordination of private electric piles is complex. The private installation of charging stations involves the State Electricity Administration, fire protection, property management, 4S shops, and other departments. The installation steps are cumbersome, and the power supply equipment in the old residential area may not be able to bear it. The property management and other owners worry about safety issues, and it isn't easy to coordinate.
Incomplete industry standard
There're over 300 enterprises in the Chinese charging station industry. The product quality is uneven, and the complete acceptance supervision standard hasn't been formed. Moreover, the charging card standard hasn't been unified, and the charging connectors don't match the communication protocol.
Difficult to update the old charging piles
Many old charging piles established before 2014 face elimination due to outdated equipment incapable of upgrades. Thus, enterprises incur significant losses.
(b) Pain points for users
User pain points include:
1. The need to switch between different apps
2. The need to prepare different charger card
3. The charging time can sometimes be wasteful
4. Difficulty in locating EV charging stations
5. Difficulty in the application for private charger pile
Remedies to the pain points
1. Formulate laws and regulations to severely penalize gasoline vehicle owners for occupying charging station parking Spaces
2. Encourage and force all EV charging station companies to cooperate with the Internet platform, form online services, and commence interconnection (e.g., enabling accurate results for the ''EV charging station near me'' search)
3. Put forward policies to force public parking lots to vacate a certain proportion of parking Spaces to install charging stations and encourage car owners to share their private charging stations.
4. Regulate the manufacture of EV charging equipment to fit the EV charging station market size to avoid underutilization.
Which type of EV charging station is expected to be the main course?
1)DC quick chargers are the predestined course for communal charging stations.
In China, the ratio of communal charging stations is high, and the value is constantly rising.
As stated before, the national conditions of China differ from those of Europe and the US. In the US and Europe, most residential areas are one-family residences. Parking lots are abundant, special charging stations are appropriate, and the system is developed; hence, the need for communal charging stations is low. The proportion of personal piles is high, and the ratio of EVs to public piles is also high.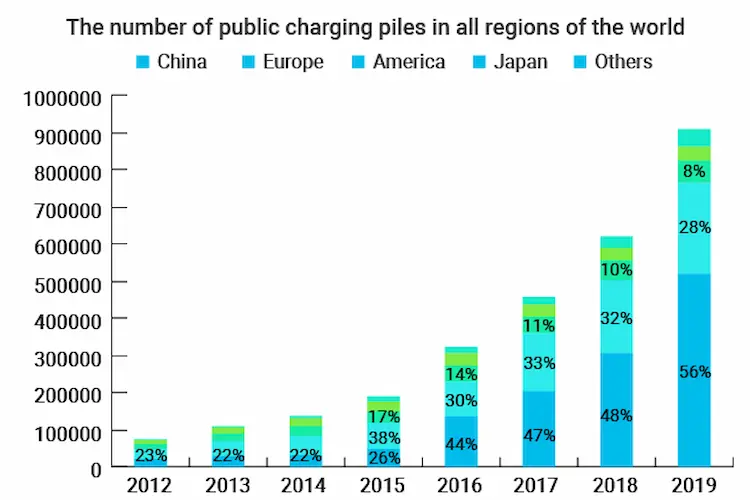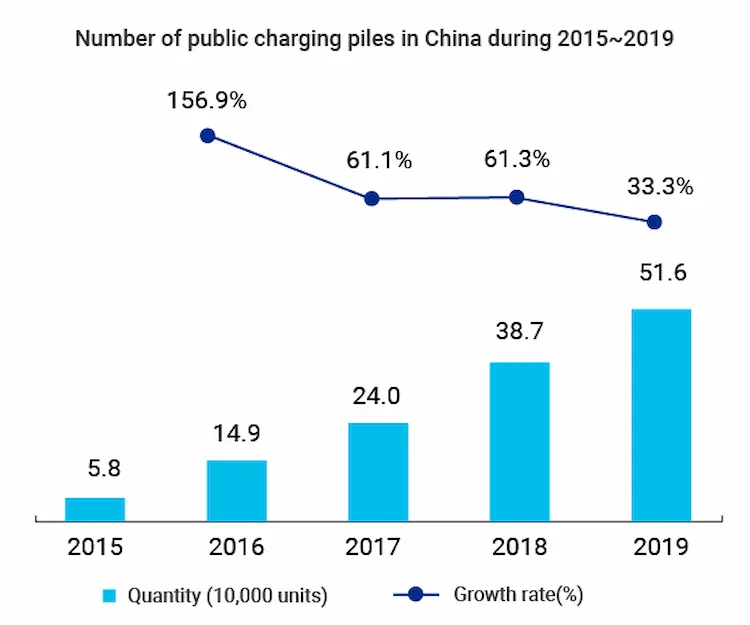 In China, the construction of private piles lags due to the complex property situation and parking spaces shortage. Therefore, China focuses more on developing public charging stations.
2)Differences between AC pile and DC pile
| | | |
| --- | --- | --- |
| | AC Charging pile | DC Charging pile |
| Input | 220V Alternating current | 380v three-phase four-wire ac |
| Output | 220v voltage,16~32A current | The maximum voltage is 750V, and the maximum current is 250A. Through voltage converter and rectification, the input AC power is converted into the dc power required for charging |
| Charging time | The average charging time is 5 hours and 45 minutes | The average charging time is 1 hour and 54 minutes |
| Cost | About 0.2~0.4 thousand/unit | About 5~80000/unit |
| Construction features | Small footprint, low requirements for distribution, flexible distribution points, wide distribution | Large construction area, high requirements for power distribution, generally located in charging stations or gas stations |
| Impact for battery | No injury | Long-term fast charging is harmful to batteries to some extent |
To sum up, the advantages of AC charging stations are convenient layout, low cost, and harmless to battery; The benefits of DC charging stations include; great charging convenience and fast charging.
3)Dc piles are the inevitable choice for communal charging piles in the future due to these reasons
(a) EV owners significantly demand quick charging. The big difference in charging hours DC charging stations charge for about 1 hour 54 minutes on average. On the other hand, ac charging stations charge for up to 5 hours 45 minutes on average. This considerable gap of approximately 4 hours instigate EV car owners to prefer DC chargers to AC chargers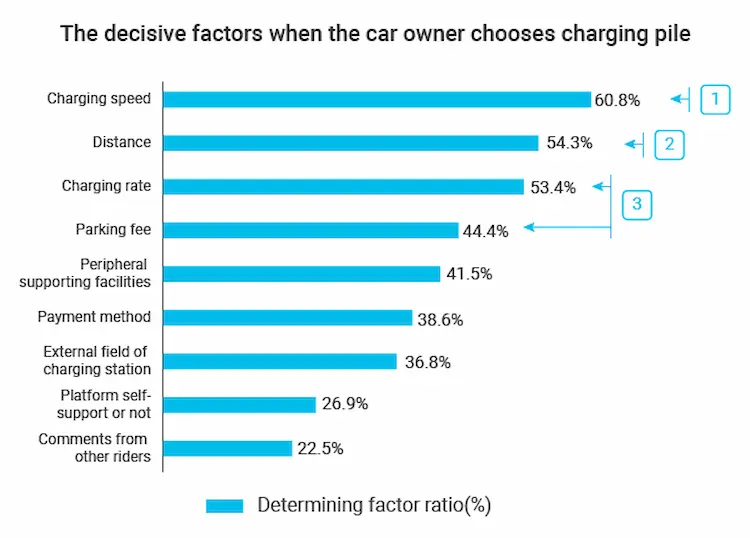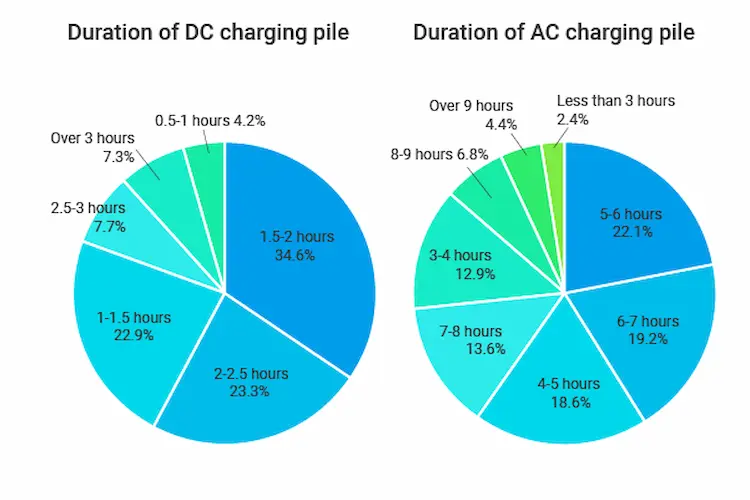 (b) More power and less cost of DC pile. Twenty-three percent of communal charging stations in the world in 2019 were packed with DC stations with energy above 43kW. China played a significant role in this. China EV charging station share was 35%.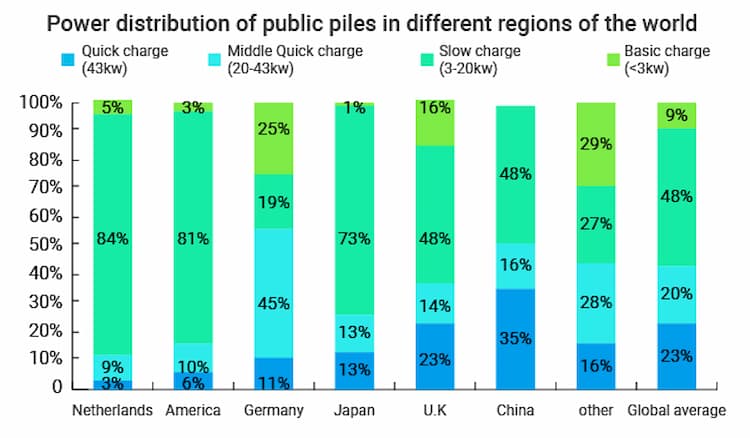 The cause of this is China's great demand for fast DC charging stations. Hence, the energy increase can cater to the market demand and enhance the competing power of DC charging stations.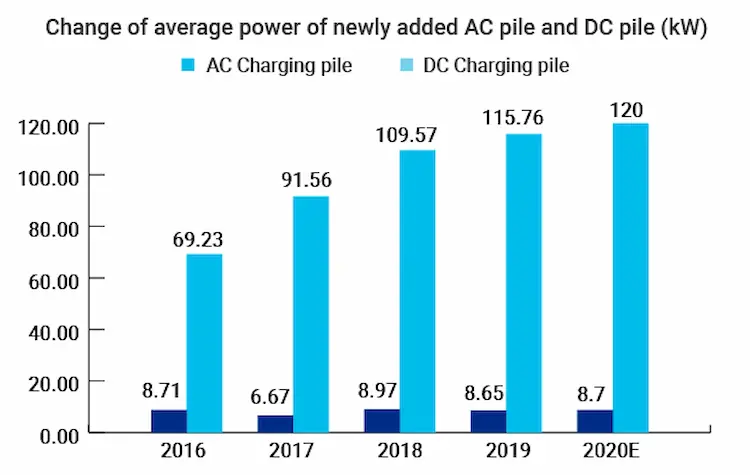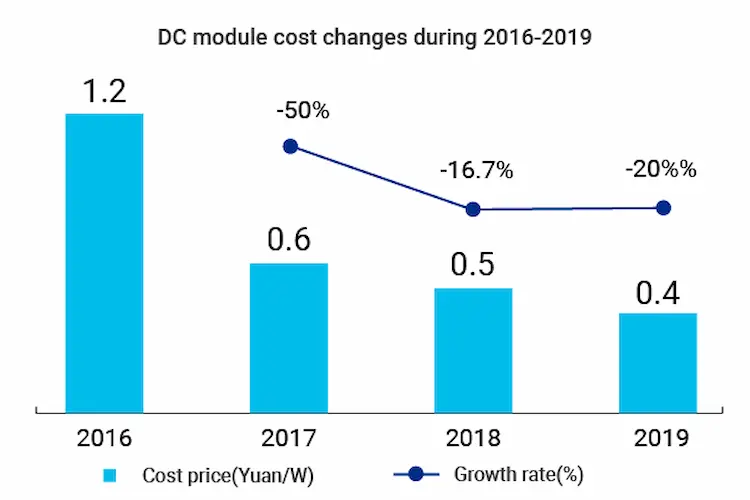 (c) The anode part is the central discovery point in the quick charging functionality of EV batteries. The battery's quick charging functionality dictates the peak of the DC quick charger. To achieve the time efficiency of fuel vehicle refueling, it needs to charge 80% in 5 minutes. A 480kW DC pile is required for a 50kWh EV to achieve this. This charging capacity has not yet been attained even at present. Attaining this will allow time efficiency corresponding with the fueling of vehicles.